Calgary Home Owners Warned About Deadly Radon Gas
Posted by Crystal Tost on Friday, November 17, 2017 at 10:31 AM
By Crystal Tost / November 17, 2017
Comment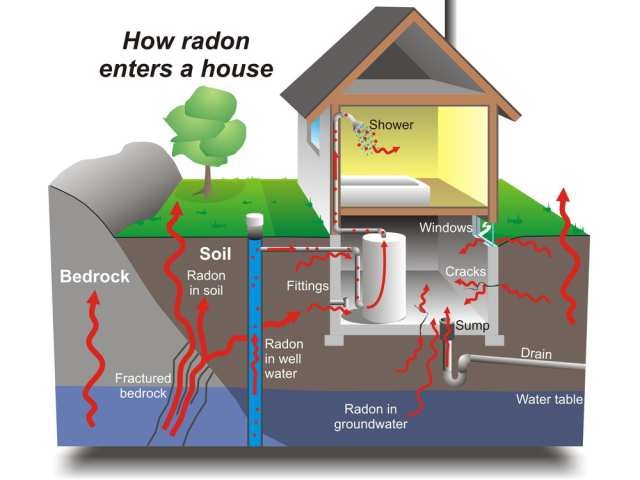 Your little piece of Calgary real estate could quietly be killing you.
The soil on the Canadian prairies has some of the highest concentrations of naturally occurring radon gas in the country. There's no odour – no taste and no hissing sound as it seeps into your home. While scientists have been compiling data on the prevalence of radon in Calgary since the 1970s, there is still not enough data to truly give us the whole picture. But the preliminary findings are enough that every Calgary home owner should take action.
I watched some news stories this week about radon gas in the city and a new campaign called Evict Radon spearheaded by the U of C researchers at the Cumming School of Medicine and I hope everyone will get their homes tested. Shockingly, the study has discovered one in eight homes in Calgary has radon levels that exceed the acceptable limit. Homes constructed between 1993 and today are 30 per cent more likely to have radon gas seeping in. Let me back up here and explain what radon is and what the risks are.
Radon gas is naturally occured
When glaciers covered Western Canada, they deposited rocks and dirt ripe with uranium. The resulting decay in the soil is radioactive, producing this gas that has no smell or taste. It creeps into your home through the basement via cracks in your foundation or floor or through the drains or sump pumps. So, in Calgary we're susceptible because of geography and because our windows and doors are closed half the year and the radon just circulate through the house.
What is the danger?
Unfortunately, radon exposure over time has resulted in a huge spike in the diagnosis of lung cancer. In fact, it's now the second-leading cause of this type of cancer in the country.
One in eight homes has unacceptable limits of radon, so think about your neighbourhood and imagine how many homes might be impacted, including possibly yours. Radon is also random – your neighbour's home just 3 metres away next door could have very high levels while your home might have no measurable levels at all.
According to Radon Environmental Management Corp., a woman in Okotoks sounded the alarm when radon was discovered in the net-zero home she had just constructed. Once it was discovered in her home, she made sure her neighbours and family members had their homes tested, too. Her sister had radon levels equivalent to the exposure of 4,320 x-rays in the dentists chair every year.
Who is responsible for setting radon gas guidelines?
It may be deadly with prolonged exposure, but it is still a naturally occurring element from our soil and as such, falls under the jurisdiction of the provincial government. At this moment, the federal government can't order mandatory testing – at least not yet. Those raising the alarm say that we need a provincial "champion" to get out there and rattle a few cages before it will be taken seriously. Enter our researchers right here at the U of C! B.C. and Manitoba – two provinces with less radon activity than what we have in Alberta – are further ahead in their advocacy than we are. A man in Castlegar B.C., who's wife died of lung cancer (which may have been linked to the very high radon levels in their home), has set up a lung cancer prevention society and is distributing radon test kits. In Castlegar alone, 44% of homes registered unacceptable levels, and one house had 600 times the limit, akin to smoking a lifetime of cigarettes in just five years.
Should testing be included in Calgary real estate transactions?
Some American states (Montana for example) have mandatory testing for all resale home transactions. And the building code in Alberta has been amended to include mitigation for radon – which means, if you have radon there is a way to release it so it doesn't build up in your home. Modifications are around $2,500. It would be nice if the federal government would give homeowners a tax credit if they have this work done, but again, that requires a champion to get it done. The Alberta Real Estate Foundation has donated $150,000 to the U of C's Evict Radon Campaign to spread awareness.
How to get tested
In Calgary, including the outlying areas of Canmore and Okotoks, homeowners can visit Evict Radon for test kits or Amazon. It is also important to test for a period of time. A short reading can be inaccurate.