Outdoor Ice Skating in the City of Calgary
Posted by Crystal Tost on Saturday, November 30, 2019 at 9:50 AM
By Crystal Tost / November 30, 2019
Comment
City of Calgary Outdoor Rinks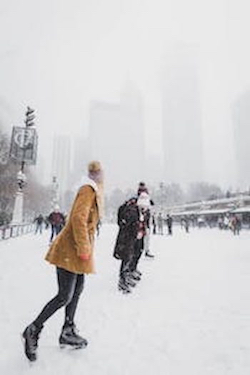 The City of Calgary outdoor skating rinks are seasonal and typically open mid to late December through February. Except for Olympic Plaza which, is generally open from mid-November to mid-March because of its refrigerated ice surface.
Ice conditions, of course, can change with the weather and rinks may close if conditions decline or maintenance is required.
The following outdoor skating rinks are maintained by The City:
Big Marlborough Park - 6033 Madigan Drive NE.
Bowness Park Lagoon (rentals available) - ​8900 48 Avenue NW
Carburn Park - 67 Riverview Drive SE
Olympic Plaza (rentals available) - 228 8 Avenue SE
Prairie Winds Park (two rinks): North rink, pleasure skating only. South rink, shinny hockey & pleasure skating - 223 Castleridge Blvd NE
Prince's Island Lagoon - 4 Street and 1 Avenue SW
Thomson Family Park - 1236 16 Avenue SW
City-maintained outdoor ice skating rinks are free of cost to use and flooded as required. Hockey sticks and/or nets are not permitted, and helmets are recommended. Please stay off the ice while it is being cleared of snow.
Volunteer-run Outdoor Rinks
The City has over 45 adopted rinks and more than 150 volunteers involved in the program. Adopt-a-Rink is a fun, social program that provides people with the opportunity to get together with friends and neighbours. And to help keep local skating rinks flooded, clean, and well maintained.
Adopt-a-Rink locations
- Visit
Adopt-a-Rink
for more information and rink locations.
- Adopt-a-Rink locations are subject to change due to volunteer participation.
- Adopt-a-Rinks is for pleasure skating only. Hockey equipment and games are not permitted on these rinks.
Want to start a new rink in your community?
Call 311 to learn more about being a volunteer, the process, and the next steps in working with the City and community.
Outdoor Community Skating Rinks
There are a great many outdoor skating rinks in the communities which are maintained by community volunteers.