Calgary Condos For Sale, Traps To Avoid When Buying
Posted by Crystal Tost on Wednesday, April 8, 2015 at 7:08 AM
By Crystal Tost / April 8, 2015
Comment
When you're looking for Calgary Condos for sale, particularly as an investor, it's best to avoid traps and be an informed buyer. There's doubt in the Calgary real estate market due to the 2015 oil crisis and it is more vital than ever to be aware of your Calgary Real Estate investment. Though the Calgary condo market is experiencing ups and downs, downturns, on the bright side can be helpful. How so? Well they emphasize buying condos as the best, worst or just an average investment.
As a condo-buying investor, it's best to have a set of strategies to make a successful purchase. Don't follow trends or look at past success of condos, it's best to analyze each potential investment as an independent opportunity.
Just because one person blindly bought a condo and got success luckily, doesn't mean you will be in the same boat. Just as fast as the real estate market can bring you financial rewards, buying the wrong properties can be a financial disaster. By having an experienced REALTOR® by your side and with some tips, you will be in a great position.
Information I will share won't make you the perfect condo buyer but it will have you making less mistakes in your purchases and aid you with the real estate market's ups and downs. If your reading this and already have things covered, well it should strengthen your strategies and make you nod in agreement.
What Makes A Calgary Condo A Good Investment?
Here are 5 criteria points below worth 20% as a grade each, to decide if a Calgary condo is a sweet investment or a sour one. If the condo your interested in purchasing does not get a grade of at least 80% then it's highly advisable to rethink on purchasing it.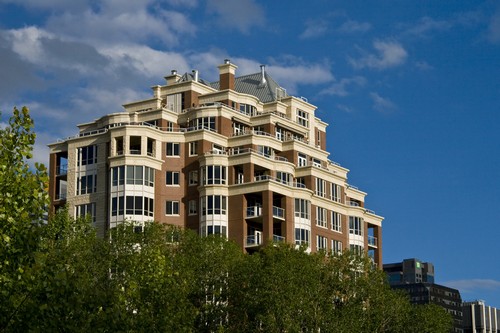 Caption: Large Condo Project

1. Condo Pricing
In real estate, you make money through how much you paid for it, not what you get when you sell it. The cost of the condo is the simplest method of determining if it's a correct investment. If you are purchasing in a "hot" market or neighborhood, it is possible that you could be offered exaggerated prices. Stay away from exaggerated prices and get the right price based on facts. Here are the new condos for sale in Calgary.
2. Experience Of The Condo Developer
The issue with a hot market is a flood of amateurs who want a piece of the action and not knowing the right steps. Though the condo for sale may look good on paper, they can be lacking in functionality and design.
3. Condo Development Logistics
The price might be appropriate and the developer ideal, however you will still need to analyze the volume of the layouts , project, amenities, designer and other components. If the project is too over the top, it may not find itself a healthy community but more like a side show to be seen by passersby.
4. Condo Location And Neighborhood
Condo investments, which might be new or for resale, depend on their neighboring locations. The condo is made by the neighborhood that it's placed in, not vice versa. To give an example, you can have the most lovely condo to live in, but if it's next door to a nuclear power plant then what good is it? This does not imply that the neighborhood should be perfectly appealing, it simply means that it should have a strong foundation for rental and resale capability.
5. Calculate The Numbers
Rental numbers need to be sensible for the resale price. Value investors who are long term will concentrate directly on the property's cap rate. Rental capacity being filled at a steady rate over a set time frame is vital to a successful investment and creating an healthy condo portfolio.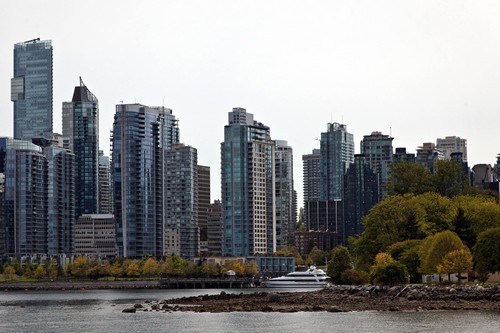 Caption: Condo High Rises
Traps To Keep Away From When Purchasing Condos
Beyond analyzing the key points in the section "What Makes A Calgary Condo A Good Investment?" above, it is important to comprehend the Calgary real estate market's regular traps. These simple errors can signify the difference between being an awesome investor and one who is just average. So lets learn from the mistakes other investors have made.
1. Don't Get Wrapped Up In Developer Hype
Please keep in mind that developers spend copious amounts of money on marketing a new condo and promoting it to get as much money as possible for the property. Therefore, it is very easy to get lost in the maze of developer hype as they market to get the most money possible regardless of the properties actual worth. Take a moment to consider your purchase outside the marketing. Doing this avoids being duped into overpaying.
2. Thinking You Can Sell The Condo Before It Registers (On Assignment)
If you are unable to get a mortgage after the condo project registers , avoid purchasing a new construction. The market has floods of condo assignments and most are selling lower than their initial buying price. This trend will persist as additional condo projects which are almost finished enter the market keeping the supply high.
3. Purchasing A Condo Without A Reason (No Plan)
Are you passively investing? Will you personally manage the property? Are you knowledgeable on capital gains taxes? Is residential real estate the best idea? Prior to investing in assets for real estate, it is vital to lay out a detailed plan; otherwise, you are in danger of losing money in your condo investment.
4. Capital Appreciation Vs. Income Strategy
Each person can withstand risk in different ways, but how do you manage yours? This refers back to the last factor in planning to buy a condo. That factor is that real estate is much the same as making investments in the equity market. Each investment is varied and being aware of your objectives will assist you to appropriately invest your capital.
5. Excessive Upgrading
Excessive upgrading is an unusually common error amateur investors make, which can be an expensive. Developers have attempted to counter this problem by issuing palettes; however, owners still make this error. Excessive upgrading to your liking may not be visible in the property's market value and could possibly be unattractive to prospects. By default, this reduces your purchaser pool and your condo's demand.
Expensive Errors Made By Investors
Next, we will examine some problems investors commonly don't notice their doing. You may be walking into a disaster if you don't consider these issues.
1. Failing To Comprehend The Tax Implications
Making money is the endgame of investing, isn't it? Before venturing into any investment, it is mandatory for you to comprehend the tax implications of purchasing, possessing and selling your condo investment. Here is the real-life scenario of on the question of "what are the tax implications of renting out a condo that you own?" Utilizing an accountant who is a specialist in real estate will assist you to comprehend terms like Recapture of Capital Cost Allowance.
2. Making Assumptions That Investment Will Rise In Value
Calgary has experienced some major development over the years, however appreciation is never a sure thing...especially if development never gets to finish. Investors who are aggressive looking to purchase and sell in less than three years of owning a condo could encounter problems if they do not consider this aspect. Here is an example of the condo real estate market value feeling pressure.
3. Not Double Checking Condo Surroundings
Nothing is worse than purchasing prime real estate just to realize that your condo's view will be blocked by a new building or blocked by trees. Any indication of cranes or even development permits can be dangerous to your property value. Carry out some research in the city, it may save you headaches in pursuing your investment.
4. Check The Numbers Before Buying A Condo
Real estate is a numbers game. The advantage is that these numbers enable real estate investments to be manageable and predictable for the most part. Checking the numbers prior to taking a risk enables you to control the situation making sure that you take full advantage of your capital position.
5. Aloof Of Condo Market And It's Signals
Being aloof of the condo market and signals is a bad move which will cost you. Stop looking at marketing hype and study industry reports and have questions ready to ask a Calgary REALTOR® such as myself.
Caution! Beware Of These Warning Signs!
There is a possibility of the project failing, even if comprehensive research has been carried out. Below are some danger signs you should keep in mind.
1. Issues With The Department of City Planning
If you discover that a developer is experiencing hardship with the planning department of Calgary, similar to Mission 34 Condo project delays, it is normally for concrete reasons. Even if the developers problems are solved, the length of time of the project is prolonged and your capital will not generate money as it will be tied up. On a more serious note, you may lose your whole deposit to an incomplete project.
2. Sluggish Sales
Have you asked yourself the reason a developer raises commission for a Realtor to above normal percentages or presents an expensive gift to them as an attractive bonus? This is because of slow sales, so the developer will do all they can to appeal to purchasers and their agents. If purchasers are staying away and need coaxing, what will occur after it is built?
3. Poor Curb Appeal
Selling real estate goes only two ways, some developers comprehend it and others don't. It sounds easy but curb appeal may lead to failure of some developments. Here are some ways to enhance curb appeal, plus see how one condo enhanced their curb appeal.
4. Avoidable Circumstances
Some developments get into circumstances by building code or design that could be avoided with more attention to detail. Don't get caught up in a Condo hell situation, making use of common sense is the ideal method of avoiding involvement in a building which is capable of getting negative publicity.
5. Sounds Too Good To Be True? It Probably Is!
If you get a condo development which is selling much lower than the market and neighborhood value plus it appears like the deal is too good to be genuine…it normally will be and attract investors you don't want. These developers are present in each market and they normally disguise their dreadful products with good marketing, so beware of prices which are unusually below market
The vital point to consider is that investments in real estate can be extremely risky. It is a great dedication to comprehend and find the appropriate chances in the market. The great news is that an Calgary condo expert like me is available to assist you with this.
Whether you want to work on your own or hire me, ensure that you have a concrete plan; one which is forceful and sufficiently flexible to be compatible with the altering markets.
Your plan needs a timeline, objectives, milestones and projections. It is much the same as designing an intricate business plan with your final goal as the principal motivator. Your plan and procedures will most possibly adapt, your objective should not, however.
After implementation of the plan, due diligence is a core component of the strategy. Researching, checking the numbers, having me in your corner and getting the perfect opportunity are the ideal components of the Calgary condos real estate game.
Knowledgeable investors will examine a mind-boggling amount of deals prior to investing. This thorough approach combined with patience and having the right people in your corner is what leads to their great success. It is vital to note that expert investors have one outstanding benefit; they are able to let their imagination run wild in regard to crafting deals.