Calgary Condo Bella Vista
Posted by Crystal Tost on Wednesday, June 29, 2011 at 7:32 PM
By Crystal Tost / June 29, 2011
1 Comment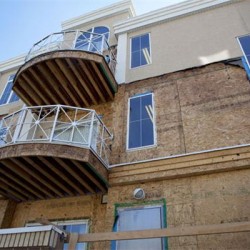 If you have been watching the news lately you might have seen a Calgary Condo that has been featured but not in a positive light. Bella Vista was supposed to be a trendy condo project in Calgary's inner core featuring about 60 units in total. The problem is water and lots of it so much that some owners have reported a spongy texture in their roof top patios. The estimated costs of fixing the building is a whopping $5.5 m (which is thought to even rise up to $7M) divide that by the units a cash call per units from $50,000 to $190,000 per unit dependant on the size of your condo. Bigger units pay more while the smaller units pay less as it is based on the unit factor ( which is the same calculation used to determine the condo fees payable ) this on the back of a cash call back in 2010 for an average of $30k then.
How could this happen? While the City of Calgary has a strict code when it comes to the building envelope (the building wrap that goes under the stucco to ensure the building stays dry) the city does not inspect the building envelope and sign off like they do with electrical rough ins or plumbing. This is something that as I understand is in the works for the city, and of course these things take time, but tell that to these 60 owners now!
What will happen to these home owners? It is likely that these condo owners do not have the financial means to pay these special assessments and will find themselves facing bankruptcy or foreclosure. Lenders will not lend any additional funds on this building to assist home owners because the building will not qualify with the current repairs at this time.Currently they are arming themselves for a lawsuit against the developer, designers and the city but lawsuits can take a long time to go through the process and of course a lot of money which is something many of these residents simply do not have.
Could this have been avoided? While I would love to have the solution for this question but it is not that black and white or cut and dry. Sometimes things happen that cannot be controlled and this is one of those cases. Sure there is a certain amount of due diligence that should be used when purchasing any property. If you are considering a purchase here are a few tips:
1. Make sure you use an experienced REALTOR® when looking to purchase your condo whether on the resale market or brand new your agent will have an inside track as to what questions should be asked!
Admittedly I had clients ask me about this building because the prices were very good, I had heard rumors about water issues and told many clients to just stay away from this building altogether.
2. Have your condo documents reviewed by a specialist
This building as I understand had no condo documents for the last while - this is a big flag !
3. Home inspection by a reputable and certified home inspection company
A condo inspection is limited with a condo building because the inspector can only inspect the unit itself.
In 2012 the exterior was completely redone - see CBC News Update for Bella Vista
If you're looking for condos for sale in Calgary we can help you find one that suits your needs.