5 Tips for Creating a Bathroom that is Uniquely "You"
Posted by Crystal Tost on Saturday, April 28, 2018 at 3:46 PM
By Crystal Tost / April 28, 2018
Comment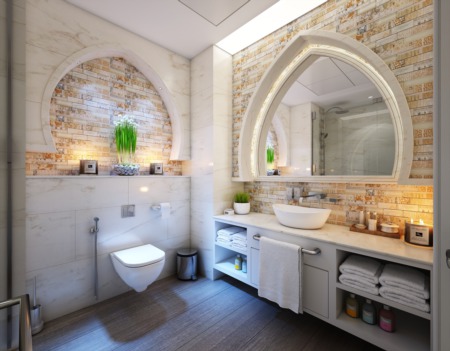 Sprucing up a bathroom can be a challenge, particularly if the space is somewhat small and cramped. With little space with which to work, finding a way to make the bathroom express your individuality while still providing ease of use can be particularly difficult to do. By thinking outside of the box, however, you can still keep everything in your bathroom within easy reach to use while still sprucing up the space and creating a look that is uniquely "you".
Experiment with Wall Coverings
While paint is an old standby for decorating the walls of your bathroom, you can also have a little fun with the space by experimenting with other wall coverings. Wallpaper is one option, but virtually anything can be used to cover your walls. Fabric, magazine covers and even wrapping paper can be used as a wall cover with the help of the right adhesives. Liquid starch, double sided tape, wallpaper glue, flat sealant and even staples can all be used to help hang your creative wall covering material.
Get Crafty
Experimenting with your inner creative soul can help with letting your true personality and style shine through. A plain metal medicine cabinet, for example, can be brought to life by gluing on shells, colorful stones or other items that help create a unique look. Simply take a hot glue gun and start adhering them to the mirror in a way that will make it truly pop!
Have Fun with Peel-and-Stick Art
Many home improvement stores, craft stores and online retailers have peel-and-stick art available in a wide variety of colors, styles and designs. Easy to adhere to a clean wall, this peel-and-stick art can be used to create an accent wall, to cover problematic areas or to simply add a bit of interest to your bathroom space. Even better, if you decide you are ready for a change, peel-and-stick art can be easily removed without any special equipment or chemicals. Simply peel it off and replace with something new!
Switch Out the Light Switch Cover
It is a simple, inexpensive change, but switching out the light switch cover can go a long way toward pulling together the look in your bathroom. Whether you are looking for a sleek, clean design or you want something that is a little funky, you can find plenty of light switch covers from which to choose. Even better, switching out a light switch cover is a simple process that does not require doing any electrical work at all. Most light switch plates have one or two screws that are easily removed and replace when installing the new light switch cover. Just make sure the cover you purchase has the right type of holes in the proper locations to be used with your current switch setup.
Add Some Light
A nightlight is a good addition to any bathroom, making it easier for you to locate the bathroom in the middle of night whenever the urge arises. Rather than purchase a standard nightlight for your bathroom, explore all of the colorful and interesting options that are available. You are sure to find a nightlight that will match the theme that you have developed for your bathroom. In some cases, the light that is cast from the nightlight can also add to the overall look. For a children's bathroom, for example, a Batman nightlight that casts the bat signal on the ceiling is sure to be a hit for your little superhero.
The bottom line is that personalizing your bathroom does not have to be a costly or time consuming task. With a little creativity, you are sure to create a space that is uniquely yours.