Smart Winter Curb Appeal Enhances Calgary Real Estate Listings
Posted by Crystal Tost on Wednesday, November 1, 2017 at 10:28 AM
By Crystal Tost / November 1, 2017
Comment
Make Your Calgary Home Stand Out in Winter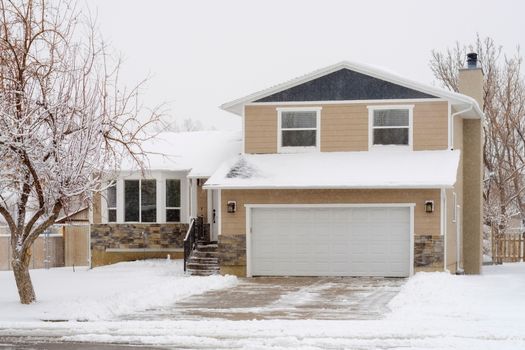 The page on the calendar flips to November and buyers are also flipping through a record number of Calgary real estate listings online. Looking for that one, unique property that catches their eye.
That's another reason why it's important to keep up that curb appeal even through the winter months, long after the grass has turned yellow and the leaves have fallen and, hopefully, been raked up and bagged. You want your home's exterior to look it best no matter what time of year it is.
Here are just a few ideas to make sure your home stands out so potential buyers, when they drive past your home, will see it looks even better in person than it does online.
Lighting from the Inside Out
With just 8 or 9 hours of daylight to work with, you'll want to keep the lights on in your house, the blinds and curtains open so potential buyers can see inside. Warm, glowing light will make your home look so very inviting – cozy and welcoming. You'll want to keep the front porch light on as well and any other exterior lighting like under the eaves.
Solar lights along the driveway, sidewalk and in the garden can be lovely as long as they're tastefully placed and upright. It's so easy for those solar lights you just stick in the ground to start leaning, and then they look a little sloppy.
If you're thinking of stringing lights, especially with the holidays coming up, keep them neutral. White LEDs are best. They're holiday non-specific and are appropriate year-round. If you'd like to string lights around a linear surface such as deck rails or around windows and doors, make sure the strands are tight and straight and not sloppily hung.
Exterior Décor
A few homey touches will also make your property stand out among Calgary real estate listings. Start with your front porch, an exterior area that will give potential buyers a glimpse into the home that lies within. If space allows, you might think about weatherproof furniture, lanterns, and artistic arrangements of evergreen, pine cones and berries. Craft stores have artificial types of greenery that look remarkably real! Throw some blankets on your chairs.
Window boxes can also detract a buyer from noticing dated windows. Choose a window box appropriate for the size of your windows and place either real or artificial seasonal greenery inside. I say seasonal because even the most beautiful artificial botanicals will look horribly out of place in the winter. Like tulips or hydrangeas or pansies poking through the snow.
Wreaths on the door are lovely, but keep them simply seasonal.
And while you're at it…
Take care of a few little details so potential buyers have the impression that the home has been well cared for. Any plant pots that you're not using for winter greenery could be put away in a shed or in your garage.
If snow hasn't covered them up, pick up any fruit from trees and definitely sweep them off the sidewalks or off vehicles parked in front of your house. Leave perennials standings and leave ornamental grasses to their own devices – they look elegant and beautiful every month of the year.
And speaking of snow, keep shovels and brooms and outdoor toys such as sleds, toboggans and hockey nets in the garage or perhaps in the back yard. These are all items necessary to Canadian winters but adds to clutter in the front yard.
And on the rare warm day…
When a Chinook blows in, get out and wash your windows to keep them sparkling.
Current photos
While days on the market remains high, the numbers have been consistent. If your Calgary real estate listing features exterior photos of a home with green grass and trees, we think it best to replace those with current photos showing the appropriate season to make your home look up-to-date.