Community Ponds Add Real Estate Value in Calgary but BEWARE
Posted by Crystal Tost on Monday, December 18, 2017 at 3:55 PM
By Crystal Tost / December 18, 2017
Comment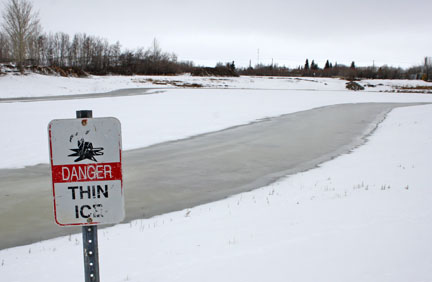 We love to tout storm water ponds as community features when selling homes in Calgary. Listed on feature sheets as community benefits, today's storm water ponds are surrounded by graceful bull rushes and native grasses gently blowing in the breeze, attracting water fowl and reflecting with the red and orange hues of a setting sun.
This time of year as the ponds freeze over, seemingly presenting an opportunity for some old-fashioned 3 on 3 pond hockey, the community ponds can turn from treasure to tragedy real quick. Because even if we were to sustain temperatures of -20 for weeks at a time in Calgary, those lovely storm water ponds will never completely freeze despite what they might look like.
Keep Kids Away
A storm water pond is a man-made amenity that collects storm water. That storm water usually comes from rain that has washed through your eaves troughs, driveways and sidewalks. Also parking lots and roads where the City of Calgary uses anti-icing chemicals and road salt. These things enter the storm water and keep the water from freezing – just like they keep the roads from freezing.
Ground water also makes its way to the community storm water pond. That means, chemical fertilizers from people's lawns make their way to our storm water ponds further muddling the composition of the water under the ice.
Simply, the integrity of the ice on a storm water pond is jeopardized by all of these additives and under no circumstances should people or pets walk on or skates on the ice on storm water ponds no matter how frozen they appear.
If a storm water pond is near a tobogganing hill in your community, careful not to overshoot the bottom of the hill and slide onto the ice.
What Storm Water Ponds are for
With the beautiful vegetation around ponds which brings all manner of dragonflies and mash birds to your Calgary neighbourhood, one would think ponds are safe and natural. They can be beautiful, but they have a job to do. All the chemicals and dirt washed into them settles and is naturally cleaned by the soil and silt surrounding the pond, so when the storm water makes its way to Bow River it's been cleaned up by Mother Nature.
The ponds also collect the storm water so that our sewers don't back up and our basements don't flood. During the summer, water levels can change in an instant, and the poor water quality is one of the major reasons why swimming, boating and even simply wading in a storm water pond is forbidden.
Your Pets
It's never a good idea to let your dog run into a storm pond or drink from it. But there's another interesting phenomena occurring in our storm water ponds, and that's the release of pet fish. Unwanted goldfish, guppies and exotic species that people tire of are showing up in our storm water ponds. And while you may think that fish are part of nature, if they're not native to the area then they become invasive, killing off our natural Alberta fish and spreading disease. Fish in storm water ponds eventually make their way to the Bow River.
Calls to 311 in Calgary suggest that people might even be stocking their local storm water pond so that they can do some recreational fishing, but really – who would want to eat fish from a pond full of road salt and lawn fertilizer?
There are fines for releasing fish into a storm water pond. The lowest fine is $3,000 but you could face fines of as much as $100,000 under the Alberta Fisheries Act.
A storm water pond isn't a neighborhood lake. Be safe out there everyone!