5 Best Neighbourhoods for Modern Infill Homes in Calgary
Posted by Crystal Tost on Saturday, February 24, 2018 at 10:48 AM
By Crystal Tost / February 24, 2018
Comment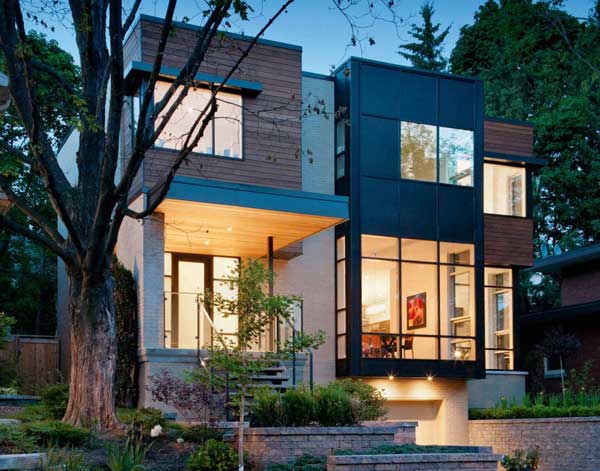 There's no stopping urban renewal the Calgary real estate scene. Old makes way for new and many established neighbourhoods are experiencing a renaissance. The demand for new, modern homes for sale in inner-city neighbourhoods grows every day and there are so many reasons why.
From a zoning point of view, the City of Calgary's sustainability plan dictates that developers create residential density. Housing people along transit corridors and within walking distance to work and essential services is good for the environment and creates healthy communities. Part of the plan was to stem the flow of suburban sprawl, as Calgary is one of the largest cities in North America per square kilometre but without the population to warranty such a large footprint. Despite mandating development density, however (side note) – city council has just today said that that want to increase the number of new developments approved for funding with each four-year budget. Currently, four to six new neighbourhoods are given the green light, but land projections are such that they're considering increasing that to as many as 12 new neighbourhoods for each four-year cycle of the budget. Even in a recovering and conservative economy, we just might be running out of housing options for people in Calgary. That is pretty astounding.
In the meantime, we continue to renew and grow in our inner-city and outer-ring neighbourhoods because people choose to live in an area with big trees, established municipal services (like fire halls), good transit, libraries and recreation services and of course, schools. Here are Calgary's busiest neighbourhoods for infill redevelopment:
Altadore
The south west neighbourhood of Altadore was built after the Second World War featuring modest bungalows on good-sized lots. The R2 zoning in Altadore has been a real boon to developers who had taken down older homes and put luxury duplex homes on a single lot. Altadore lends itself to more luxury developments because of it's location and because there are upscale neighbourhoods next door in Elbow Park and now, Currie – supporting the value of high-end million-dollar plus homes. Altadore is 10 minutes to downtown and next to Crowchild Trail with the Elbow River Park bordering the east side. Mount Royal University is on the west side of the neighbourhood.
West Hillhurst
West Hillhurst is also a war-time neighbourhood that developers eye-balled for development. Located on the north side of the Bow River, this leafy community is even closer to downtown Calgary, and just down the hill from the U of C, SAIT, the Jubilee Auditorium, McMahon Stadium and the Foothills Medical Centre.
Bowness
Of the older neighbourhoods that are turning over a new leaf, Bowness infill homes may be some of the most affordable in the market at the moment. Historic, picturesque and quaint, Bowness is a community in transition. Buyers have been choosing to build in Bowness because it still retains some of its small-town charm. There's even still angle parking on the main street through the community. The earliest cottage homes date back to the First World War. Some are on smaller, city lots but several can be found in the wooded areas along the Bow River where quite a few mansions have been built in the last 30 years.
Windsor Park
The mid-century neighbourhood of Windsor Park is south of the Elbow River and up the hill from Stanley Park. Most homes were constructed in the early 1950s but are slowly being replaced by larger single-family infill homes. It's a smaller neighbourhood, sandwiched in between Elbow Drive and Macleod Trail, north of Chinook Centre. It's an interesting mix of homes and apartment buildings. It's an example of how infill building is marching ever outward in Calgary.
Mount Pleasant
Back to the North Hill, and the WWI neighbourhood of Mount Pleasant. It's north of 16 Ave NW, intersected by 4 St SW. It's where you'll find, I think, the loveliest canopy of elm trees in the city. Each avenue seems to have lovely, tall elm trees and developers have done an excellent job of preserving them. Because of R2 zoning there are many exquisite duplex homes for sale in Mount Pleasant.
Would you like a tour of inner-city homes in Calgary? Let us know and we'll check out these fantastic neighbourhood together!