Real estate made easy...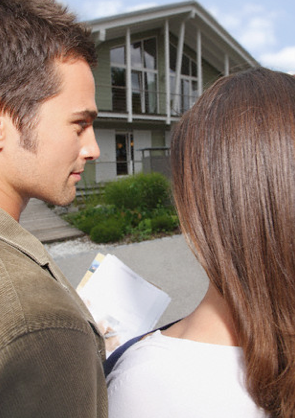 Attention to detail is key when buying a house in Calgary. This could be the biggest purchase you will ever make. Do not fear! You won't simply be provided with access to properties then left with no resources. We will assist you in every step of the buying process; from setting up financing to the day you have the keys. You will be equipped with education, experience and knowledge.
We have a vast insight into the homes, buildings and communities that comprise the Calgary real estate market. We know the benefits and disadvantages of whatever property interests you have and we work every day with home buyers just like you. Our goal is to help you find your perfect house, at a suitable price with all of the amenities you desire in order to fit your needs.
Factors to consider before buying
There are several crucial factors you need to consider before the house hunting stage. We are here to help you make decisions in your best interest. Here are some questions to ask yourself before shopping for that dream home:
What kind of house would you like (need)? Are you looking for a particular style? How many bedrooms and bathrooms do you want? If you are thinking of having another child, ask yourself if it is in your budget to invest in an extra bedroom.
Where do you want to live? Are there particular neighbourhoods or communities that you like? Consider how close in proximity you want to be to schools, hospitals, police and fire stations or golf courses. Do you desire the quiet, old-town charm of an area bustling with recreational activity? Will you be commuting downtown for work?
Have you determined your price range? Have you consulted a lender to determine the best price range? If you find that your dream home is on the higher end of your budget or slightly exceeds it, how flexible are you? Buyers should have an upper limit they are willing to stretch for the perfect home.
Is a home office a necessity? Do you need a bonus room or flex-room?
Do you want a yard, pool, gated or guard-gated community? If you have children and/or pets, it's often smart to consider a gated community that offers extra safety, in addition to extra space outdoors for play and exercise.
Do you entertain often? Do you seek a home suitable for entertaining? Should you have a guest bedroom available for visitors?
Are you moving to Calgary from another place? This diverse valley offers breathtaking views, endless recreational fun and is home to the second-largest concentration of corporate offices in the nation.
First time home buyers
Whether you're a first-time or veteran home buyer in Calgary, rest assured we will offer you our expertise and guidance every step of the way. If you're a first time home buyer; however, you have a few payment options to consider and a few advantages that veteran homebuyers don't have:
Registered Retirement Savings Plan (RRSP's) as a down payment – Having enough money for your down payment can be difficult for Canadian first-time buyers. The Government of Canada has acknowledged this fact and you can borrow against your RRSPs up to $25,000 per person (up to 2 people and $50,000) to go toward your down payment. You do have to pay it back, but the process is drawn out over 15 years (starting the 2nd year after the initial withdrawal) with an easy repayment schedule. You only have to repay 1/15th of the amount you withdrew each year. You get the benefit of using the RRSPs as a tax break.
Tax Credit – Be sure to inform your accountant if you bought your first home because there is a Government tax credit of $5,000 in the year that you make this purchase. The home has to be your primary residence. The credit does not qualify for investment properties.
Location
Location, location, location! It seems obvious enough, right? Location is an integral factor when buying your home. Usually, buyers don't desire homes in close proximity to busy streets or nearby train tracks. Unfortunately, not every aspect of your home you need to consider is common sense.
What about the things you can't see now such as future roadways or obtrusive power lines? These are just a couple of risks buyers can run into without the right guidance from a truly professional real estate agent. Part of our role is to tell you everything we know and see about the location and condition of prospective homes and to research any unanswered questions.
Resale Potential
You're not necessarily thinking about selling your home before you even move in, but it's vital to consider its resale potential. We will educate you about the pros and cons of each home you view so you can make an informed decision.
Your goal is likely to occupy this property for a span of years. Most folks are set on long term residency plans when they make a purchase. Sometimes circumstances change unexpectedly and it forces us to sell. Maybe the next place is an upgrade and maybe not. No matter the reason behind your move, you might find yourself a seller sooner than anticipated.
While we are looking at homes to buy, we need to look at the positives and negatives that could arise to attract a buyer in the future. Considerations other than location are floor plans, area amenities, community, transit and shopping.
Non-Visual Defects
There are several potential issues that can arise during a home purchase. Some of these problems are common depending on the age of the home. Many character homes contain asbestos in the insulation or even the drop-down ceiling tiles. Does the home you are buying have the proper permits? There is much to consider with each and every home you are viewing.
Value
No one wants to pay too much for a new home. The market can go up and down and no one can exactly predict or prepare for those economic changes. I'm here to ensure you pay the right price or better in today's' marketplace. When you find the house of your dreams, we will crunch the numbers. We can then make an offer to reflect a purchase price within the range of current market rates. We are not afraid to tell you a home is overpriced - we do not want to sell you any home, we want to sell you the right home, no matter how long it takes, or how many homes we view together. We want to get it right!


Whether you are a first-time or veteran home buyer in Calgary, the process of finding and purchasing the perfect home can still be stressful. We are here to help take the weight off your shoulders and ease every step of your search. We can lift some of the burdens and we can start the process with an in-office meeting to see if we are a fit for you. Every option can be discussed and all of your questions will be answered.
I chose Crystal as a real-estate professional firstly for her very useful web-site. For someone not originally from Calgary I found this site to be super.

Regarding the Calgary RE market place, I found her expertise invaluable including critical information on location, real-sale and value.

She also provided additional strengths on taste, style and lots of..... what works and what doesn't, throughout the process.

I felt that she represented my interests and I recommend Crystal as an agent.
Don Zack
I would highly recommend Crystal to anyone seeking a real estate professional. She made acquiring our dream home a reality. It was through her expertise, vast knowledge of the market, and desire to help that made this possible. She has unsurpassed knowledge and experience in the industry.
Ragan Niepel
Crystal helped us buy our first house in Calgary. We appreciated that she understood what we were looking for and provided us an excellent selection to pick from. Highly recommended!
Larry Gorluik
I had the opportunity to work with Crystal as a realtor following a recommendation from one of her colleagues who relocated from Calgary. Crystal was very professional, technically knowledgeable, and communicated effectively especially when responses were required immediately. I retained her services on both the buying and selling side of our move, and in both cases I was extremely pleased with the end results.
Masa Higuchi
Crystal takes her work very seriously and is a top notch realtor. I have done very well by her buying and selling!
Jim Lovasz
Crystal has such a passion about her work. She is reliable, patient and she works hard to satisfy her clients
Kourosh Amini
Crystal helped us find our house in 2006. She set up multiple walk throughs based on the information that we had given her about what we were wanting. She was quick to point out things that might take us in the wrong direction. She has kept great contact and sends monthly market reports that I quite like to read when I get them. In 2008 my Grandma hired her to sell her house and Grandma was very impressed. Crystal had the house sold for asking in under a week even more impressive is that the house next door to Grandmas went up at the same time yet took three months to move. I would highly recommend Crystal and would not hesitate to use her again in the future.
Danny Marshall
Crystal was the third real estate agent that I worked with in my search for my first home, and the only one that I had a good working relationship with: she gave me great advice and I trusted her. Crystal listened to my needs, and worked with me in my preferred search area to find me the perfect property. The house that I ended up buying was fresh on the market and not in the public listings yet, I think I was the first and only person to view the property in a fairly hot market
Michelle Boast
Deciding on a realtor in calgary can be a hard decision, but after using Crystal it would be a easy on future properties. Crystal is a fighter when it comes to negotiations and the results show. It was pleasure buying with Crystal back in 2010/2011
Warren Keshan
Crystal is excellent at her job and takes pride in her work. She is patient and does not pressure sales. You can trust her and rely on her to find you a great home!
Julie Branch
Crystal is an expert Realtor who knows the real estate market and the city of Calgary extremely well. She is very personable, friendly, and helpful and is willing to go the extra mile to help her clients find their dream homes. I highly recommend Crystal as a Calgary Realtor.
Charlotte Cowie
Crystal helped me buy my first home. She was knowledgable, professional, and a real joy to work with. I would highly recommend Crystal for your real estate needs!
Suzanne Kendall
Crystal Tost is exactly what a young, modern professional wants in a real estate agent. She's smart, friendly, and tuned in to the areas of Calgary that are a good investment. She only showed me places that matched my interests, and was quick to red flag issues that might affect the resale value. Best of all, she's tech savvy – so every step of the purchase was easy and convenient
Anders Svensson
Crystal's expert knowledge of the Calgary housing market made our inter-provincial move easy. Her patience, attention to detail, and expert negotiating skills were a real asset during what can be very a stressful time.
She was recommended to us, and I would recommend her to anyone seeking the services of a Real estate Professional in Calgary
John McCann
In November 2009, I have mandated Crystal to assist me and my wife in finding a house in a prestigeous area near downtown Calgary. Her professionalism, sharp negociation skills and knowledge of the market conditions and trends enable us to quickly find and purchase a gorgeous residence in Elbow Park. I will definitively engage her in any future real estate deals or projects. Without hesitation, I would recommend her to my personal friends and contacts in need for a real estate agent.
Domenico Baruffaldi
In all the years I have purchased real estate; I have never met an agent like Crystal. I had contacted her from my home from Edmonton to purchase a home in either in Calgary or Okotoks. I mentioned to her my likes and dislikes; and little did I know but this little sweetheart would put me into the home of my dreams- where I now plan to retire. The point is ; is that I was talking to no fewer than 6 other agents; but, she was relentless with her search. She communicated far more often and meaning ful than any of the rest. She went far and beyond what my girlfriend and I expected. She's truly a credit to her proffession
Glen Kyle
Crystal helped me find my house with an incredible amount of patience, availability and expertise in all house-related matters. As a real estate agent, Crystal is definitely in the ivy league. She required an exclusive relationship and more than delivered for it, visiting houses with us any day of the week or well beyond normal business hours. Her keen eye would spot hidden flaws in seconds and when we eventually bought, she right away showed us how to improve and market the house in a few years. As a client, I have been delighted by Crystal. And during some rough time afterward, she was by our side, proving that beyond the great professional is a wonderful person with a huge heart. Dealing with you has been one of our best experiences in Canada and God knows there have been quite a few. Thank you
David Coulibaly
My name is Alice; I recently arrived in Calgary with my husband. I was in charge to prospect for a real estate agent. I got on Crystal's website browsing the internet. I was totally seduced by the way Crystal's website is organized. It is precise and functional. The city is divided into four quadrants, the city areas names appear on a strip chart, I found it very easy to refer to the city map. My husband and I decided to meet Crystal. We could rapidly visit the houses that we had selected ourselves. On our way to visit a property, Crystal asked us if we would like to have a look at a house that she had picked for us. She said she thought that this house could meet our needs and expectations. She was right. She showed us an elegant and charming house perfect in its details and amenities. Crystal is a very reactive person: in the process of buying a property, she keeps in touch with you answering messages and calls in no time. Do you need a financial evaluation, a market report? You get them very quickly. Crystal helped us in negotiating with the seller in a positive and constructive way. Well, thanks to Crystal we have now bought our new home.
Alice
Hi, I wanted to tell you about my search for a home in Calgary while I was still in Saskatoon, I located a couple of REALTOR® 's and attempted to communicate with them. Restricted to email and lacking sufficient technology, their responses were slow and inadequate.I kept searching and found Crystal. This was a match made in moving heaven! Working with her, she came to know my preferences and helped me locate a home I continue to be happy with. Her computing ability, organization and quick responses as well as her knowledge of real estate and skill with transactions was invaluable to me. I would recommend her to anyone!
Dani Gibson
I was referred to Crystal as my sister previously bought a condo from her colleague who was no longer working. Crystal assisted me in buying my first condo and made the experience very enjoyable. She was not only knowledgeable and professional but she was a joy to spend time with on my search. She is full of great advice and will take the time in takes to find a place that is right for your needs. Recently I recommended her to my sister who is now the happy owner of a new home thanks to Crystals assistance. I had nothing but an enjoyable and seamless experience with Crystals help. I would recommend her again and again without hesitation.
Julia Bonner
She is a very professional real estate sales woman,who tries her best to find what you are looking for in a home.She is good at her job,keep up the good work Crystal.
Jon Spratt
My husband and I have known Crystal for about 8 years now. We've bought and sold multiple properties with her as our agent and would highly recommend her to anyone looking for an excellent agent. She is experienced, professional, and a pleasure to work with.
Karlee Pytlarz
Crystal was incredibly helpful during my journey/search for a new home. She was able to show me places around the city to give me a good feel of what was out there that would be of interest. Crystal has a well rounded knowledge of the market including everything from single homes to apartment condos. She was always updating me with the latest homes on the market and taking me out to view places regularly. Crystal is highly professional, yet at the same time genuinely personable in all her interactions. My experience working with Crystal was most enjoyable. I am truly happy with the home I bought with Crystal's help. Thank you Crystal!
Ruth-Anne Neely
I just happened to stumble upon Crystal's website when searching Calgary homes at a time when I was thinking of moving back to the city from my 19 year stint in "Silicon Valley", CA. I was just trying to get a feel for the Calgary real estate market and hadn't yet decided whether or not to move back. I asked Crystal's advice/experience with buying property with a rental suite in the basement to help with mortgage payments, and even though I was very clear that I hadn't yet decided to move back to Calgary, she still took the time to fill me in over e-mail in the pros and cons of purchasing such properties. I appreciated that she never "hounded" me during that month to find out whether or not I was going to be moving back (and obtain my business) -- she only responded when I had specific questions for her. Once I decided to make the move back to Calgary, I knew that Crystal was the realtor I wanted to work with. I found a house listed on her site and sent her (and my sister) to view it for me and get their thorough evaluation. She also took video of the house which certainly helped me to get a better feel for what I'd be purchasing! She was instrumental in coming up with a strategic and cunning plan to win over another (unexpected) bid for the house of my dreams, and then further negotiate a reduced price for me afterwards. Crystal also set me up with a fantastic home inspector (Stirling Davidson) and has followed up with him for me after I moved in to assist me with some minor "issues" I came across -- all part of his service. Such an awesome member of her team! Crystal was a fabulous and very professional representative for me in the purchase of my new, wonderful home in Mount Pleasant and I would recommend her in a heartbeat...
Leanne Mackenzie
My go to Calgary real estate expert! Crystal proves to be a valuable source for up to date real estate information in the area. She promptly returns my calls and does the extra mile of letting me know when new listings become available or changes in prices. My wife and I have managed to buy our perfect home because of Crystal. For that I am very grateful.
Thomas Wyren
We were very happy with the quality of service that we received from Crystal Tost throughout the entire process of purchasing our first home. Crystal always responded promptly to any questions or concerns we had, and made the process very easy for us. She was very professional and knowledgeable and made an effort to find out what we were looking for and the style of sales that felt comfortable for us. We appreciate her commitment to her clients and how good she is at what she does.
Del Holder
Crystal was incredibly helpful during my journey/search for a new home. She was able to show me places around the city to give me a good feel of what was out there that would be of interest. Crystal has a well rounded knowledge of the market including everything from single homes to apartment condos. She was always updating me with the latest homes on the market and taking me out to view places regularly. Crystal is highly professional, yet at the same time genuinely personable in all her interactions. My experience working with Crystal was most enjoyable. I am truly happy with the home I bought with Crystal's help. Thank you Crystal!
Ruth-Anne Nelly
Crystal Tost was amazing to work with. It was clear that she was genuinely invested in ensuring we found not only the best home for our current needs, but also the right property where there would be room for us to expand or have value in resale. She is authentic, professional and tech savvy. After working with 3 other realtors in the past, my husband and I do not hesitate to give Crystal our highest recommendation!
Meaghan Riopel
We hired Crystal to be our realtor for the sale of our old home and purchase of our new home. Crystal's services were above what we expected. She had our home staged and the pictures and ad turned out great! The calling service that set up all the appointments for our showings were very friendly and we liked the fact that they would email us to remind us of the showing appointments. Once we started our new home search with Crystal, we found a home that we loved, but was just out of reach for us. We looked at other homes and nothing seemed to compare. Crystal searched and found us almost the same home but better and we ended up buying the one she found for us in the end! Crystal referred us to a great law firm here in Calgary which sure helped the sale and purchase of our homes go smoothly also. We would recommend Crystal to anyone we know who is looking for a realtor and will definately use her in the future if we are ever looking to buy a new home!
Sarah Gilmet
Crystal was a great help in my recent relocation to Calgary. Since the market was so hot I was not able to be present to view the homes as they came onto the market. Crystal would go out and view the homes and take pictures and video when required. We were finally able to secure a home without competing against other buyers because she was able to get in the home fast, and act fast with an offer. We were nervous about trusting someone over the internet to buy a home on our behalf, but we came to trust Crystal and know that she was always looking at our best interests. We would not hestitate to reccomend Crystal to anyone who requires the assistance of a real estate agent who is honest and genuine.
Rick
"Crystal is an excellent realtor. She sold our last house in record time and it was a very smooth transaction. She was also very patient helping us find our new home which we love. Thanks Crystal!"
Stacey H
Crystal was the best! She knows Calgary like the back of her hand and showed us as many properties as we needed to see until we found the right property for us. I'll be calling on her again in the future!
Lauren Dunlop-Dorgan
I bought my very first house through Crystal, and sold that house and bought my next and current home with her. Any time after that, that I've looked at other homes and considered moving has and always will be with her! She will work hard to get you the home you want and love!"
Stephanie Cheeseman
"I and my wife would like to thank you Crystal for her great help to find our first home in Calgary.
We have nothing but good things to say about her commitment to finding us the right place
. She is really hard worker and honest.
She is knowledgeable about real estate and shared her knowledge freely with us. Thank you Crystal for all your efforts"
Ahmad and Sanaz C
"Crystal was great to work with. We went with her because of the comments we read online in purchasing our first home. She's every bit what people have said. She's knowledgeable, experienced and professional. She was great at providing additional information of where to get the home inspection, lawyer, etc. We did not feel any pressure of pulling the trigger on any particular house and Crystal always gave her complete honest opinion (by pointing out the good and bad of each house we saw). We felt Crystal was patient in helping us find the perfect house. We'd recommend Crystal to all our friends and family"
Ahmed I.
"Crystal was absolutely invaluable when I recently decided to purchase my first home. From start to finish she has been qualified, supportive and extremely helpful in walking me through the process and providing me with the information I needed to make necessary decisions. She was always there to answer any questions I had in a timely manner, advise me of what to expect next, and always demonstrated a high level of professionalism and caring to ensure my needs were met. I know I wouldn't have done nearly as well without her and it would've required a lot more effort on my part. I'll never forget all her hard work to ensure the transaction went smoothly and was completed within a short period of time. I will highly recommend Crystal as a realtor to anyone who is looking to buy a home."
Chris and Krista Hillier
We moved to Calgary from out-of-province and needed Crystal to help us transition into the local market. Crystal adjusted parameters quickly as our target price rose with the sale of our out-of-province home and the acquisition of employment in Calgary. We greatly appreciated her ability to show us a variety of purchase options that matched our housing preferences and affordability range. Crystal not only has an INCREDIBLE knowledge of the Calgary real estate market, but also an ability to see how homes can work with the needs of her clients, including reno/remodelling potential. We couldn't have asked for a better guide to help us navigate the purchase of our home. Smart, tech-savvy, generous with her time and expertise. The best. A+++
Greg Glatz and Brenda Arndt
Crystal went over and above in both the sale of my home and finding the perfect home for me to buy. Crystal made me feel very important as a client and was always there whenever I needed. I would definitely have Crystal sell or buy my home in the future and would recommend her to family and friends. She is the best realtor in Calgary!
Ian Roe
Excellent job by the whole team, we were in good hands the whole time. Our place was very challenging to sell and Crystal did a fantastic job. Highly recommended!!
Graeme Hargreaves
My experience with Crystal and Tyler were always amazing. They are the best. They do their homework and always listen to their clients needs.
Denyse Gillies
They were excellent to work with. No issues or complaints. Very helpful.
Shannon and Jeff Davis
Crystal went over and above in both the sale of my home and finding the perfect home for me to buy. Crystal made me feel very important as a client and was always there whenever I needed. I would definitely have Crystal sell or buy my home in the future and would recommend her to family and friends. She is the best realtor in Calgary!
Ian Roe
Very knowledgeable about the market, and extremely helpful with advice and feedback. I cant recommend Crystal and Tyler enough!
Russ and Danielle Carriere
No-nonsense home buying help.
David Clegg
We would like to thank Crystal and Tyler for helping us find the perfect home. Both were part of the entire process from start to finish. Professionalism and attention to detail second to none.
We have and we will continue to recommend your services to our friends and family.
Thanks again, Shaunna & Matthew
Matthew and Shauna Wealleans
Crystal was great. She got my house sold in no time and found me the perfect replacement. She listened well to what I needed and what my budget was. If I move I would definitely get Crystal as my realtor again. Very professional.
Marian Banks
Our experience with The Tost's was far more than we expected. We never felt pressured and always felt that Tyler truly understood our values and needs and worked hard to fill them. We also found their website very manageable and responsive. Doreen & Sandy Keith
Sandy and Doreen Keith
My wife and I dealt with Tyler and Crystal on the sale of our previous home and the purchase of our current home. From our initial consultation with them to the possession of our new home, our experience was without a doubt, a terrific one. They truly made us feel like they cared deeply about our questions and/or concerns. They would reply to us within minutes, with the utmost professionalism and respect. Their words were true, we trusted them both fully. It was great. I can't say how incredibly happy we were with their team. Would I refer Tyler and Crystal to anyone of my friends or family? Absolutely I would. Will we consult with them on any other real estate endeavor we have? Yes, without a doubt. Thank you guys soo much for everything. Have a great day. Looking forward to the next one
Tyania Ritchie & Shaun Ogilvie
Dealing with Crystal was a very very good experience. She showed me how to show our home and took us to many places when we were looking for another place to buy. Well informed, pleasant, knowledgable and very friendly, a pleasure to work with.
Denis & Judy Robidoux
Our search for a new home and the sale of our old home was made seamless by Crystal and her team. Everything from home staging, to pictures, to arranging a mover, was handled by her team members who were all extremely pleasant and engaged. When it came down to the negotiation portion of the transactions I don't think you could have a better agent working for you than Crystal. She inspired confidence at every stage of the sale/purchase process.
Norma and Dave
We couldn't be more pleased with the professional service provided to us by Tyler Tost. The logistics of selling our home on the east coast delayed our ability to purchase in Calgary, but he was extremely patient with us and never refused a showing even though we had no firm date for a purchase. When we finally found the home that we were looking for, Tyler dropped his personal plans to accommodate us. He is extremely knowledgeable and personable and provided invaluable information to assist us in our choice and his advice enabled us to complete our purchase seamlessly. We would highly recommend Tyler to anyone for their real estate needs.
Mitch and Ann Wile
My husband and I moved back to Calgary in May 2017 and wanted to start house hunting right away. We went on a west Calgary Facebook group to ask for realtor referrals. Crystal Tost was highly recommended by several members so we met with her and chose to work with her moving forward. We were not disappointed.
Crystal informed us it may take some time to find what we were looking for in our price range and preferred communities, but she proved to be up for the task. We so appreciated her patience and direction as we discerned what we wanted and where we wanted it. She showed us numerous properties over several months which allowed us to feel confident when we finally found "the one". She flawlessly navigated a multiple offer situation on our behalf and managed the entire process from start to finish with not one glitch. With my husband starting a new job and us adding a new baby to our family, we appreciated the stress free experience of working with Crystal.
My husband and I have bought and sold several properties in the past and have often been disappointed with the level of service provided by our chosen realtor. Working with Crystal, on the other hand, was a positive experience. Her years of experience and proven competence took the worry and stress out of our purchase. She was sincere giving us her honest opinion and direction as we searched. Over time, it became apparent that she truly cared that we make the best decision for us. When we are ready to sell or buy, we will hire Crystal again without a doubt.
Angela Manley
We have been dealing with Lara Underhill for several months now in the buying of a home and selling our home. She has been consistently attentive to our needs. Both my husband and I believe she went above and beyond her job as a realtor for us. When we had questions about the paperwork or procedures she was always there to explain and make it simple for us to understand. I would not hesitate to refer/recommend her to all of our family or friends.
Sheila T
We purchased our first home with the help of Sohini Ruparell from Tost Realty Group. She was beyond amazing! Sohini really goes out of her way to ensure her clients are at ease and are looked after in every aspect possible. She provided us with such helpful resources and information throughout the process. Sohini shows a lot of care & professionalism in her work and we highly recommend her!
Reet Sira
Tyler was fantastic to work with. When I first talked with Tost Realty I wasn't sure what I wanted - a larger house a bit further from the downtown, or an inner city condo. This was my first house and buying is a huge commitment. I felt comfortable with Tyler from the start. When we looked at homes he brought his knowledge to the table and gave me the pros and cons on houses - how good the furnace was, were the windows new, possible replacement/upgrade costs I might face in the next few years. By going through different properties I realized that I did want to stay in a smaller place where I could walk to work. The first place I made an offer on fell through after I had the condo docs reviewed and realized a special assessment was looming. Tyler stuck with me. I really trusted Tyler, there were places I like that he flat out said "no" to - telling me about the poor resale value or issues I would face. I also have Tyler to thank for the place I finally purchased. I was a bit turned off by the bright blue and yellow walls. Tyler pointed out that it had everything I was looking for, and the paint was just cosmetic. There was no pressure from Tyler to buy, but when I went home and thought about it I decided to make an offer. I've repainted now, and I love my home. Tyler made everything easy. I will absolutely be using him on my next house purchase.
Sierra Yanush
Lara quickly understood exactly what we were looking for and made the entire experience fun and stress-free.
Taryn Burghardt
As first time home buyers, my wife and l were quite intimidated by the whole process. We were fortunate to meet Tyler after a couple of viewings with different realtors. What struck me immediately was how friendly and informative he was. In each viewing, he would point out potential issues such as the age of the furnace or state of the roof. We felt that he had our best interests at heart and was available the entire time either by phone or email to answer every question we had and we had lots. We never felt pressured into making an offer on anything that we were uncomfortable with and didn't stop until we found a house that both my wife and l loved. We are so happy in our new home and Tyler made this happen for us we are very grateful!
Malcolm Camsell
We moved from Edmonton to be closer to family and contacted Tost Realty Group, first via the internet, then by phone and email. We were in contact with both Crystal and Tyler and were shown many homes in all areas of Calgary where we had indicated our interest. Our experience with Tyler was great - he had an excellent knowledge of the markets and searched and recommended many listings for us to view. When showing us homes, he showed us the pros and cons of each property, with a very good knowledge of building practices and could identify minor and major faults in some of the properties ( which we found very helpful). He was very personable and professional at all times and considered our needs. When we had made our decision, he was very helpful in discussing our offers, researching permits, titles and other considerations affecting the purchase. All in all, a first-rate realtor. I would recommend Tost Realty Group to anyone looking to purchase a home. A stress-free experience for us, thanks to Tyler and Crystal.
Terry Stillwell
Crystal and her team were nothing short of amazing. They made the home buying process seamless for us first-time homebuyers. Crystals expertise, knowledge of the Calgary market, and passion for real estate is unmatched. Please do yourself a favour and contact them today for your real estate needs! Crystal's dedication to you as a client won't go unnoticed.
Tyler S
Crystal made the process of buying a house for the first time simple. Her knowledge of Calgary neighborhoods, and insight into the benefits and drawbacks of each property we looked at was invaluable
Nick
A very big thank you from me and my husband to Tyler Tost for helping us find our first home! Tyler was unbelievably helpful, going above and beyond to point out the features and deficiencies of each home we went to visit. Despite a little bit of a bumpy ride (as first-time buyers, we had a LOT of anxiety), Tyler kept us feeling confident through the whole process, and we were able to share more than a few laughs throughout. With connections to an extremely thorough home inspector, a great mortgage broker, and a lawyer, Tyler's guidance has made the whole buying process so seamless for us. Thanks for helping us make our dream of homeownership a reality!
Heather
Chantelle Jenkins provided exemplary service in both the purchase of our new residence as well as the sale of the current home. In several visits to our home, she took the time to carefully evaluate our criteria. We especially appreciate her non-pushy style as we paused our search during the winter. Her advice and assistance staging were extremely helpful, as most viewers complimented us on the presentation of the residence.
Peter N
Simply put Crystal was amazing. Relocating to Calgary area from out of town with kids and pets is stressful enough. Having Crystal to navigate the housing market to get us into the perfect home can't be quantified. Her straightforward blunt opinion of homes we looked at was wonderful to have. She sees things you won't, she knows what would be considered a normal condition for buying a home and what you should take note of. If we choose to move within Calgary again she would be my first pick to sell our home and find us a new house again
Katie
Crystal helped us find our very first home. She is such an amazing realtor, I cannot begin to explain how patient and incredibly honest she is. She truly looks out for her clients and she really caters towards your preference. Highly recommend her as your realtor !
Syeda
Crystal Tost was a consummate professional. She was very responsive to emails and text, even setting up phone calls on evenings and weekends. She has great insight into the Calgary market, and possible real-estate strategies for purchasers to get their best home.
Joshua
We had such a wonderful experience with Crystal Tost and her team. We were first-time home buyers and she was patient with the process and never put any pressure on us to make a decision that was not in our best interest. She was extremely attentive, kind, knowledgeable, and professional. When we found the home she was thorough and made the closing very seamless and straightforward. Thank you Crystal and Team!
Jane R
Crystal made first-time condo-buying super easy, especially given the circumstances with a global pandemic. She was reliable, honest, and worked hard to help me find a place to live that was best for me. I rarely post on public social media platforms, but buying property is stressful enough at baseline that finding the right real estate agent truly makes all the difference. I would recommend Crystal to anyone looking for a reliable real estate agent in the future!
Cara M
Crystal is a fantastic agent! She was extremely helpful during the whole process of selling my home and finding a new property to buy. She is professional, personable and very easy to work with. I feel like I gained the benefit from her knowledge and experience in the industry. I was nervous about selling my house during COVID 19 but the whole process could not have gone more smoothly. I bought AND sold for a better price than I'd expected- all thanks to Crystal! I highly recommend Crystal and her team to anyone looking for an agent.
Laura
We bought and sold with Crystal , we highly recommend her! We have purchased several homes over the years and our experience with Crystal was by far the very best !! She really knows her Real estate and knows how to make Social media work for you. - Doreen Upshaw
Doreen
Crystal was great to deal with - her communication was always faster than expected and often later than I expected. She sold our home in a difficult market and then found us another home which we had to bid against other buyers for. She provided advice and guidance and flawlessly navigated the bidding war. We would not hesitate to use her again as our agent or recommend her to friends and family
Corey
Crystal and Tyler both helped me with my home purchase. I was very pleased with them both. They listened to the type of home I was looking for and found it. I was only in for a few days during my relocation but they were up for the challenge and showed me many homes in different areas to help me decide the best options for my family - It was a lot of work in a short period of time but we found the right home for us. I don't feel we would have found it without the help from Crystal and Tyler Tost
Andrew