Third Quarter Calgary Housing Market Update 2019
Posted by Crystal Tost on Tuesday, October 22, 2019 at 11:30 AM
By Crystal Tost / October 22, 2019
Comment
Elevated sales guided by affordable product and inventory decline
The third-quarter hustle continues to show signs of growth. Comparable to last quarter, a great deal of the advancement in the market has been guided by supply corrections.
Nonetheless, the housing market has also improved this quarter from solid year-over-year growth in sales activity. A decline in prices has likely supported some of the boosts in demand. Additionally, sales growth has been guided by products priced less than $500,000.
"This is a market with divergent trends. The lower end of the market is recording improving sales and easing supply. This is supporting more stability in prices. However, at the higher end of the market we continue to see slower sales and rising supply," said CREB® chief economist Ann-Marie Lurie.
"Persistent struggles in the overall economy have caused a shift in salary expectations, along with adjustments in housing demand. Improvements in the lower end of the market will eventually impact higher price ranges, but we are still in a buyers' market. We are facing enough economic risk that it will prolong the time it takes to move the entire market to more stable conditions."
Chiefly due to declines in new listings, supplies continue to adjust in the resale market. Reduced starts and lower vacancy rates are also easing the overall supply levels. These adjustments in supply will help assist further price balance, though generally will shift at a slower pace in comparison to declines in supply guided by demand gains.
However, easing supply in comparison to sales is contributing to the marketing moving towards more balanced conditions and supporting the level of price decreases. Third-quarter prices continued to remain relatively stable in comparison to the second-quarter reports. And prices remained at virtually three per cent less than levels last year, although the rate of decline is easing. While we are remote from a price recovery, the strain on prices may improve if these adjustments persist.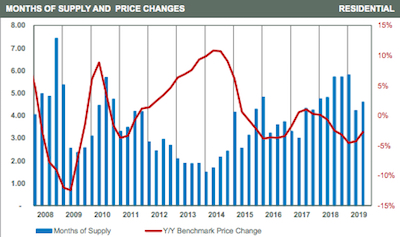 Three things to note regarding the 2019 third-quarter market update:
Sales activity corrected by 6.75 per cent in comparison to last year, guided by growth in homes valued under $500,000.
Generally, inventories were lower by almost 14 per cent in comparison to last year.
The benchmark price for the third-quarter was $425,533. This shows a decrease of 2.74 per cent year-over-year, yet a 0.31 per cent boost quarter-over-quarter.