Little change in October 2017 Calgary real estate market
Posted by Crystal Tost on Thursday, November 2, 2017 at 11:35 AM
By Crystal Tost / November 2, 2017
Comment
Calgary Real Estate Market for October 2017 - Status Quo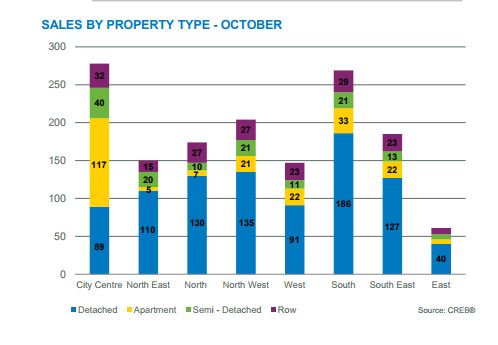 Last month's Calgary real estate statistics show the market in our city is in maintenance-mode. No worse and no better when you look at Calgary as a whole. A little worse in some areas and a little better in some.
The Good News
Starting on a positive note, October was a good month if you are selling a semi-detached home. Duplexes or "paired homes" as some marketers are starting to call them, have seen the best improvement this year in terms of price gains. The average price for a semi-detached home was $419,400 which is 3% more than 2016 levels. Demand is up across the city for semi-detached. It's the only product that has experienced sales volumes that are higher than averages for the long-term. Just one possible reason for the popularity of duplex homes is that sharing a city lot brings down the price of each home, so buyers can get a nicer home in a good neighbourhood for the same money as perhaps a smaller or more economical detached home. Plus, I think new home builders and infill builders are creating such architecturally wonderful duplex homes that it's breaking down whatever stigmas are out there about living in a duplex. They are just not the same animal anymore.
The other good news from October is that detached prices, while taking a back seat to semi-detached prices, have improved throughout most areas of Calgary. If you live in the West district, which is north of the Glenmore Reservoir up to the Cougar Ridge area and roughly west of Crowchild, you have seen the biggest gains in price. View Aspen Woods comunity profile.
The Could-Be-Better News
Apartment Calgary Condos continue to struggle, as they have for at least the last several years. It's still a very good time to buy, but sellers still must deal with more supply than there is demand. Last month, the month's supply figure rose to just above seven months. It's a little disheartening, especially when you have an apartment downtown, Beltline, Victoria Park or East Village which is where most of this excess inventory is located. Condos are still selling, even though it may take longer. Because of the stiff competition, sellers really have to step up their game in terms of how their unit shows and how the building shows, too.
We saw the most new inventory gains from the resale market, not in Calgary's more established communities, but in new developments where homes have been occupied only a few years. The price bracket where most of this new inventory came online is the $300,000 to $500,000 price range, which represents 42% of the current inventory in the single-family sector. That goes along with another interesting fact: 62% of all detached homes for sale in Calgary are priced under half a million.
October Home Prices
Despite a bit of a slow down this fall, the overall activity in 2017 is still showing gains – likely from a busier spring this year. There were 1,467 sales across all housing sectors last month and a total of 6,463 properties for sale in the city. So, while the condo supply us just over 7 months, the average in Calgary is actually 4.4 months. There is still downward pressure on prices, especially in the last few months- pushing the unadjusted benchmark to $438,900 city-wide. That's less than a percentage point below September 2017 and pretty much the same as 2016.
Days on the market, year-to-date, actually dropped by 2 in October, from 45 to 43 days.
The Calgary Real Estate Board advises that while the economy picked up a bit this year, it's taking time trickling down to the real estate market and growth in the housing market. CREB's chief economist and spokesperson, Ann-Marie Lurie, breaks it down for us and says that most of the gains made in employment in Calgary this year were in jobs that usually pay less and it's usually a challenge for folks in lower income brackets to purchase a home. They are traditionally renters. Other factors getting in the way of more robust sales activity are the fact that people are still reluctant to move back to Calgary, or they're facing those higher interest rates or changes in mortgage lending policies. These things just aren't contributing to some good recovery in our city.
If you're interested in knowing more about how Calgary real estate did last month, and how it's trending, make sure you give me a call at 403-264-7653