St. Patrick's Day Celebrations: Calgary West Side
Posted by Crystal Tost on Saturday, March 16, 2019 at 1:39 PM
By Crystal Tost / March 16, 2019
Comment
St. Patrick's Day Celebrations: Calgary West Side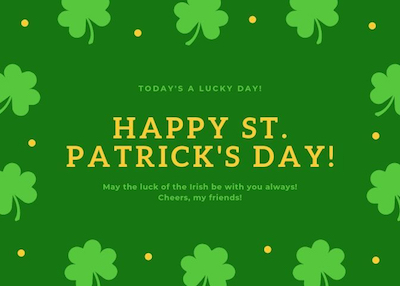 Saint Patrick's Day, or Feast of Saint Patrick "the Day of the Festival of Patrick", is a religious and cultural celebration held on 17 March. Tradition says that Saint Patrick died on this date and was buried. Over centuries, numerous legends arose around Patrick and he became the patron saint of Ireland.
Saint Patrick's Day was made an official Christian feast day in the early 17th century and is observed by many Churches. This day commemorates Saint Patrick and the arrival of Christianity in Ireland. It celebrates the culture and heritage of the Irish in general. Celebrations generally involve "ceilis", public parades and festivals, and the wearing of shamrocks or green attire. Saint Patrick's Day is a public holiday in many countries and is widely celebrated around the world - is celebrated in more countries than any other national festival. Christians also attend church services and historical restrictions on drinking alcohol and eating are lifted for the day, which has encouraged and publicized the holiday's tradition of alcohol consumption.
So in keeping with the tradition, we have recommended a few places in Calgary's West end to join in the celebrations!
Ferguson & Bix Restaurant and Beer Market - West Springs
2000, 873 85 Street SW
403-457-3344
St. Patty's day is supposed to bring the luck of the Irish, so they've got $5.00 Wooden Ship craft beers coming at you all day Saturday and Sunday - but there's a catch - you have to ask for the green version.
But seriously, if you do, we'll send 50 cents from each over to Four Feet Companion Foundation to give them some luck, too.
Happy St. Patty's Day!
Original Joe's: Aspen Landing
318 Aspen Glen Landing SW, Unit 112
403-457-5637
May your St. Patrick's Day be beery, and oh so cheery. Celebrate with them all weekend long!
Drink specials all weekend! Saturday 16th & Sunday 17th
722 World Bier Haus
722 85 Street SW #601
403-455-9950
Delicious made from scratch cuisine! Take a trip around the world with their selection of world biers!
They are celebrating St. Patrick's Day all weekend long!
$4 Jameson | $6 Guinness | Holy Grale and Jameson Cask
March 15th - 17th
Vin Room West
8561 8A Avenue SW
587-353-8812
Tapas Bar & Restaurant
Canada's largest wine bar with 80+ wines by the glass