November sales in Calgary Real Estate up 15% over last year
Posted by Crystal Tost on Saturday, December 2, 2017 at 2:53 PM
By Crystal Tost / December 2, 2017
Comment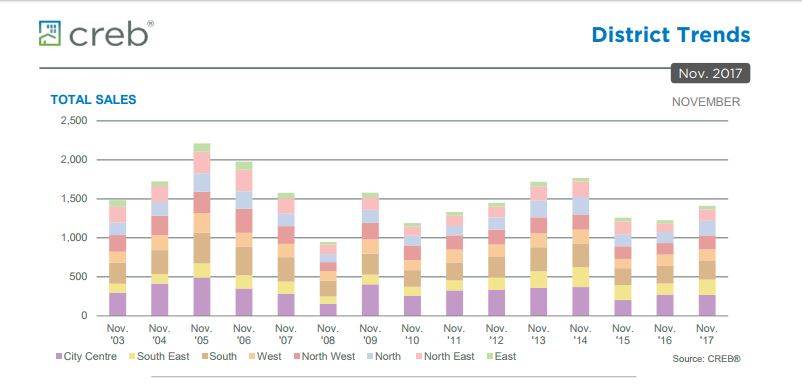 When more mortgage rules were announced for uninsured mortgages last month, I thought it might precipitate a spike in real estate sales in Calgary. People just don't want to pay higher interest rates, and with the threat of new buyers being forced into homes in a lower price bracket, and in a neighbourhood they didn't want to live in, people reacted.
The November 2017 stats were released on Dec 1 by the Calgary Real Estate Board (CREB) showing that sales are up 15% over November 2016 - proving my point. Real estate sales were up to 1,411 units, with improvement in numbers across the board. The majority though were in homes priced under half a million dollars.
Why Sales Are Moving
CREB Chief Economist Ann-Marie Lurie was right on the money in my estimation, pinpointing the coming stress tests as one of the reasons why sales were up. When the first round of stress-tests on higher-ratio insured mortgages happened last year, there was a similar increase in home sales.
She also believes that there's improved confidence in the market place. New reports this week are raving about Canada's hot job market right now, and falling unemployment rates. Those rates could fall a little faster in Alberta – I'm not sure we're experiencing a smoking job market here at home, but certainly things are looking up in our oil-dependent employment sector here in Calgary.
CREB president David P. Brown agrees that there's confusion in the marketplace about how this next tightening of mortgage rules is going to affect buyers, but a lot of them have decided to take action now. The highest volume of sales last month was in residential properties in the $300,000 to $399,999 range. Units in Calgary's beleaguered multi-family market priced under $300,000 also saw some great movement last month. Buyers are certainly taking advantage of high inventories and the huge amount of choice in this price bracket.
In other statistics, the sales to new listing radio has improved and even though inventory levels eased a bit, the months' supply changed almost imperceptibly. Even though November saw some good news, we still have far too much inventory and for our sellers, we hope this changes in the next couple of months. Quite frankly, many sellers have adjusted their prices – some significantly – in order to get their properties sold. Lower prices and sellers willing to accept offers lower and settle also contributed to some of the movement. I know of two sellers in the south west for example, that had to change their expectations and adjust their prices by about $80,000 from where they started in the summer. In the end, they were happy to have it all done.
Actually, the benchmark price in Calgary last month reflected this mentality, dropping by half a percent below October 2017. At $436,700, the November benchmark was .46% above November 2016, but unfortunately, the median price and average resident home price were both lower than last year.
Looking a year-to-date stat in Calgary real estate, single-family home sales are sitting at 11,220 which is 5.5% more than Jan 1 to Oct 31 last year. Sales of detached homes are up across the city except for the north-east quadrant which experienced a bit of boom in 2016.
Condo Apartment Sales Pick Up
A jump in condo sales were encouraging last month, but with almost an equal number of units listed last month it seems we can't make a dent in the number of total units for sale so prices are just not recovering. Condo prices are 4% lower on average than Nov 2016 and compared to 2014 averages, prices are 14% lower.
In the attached sector, duplex homes sold well compared to town homes, or row houses.
New Stats for Real Estate Investors
Canada Mortgage and Housing released a report on Dec 1 saying that vacancy rates are dropping in Calgary – down to 6.3% from 7%. Those are still high numbers, but encouraging if you are an investor waiting for just the right time to purchase a rental property. The report noted that rents are dropping – on average just by $15 over 2016 rent prices. Investors also will face further scrutiny when the mortgage rules change which may affect what types of rental properties they can acquire.