Happy Thanksgiving Wishes to Everyone
Posted by Crystal Tost on Thursday, October 10, 2019 at 11:40 AM
By Crystal Tost / October 10, 2019
Comment
There's always something to be grateful for... Thanksgiving Day is the perfect time to remind each other of the many reasons there are to be grateful. At this time we catch one's breath to count our blessings. The freedom of this great country of Canada which we live in. For our work colleagues, for their professionalism, inspiration, and sense of humour. The food on our tables, shelter, and unconditional love from our family and friends.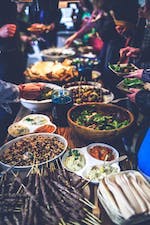 When you think of Thanksgiving, what images come to mind for you? The long weekend kicking off the autumn season? Raking leaves and kids having fun playing in them? Harvesting the crops? Shutting down the lake cottage? Eating yummy roast turkey? Pumpkin pie? Watching football on tv with the family? Perhaps watching the Thanksgiving Day Parade? Taking a long nap after enjoying all that food? Heading out to the Autumn Pumpkin Festival? Or is it just that there's something wonderful about being with your family.
Thanksgiving is more than the festivities, it gives us time to contemplate upon the lessons that were learned and how we can spread happiness around, to look back at all the great memories and good people who came into our lives. We appreciate you so much.
"As we express our gratitude, we must never forget that the highest appreciation is not to utter words, but to live by them." - John. F. Kennedy
A Brief History of Canadian Thanksgiving
The influences of Thanksgiving are more closely related to the traditions of Europe than that of the United States. Long before Europeans settled in North American festivals of thanks and celebrations of harvest took place in Europe in October. The first Thanksgiving celebration in North America took place in 1578 in Canada when Martin Frobisher, an explorer from England, set out in search of the Northwest Passage. He thought it necessary to give thanks for his safe arrival to the New World.
For a few hundred years, Thanksgiving was celebrated in either late October or early November, before it was declared a national holiday in 1879. And it was then that November 6th was designated the official Thanksgiving holiday. But then on January 31st, 1957, the Canadian Parliament made public that on the second Monday in October, Thanksgiving would be "a day of general thanksgiving to almighty God for the bountiful harvest with which Canada has been blessed." Thanksgiving was changed to the second Monday in October because, after the World Wars, Remembrance Day (November 11th) and Thanksgiving kept falling in the same week. This year Canadian Thanksgiving is October 14th, 2019!
Happy Thanksgiving Day to you and your loved ones. We are deeply thankful and extend to you our best wishes for a happy and healthy holiday season.