Fur-Ever Homes Rescue: Every Animal Deserves a Second Chance
Posted by Crystal Tost on Monday, March 25, 2019 at 7:45 AM
By Crystal Tost / March 25, 2019
Comment
Fur-Ever Homes Rescue: Every Animal Deserves a Second Chance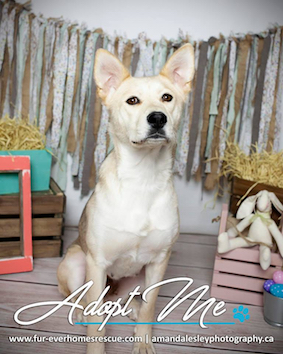 Fur-ever Homes Rescue is a not for profit local dog rescue that saves lives everyday. Whether they are rescuing dogs locally, provincially, or internationally (California, Mexico, and even Korea), this local rescue has a very important mission, to rescue, rehabilitate and re-home displaced animals. Most of the dogs they rescue have little to no chance of survival and Fur-ever Homes Rescue saves these deserving animals with no hesitation.
Their adoption process is structured to carefully select loving homes for each animal to ensure they will receive a lifetime of care and love. The rescue host adoptions events every weekend and is partnered with Calgary based PetSmart and Pet Value stores. At any given time the rescue can have up to 50 dogs in foster care and is completely run using the dedication of volunteers. The rescue also offers a spay/neuter program, education programs, pet food assistance and guidelines for responsible pet ownership that will in turn reduce the number of animals left in shelters.
As an avid dog lover and fellow rescuer I was lucky enough to get involved with the rescue about 3 years ago. I was searching for charitable work, somewhere to donate my time where I knew it would really make a difference. A quick search on Google and I found Fur-ever Homes Rescue. I started off as a Volunteer at the weekly adoption events citywide and quickly found a new meaning to unconditional love. My volunteering soon led me to become a Adoption Leader which would allow me to meet the prospective Adopters and ensuring the adoption was a good fit. To see the moment when a family becomes a fur family is truly an incredible sight that one feels straight in the heart. Not only was my time at the rescue extremely rewarding it was also extremely challenging. I wanted to ensure every adoption was the perfect fit as I felt responsible for that animals safety and care. We ended up adopting a sweet little puppy from L.A. whos mother and her 7 puppies was slated for euthanasia. We flew them up on a West Jet flight and we were very happy to bring our little guy home when he was 10 weeks old.
I am now happy to say I am a donor, and every real estate deal I complete, I donate to the rescue on behalf of my Client.
The rescue is funded 100% by donations. If you can't adopt then foster, if you can't foster, then volunteer and if you can't volunteer then donate!