February 2018 Real Estate in Calgary - few steps forward, quite a few back
Posted by Crystal Tost on Thursday, March 1, 2018 at 7:46 PM
By Crystal Tost / March 1, 2018
Comment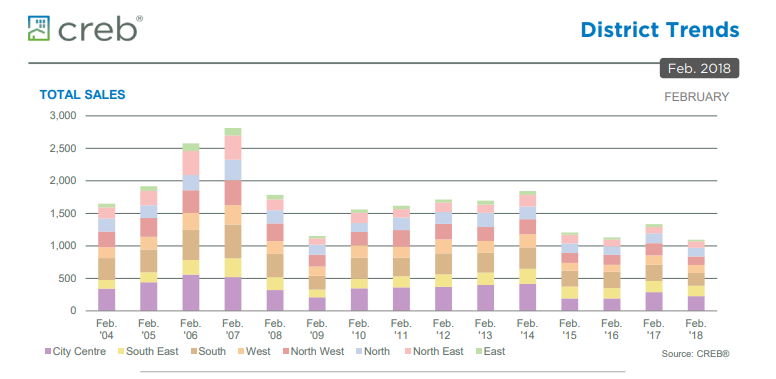 The Calgary Real Estate calls it a bumpy road to recovery, and that was certainly evident in looking at what happened last month in our city.
February 2018 Stats
Sales of residential properties dropped in February by 18% over 2017. That's a huge dip from last year. But thankfully, we didn't see an equally drastic decline in home prices. We were fortunate in that we didn't get the usual number of new listings last month which helped to keep prices on an even keel. The current supply of homes for sale in Calgary sits at about four months. Days on the market is another step back, at least from this time last year. It's gone from an average of 48 days to 51.
As of February 28, the number of sales was 1,094 and that was across all property types, a drop from 1,334 sales February 2017. Sales for January and February were quite a bit below the long-term averages that we see. In CREB's monthly press release issued today, Ann-Marie Lurie – chief economist – said she believes that the Calgary market is still adjusting to increases in interest rates and new lending rules – mostly the former and not so much the latter. She did add that its still early days.
Like the previous month, there were fewer than normal listings added so it offset the drop in sales volume. We saw the most new listings in the single-family home segment among properties priced between $600,000 and a million.
Home Price Picture
The benchmark price in Calgary in February was $434,300 which is actually higher than last month and very similar to February 2017. We haven't seen much growth and prices have remained steady for single-family and attached home markets. Sales in the detached sector are 12% less than this time last year, and 22% below the long-term averages. As I said, there hasn't been much movement in price, with the benchmark price for single-family properties still just over half a million at $501,100. The South East area of the city has the fewest number of detached homes for sale, with just 3.16 months of supply – the lowest in the city.
Apartment Condos Problematic
We've been holding our breath hoping that apartment condominiums would start to pick up. They keep building new product, especially in the Beltline and City Centre were there are currently 730 units for sale, but condo prices are still 3% lower than February of 2017 and even 2016, at an average of $296,050. The benchmark price for condos is $256,300 which is 3% lower than February 2017. There's still too much product on the market in Calgary – it will take eight months to sell everything we have. This time last year, there was a seven months supply so we're a little more worse off. Days on the market is still and average of 68. As long as this is the case, those prices just aren't going to improve.
Semi-detached and townhomes are the only area where we're seeing higher averages than 2017, if only by 1%. Duplex units average $417,300 year to date and we're seeing townhomes averaging $296,060.
Tom Westcott, CREB president, said in his monthly report that sellers have to manage expectations with a sound pricing strategy - something that I can help you with if you're thinking of selling and want a realistic picture of what your property would likely fetch in today's market.
It's also a best practise for home buyers to get pre-approved by their lender, in light of all these lending changes, before making an offer on a home.