Do it like the pro's do it - Building a home that is!
Posted by Crystal Tost on Thursday, March 31, 2011 at 3:02 AM
By Crystal Tost / March 31, 2011
2 Comments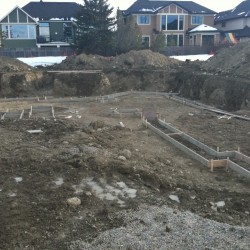 Do it like the pro's do it- Part 3 - Building a home
YES! We finally broke ground, the hole is dug and the foundation will soon be standing. It is great to see progress on our little piece of la
nd, a small sign that things are moving ahead and soon a house will be standing on the lot we chose. Now as you move forward to this stage of building your dream home certain items need to be picked out and confirmed. Right after framing, plumbing and electrical rough-ins are next so it is important to have these items nailed down. If you are adding pot lights, pendants this all needs to be considered. Your first kitchen design appointment should also be made so that you know what levels your cupboards will be hung at (important for plumbers and electricians) or if you are planning a contemporary look with floating cupboards.
Building a house is one thing, but it is the small thought out details that gives the house the sense of style that represents your own taste. There are many things you have to think about before the time comes that you need to actually make a decisions so be sure to get a construction schedule from your builder so that you can try to anticipate the choices you need to make as the time comes. This will help things be less stressful on you later on in the building process. Having this type of vision is hard for some people and if you feel it is not your thing, then maybe you should rethink building a home, or at the very least hire a designed or a real estate agent that is experienced and familiar with the process. ( I have built many homes on my own and with clients so I would be a good choice, but there are other agents out there equally qualified - do your homework!)