December 2022 Calgary Real Estate Statistics
Posted by Chayne Plaza on Thursday, January 19, 2023 at 10:30 AM
By Chayne Plaza / January 19, 2023
Comment

Calgary Real Estate Market Statistics -December 2022
December sales have gone down, however, slowing sales over the last half of 2022 were not enough force to offset earlier gains as sales topped a record high of 29, 672 units in 2022.
During the last several months, the fallback in sales was also introduced with a significant fallback in new listings, causing higher declines in inventory levels. In December there were 2,214 units available in inventory, creating the lowest level of inventory reported for Dcember in over a decade.
"Housing market conditions have changed significantly throughout the year, as sales activity slowed following steep rate gains throughout the later part of the year," said CREB Chief Economist Ann-Marie Lurie. "However, Calgary continues to report activity that is better than levels seen before the pandemic and higher than long-term trends for the city. At the same time, we have faced persistently low inventory levels, which have prevented a more significant in home prices this year".
Benchmark prices made way to $518,000 in December, nearly went down to around five percent from the peak price in May, but almost eight percent higher then last December. Although prices have gone down annually, they sit over 12 percent higher than last years levels.
Sales and price growth generally outperformed expectations in the housing market in 2022.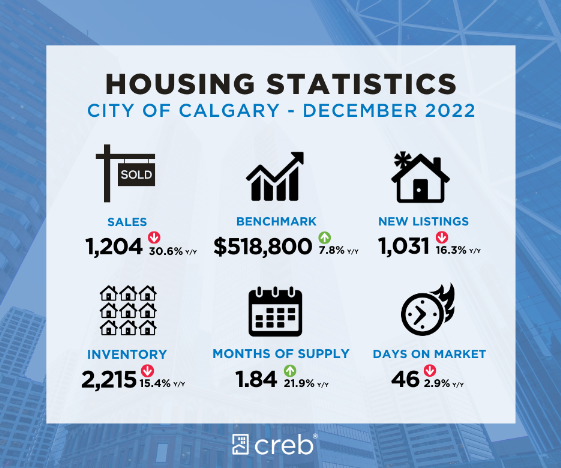 Detached
The fallback in sales in the year's last half presented to the year-to-date went over seven percent, which resulting the detached market having a big impact. Although there have been some incline in new listings over the last quarter, much growth has begun in the market's upper-end, supporting more balanced conditions. However, supply levels for lower-priced homes continue low relative to the sales activity, making that market segment to remain favouring the seller. Altogether, the detached market has seen action shift away from the larger seller's conditions recorded earlier in the year.
As the December benchmark price of $619,600 has eased by over four percent from the high in June, prices in the detached market have trickled down in the last half of the year. More recent adjustments have not erased all the earlier gains, as the standard prices recorded an annual gain of over 14 percent. Annual price growth has ranged from a high of 19 percent in the South East, North and North East districts to a low of nearly eight percent in the City Centre.

Semi-Detached
More declines in sales this month supplied to the year-to-date sales decline of about three percent. Activity is still far more stronger than long-term trends and levels recorded prior to the pandemic, even though sales have eased relative to last year's reported levels. At the same time, new listings have been trending down for this property type, stabilizing the inventory and months of supply moderately love compared to historical levels.
There has been downward pressure on prices, as conditions are not as tight as earlier in the year. The monthly standard price peaked in May of this year and has lowered by about four percent since then. Although, on an annual basis, standard prices remain nearly 12 percent higher than in 2021. The North district recorded a higher annual price gain of over 18 percent.

Row
Outstanding reductions in new listings weighed on sales over the last couple months of the year. Annual sales in the city of Calgary touched a new record high, with 5,513 sales in 2022, despite recent shifts. Not only was it a record year for sales, but sales were almost double long-term trends. Higher lending rates are navigating more purchasers toward the more affordable row options. The recent fallback combined with relatively strong sales has forced inventory levels to fall, although new listings were still higher than last year's levels on an annual basis.
In this past month of December, inventory levels were at the lowest since 2013. This has secured that this segment of the market continues to favour the seller. Althoguh prices have eased by one percent from the June high, overall year-to-date prices are about 15 percent higher than last year.

Apartment Condominium
Apartment Condominium sales remain to rise over the previous year's levels throughout the year, unlike other property types. This caused year-to-date sales to rise by 50 percent to 6,221 units, a new recorded high. Demand for affordable product, along with renewed investor interest thanks to rental rate growth, helped support sales growth. Thanks to growth in annual new listings, gains in this sector were possible. Although, like other sectors, the increase in new listings was too low to outweigh the sales growth, and inventory levels fell down to levels not seen since 2013.
The transition to tighter conditions supported annual price gains of about nine percent, after several years of being oversupplied. City-wide prices remain constant well below the previous highs touched bak in 2014, while price gains occurred across ever district.
Regional Market Facts
Airdrie
Sales in Airdrie have gone down since the month of April, mainly because of the significant drop down in detached home sales. December was no exception, as sales slowed compared to last year's levels.Year-to-date total residential sales have increased by seven percent and set a new recorded high of 2,469 units, despite recent declines.Regional population growth mixed with relative affordability of homes in Airdrie compared to Calgary are some factors supporting the recorded sales in 2022.
Although new listings trickled down in December, 2022 seen a rise in new listings in the market. This supported some recent year-over-year gains in supply levels over the year's exceptionally low levels. Recent changes in both sales and inventory levels have caused the months of supply to go up from the strong seller's market conditions, which were recorded earlier in the year. Nevertheless, conditions settle relatively tight with less than two months of supply.
The December standard price in Airdrie has eased by over six percent from the high in April. Although, it's still 12 percent higher than last year's level. Overall, the annual standard price in 2002 was $489,558, nearly 20 higher than last year's level.
Cochrane
Contributing to the year-to-date decline of eight percent, December sales have eased. The annual fallback in sales was greeted with new listings comparable to last year. This supported some inventory growth in the market, but levels are still well below what typically in the resale market. Although inventory levels have stayed low, the recent fallback in sales has developed in more well balanced conditions taking some of the force of price growth seen over the last four months of the year.
On a annual basis, he standard price reached $504,067 in the town, about 17 percent higher than last year's prices. Establishing 2022 as the new record-high price, price gains were the strongest in both the detached and semi-detached sectors, where prices rose by 19 percent.
Okotoks
Sales action has eased in December, but the year-over-year fallback over the past several months has not offset the gains recorded earlier in the year, as year-to-date sales action began to rise by nearly two percent. This growth was joined with many new listings in the market, helping assist higher inventory levels over last year's record lows. Conditions remain tight with under two months of supply, even with some inventory growth, placing limits on the price adjustments.
Although prices have trickled down from the high seen in May, on a annual basis, standard price growth in the town of Okotoks was nearly 16 percent. For the first time, price growth was the strongest in the detached sector, pushed above $600,000 on an annual basis.