Calgary's 2020 Real Estate Market Expected To See More Stable Conditions
Posted by Crystal Tost on Tuesday, January 14, 2020 at 5:00 PM
By Crystal Tost / January 14, 2020
Comment
Calgary has endured job losses, wage decreases, and toughening national housing policy since the crash of oil prices. All these factors have added to the more moderate sales environment, excess supply, and citywide price adjustments of more than 10 percent.
As Calgary goes into the sixth year of this cycle, there are signs of adjustments to these conditions in the housing market.
"Job growth, combined with recent easing in mortgage rates and price declines, is starting to bring some purchasers back into the lower end of the market," said Ann-Marie Lurie, CREB® chief economist.
"We are seeing more transactions in the $500,000-and-below price point for residential homes."
Preference for consumers toward the lower-priced product is expected to remain at the cost of continued vulnerability in the higher end of the market. Nevertheless, as the under-$500,000 market, indicates a more significant percentage of total activity, the increases in this sector will exceed the losses from the higher end, finishing in modest growth in sales and a decline in downward pressure in prices.
Conditions in the current housing market are different compared to what was reported prior to 2014. We are settling into a current standard of more moderate sales, supply selection, restricted price growth, and a cautious consumer.
"Whether you are a buyer or seller, having all the facts, strategies and data is critical to ensuring you get into the right home, or sell your existing home, in an appropriate time frame," said Alan Tennant, CREB® CEO.
"A REALTOR® can guide a homebuyer or seller through the process and help avoid the guess work."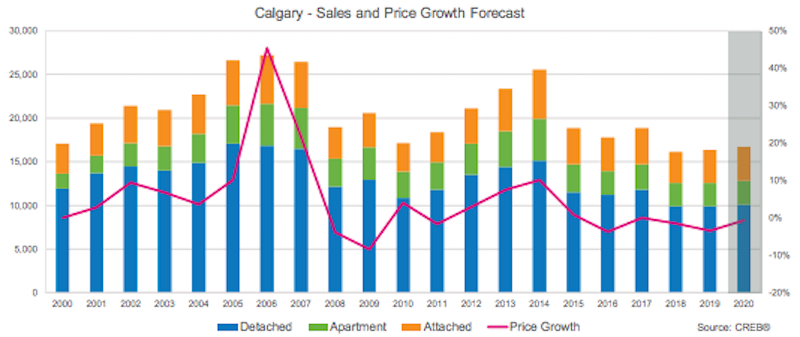 2020 CREB FORECAST SUMMARY
A brand-new standard in the market: supply adapting to more moderate sales activity, producing conditions that are more supportive of a stable price environment.
Improvements in the market expected to be pushed by increases for the lower-priced product while softening prices and oversupply continue in the higher price ranges.
Adjustments in supply expected to persist, supporting the drive towards stable market conditions.
Expected price stabilization over the year, but will continue just below annual levels compared to last year.
Mortgage rates to stabilize, past price decreases, and job growth should help modest improvements in sales, but these will remain at lower levels.
Employment uncertainty weighs on the market, which could produce further declines in prices and sales.