Calgary Real Estate Statistics May 2020
Posted by Crystal Tost on Tuesday, June 2, 2020 at 8:22 AM
By Crystal Tost / June 2, 2020
Comment
Impact of COVID-19's on the Calgary housing market continues
In May, Calgary's housing market activity remained slow, though sales surpassed the lows from April, which saw fewer than 600 sales.
May sales totalled 1,080 units, a 44 percent decrease from last year's totals.
"The initial shock of COVID-19 and social distancing measure is starting to ease. This is bringing some buyers and sellers back to the market. However, this market continues to remain far from normal and prices are trending down," said CREB® chief economist Ann-Marie Lurie.
"Activity has also shifted toward more affordable product, which is likely causing differing trends depending on product type and price range."
Sales have declined in all price ranges, but a more significant percentage of sales are below $500,000.
The drop in inventory in the higher price ranges has not been enough in comparison to the decrease in sales. The months of supply is higher than the already elevated levels seen throughout the past five years.
Sales shifts toward lower-priced housing are contributing to Calgary's market significant average price declines.
Benchmark pricing comparing the same style of home has eased 0.4 percent compared to last month and by more than two percent compared to the previous year, which is not surprising as the market has more supply than demand.
While COVID-19 continues, contributing to the rising unemployment rates and job losses throughout numerous economic sectors, while weighing on consumer confidence and the housing market. A certain amount of job loss will only be temporary, though the energy sector continues to be the most concerning.
Significant job loss for the higher-paid professionals and technical services sector, looks to a longer adjustment period in the housing market, especially in the more high-priced end of the market.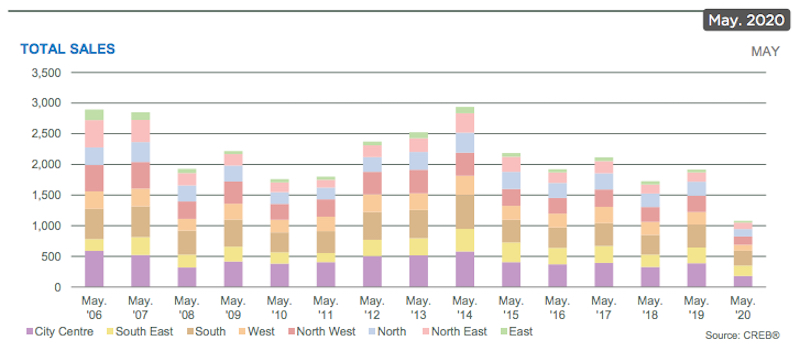 HOUSING MARKET FACTS
Detached
Sales for detached declined throughout the city, with the more significant declines in the West zone.
Sales for May totalled 670 units, which is a 43 percent decrease compared to last year.
Declines with lower inventory levels were not enough to change the oversupply in the market. Months of supply citywide remained at more than four months.
The months of supply for the higher-priced zones - the West and City Centre - increased to seven months.
In comparison to last month detached home prices decreased in May and remained almost two percent less than levels last year. Declines ranged throughout the city, with the most significant price declines in the City Centre, West, North-West and North-East zones.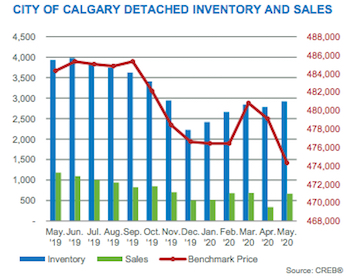 Apartment
Apartment sales in May totalled 137 units, an improvement over the last month of 95 units. Yet almost 60 percent less than levels last year. The inventory pullback was not enough to compensate for the decreased sales, and the months of supply increased to 10 months.
Benchmark price proceeded to decline to more than two percent less than levels last year. The median and average prices dropped significantly due to a large number of sales in the under-$200,000 price range.
Easing of benchmark prices across all zones, although the year-over-year declines were most significant in the North-East zone, with declines of more than five percent.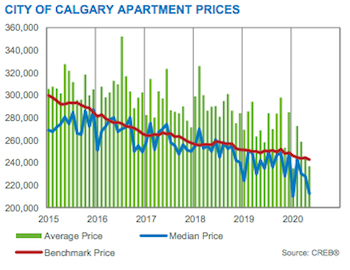 Attached
Following the trend in different property styles, attached sales decreased by 35 percent compared to last year, with a total of 273 units. Levels of inventory reduced to 1,503 units, and supply totalled 5.5 months. Months of supply remains elevated relative to historical levels for this time of the year but has eased compared to levels reported the previous month.
The attached product benchmark price has decreased by almost four percent compared to last year and nearly one percent over last month.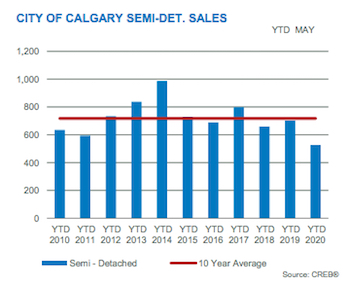 REGIONAL MARKET FACTS
Airdrie
May sales in Airdrie totalled 99 units. With activity slowing compared to the previous years, the decrease has not been as significant as in Calgary. The area also has seen a comparable reduction in inventory levels and new listings. Helping to drive the months of supply back to four months, similar to the levels recorded before COVID-19.
Benchmark prices have declined slightly in comparison to the previous month and relatively constant compared to last year. Though there have been notable median and average price declines. Mainly related to the significant shift in sales activity by price range, as it continues to improve for housing priced below $300,000.
Cochrane
Sales declined in Cochrane, with the decrease in new listings outpacing the decreased sales. Causing inventories to drop, reducing the months of supply to less than five months, a decline of 9 percent compared to last year.
The impact of last months oversupply has weighed on benchmark prices, which have declined by two percent compared to the previous year. However, different from the other areas, the average and median prices have increased, with sales in the $400,000 - $499,999 price range remaining constant and representing a larger share of overall sales compared to last year.
Okotoks
Okotoks sales in May improved slightly in comparison to the previous month and have remained relatively weak. Inventory at the same time has decreased, helping offset the slower sales and leaving the months of supply at four months.
For the third month in a row, benchmark price trended down, and levels year-to-date are two percent less than last year.