Calgary Real Estate Statistics for September 2019
Posted by Crystal Tost on Tuesday, October 1, 2019 at 11:42 AM
By Crystal Tost / October 1, 2019
Comment
Media release: Moving towards balance
Sales activity improved over last year's numbers for the third consecutive month, as year-over-year inventories and new listings eased. This direction is encouraging the housing markets stability.
"Price declines have likely brought some buyers back into the market," said CREB® chief economist Ann-Marie Lurie, noting improvements in the market continue to be driven by homes priced below $500,000.
Sales improved by 16 per cent this month in the condominium apartment market. Symbolizing the segments best September since 2015. Growth year-to-date in both the apartment and attached sectors were adequate to balance the moderate decrease in the detached sector resulting in sales growth in the city year-to-date of almost one per cent.
The overall market remains oversupplied despite reductions in inventory and improving sales. Continuing to have an influence on prices.
"While housing demand is modestly improving, sales activity remains relatively weak," said Lurie. "The market is moving toward more stable conditions, but this is mostly related to supply adjustments in the city."
Inventory levels for September remain elevated at 6,889 units, but this number represents a decrease of 13 per cent in comparison to last year. The Calgary market months of supply currently sits at five months. With conditions, not to the same degree seen at this time last year, continuing to favour the buyer.
Unadjusted benchmark price citywide of $424,900 for September is two per cent less than levels last year.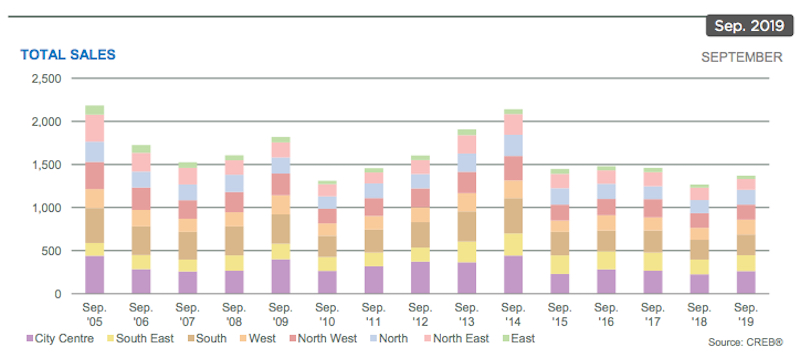 HOUSING MARKET FACTS
Detached
Sales improved in both the South and North West Zones, despite decreases citywide, thanks to substantial increases in the sale of homes priced less than $500,000. Sales improvements over the past three months were not sufficient enough to outweigh pullbacks that occurred earlier in the year, as sales year-to-date linger at almost one per cent less than levels last year.
Although this is an improvement in comparison to the same time last year, the months of supply remains elevated at over four months.
September benchmark prices ranged from a decrease year-over-year of more than four per cent in the South zone to broad balance in the West, North and North East zones.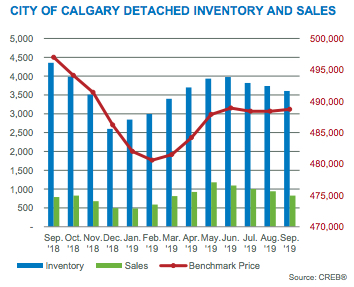 Apartment
Improved sales this month were at 16 per cent, producing the best September reported in the last three years. Year-to-date levels remain stable in comparison to last year, despite recent improvements in sales, but well below trends longer-term.
Apartment condominium sales were mixed across the city. Momentous growth was recorded in the South East and North zones. Significant new-home development was seen which could be affecting resale activity.
Oversupply remains to have influence on prices in this segment, with unadjusted prices continuing at 17 per cent less then 2014 highs.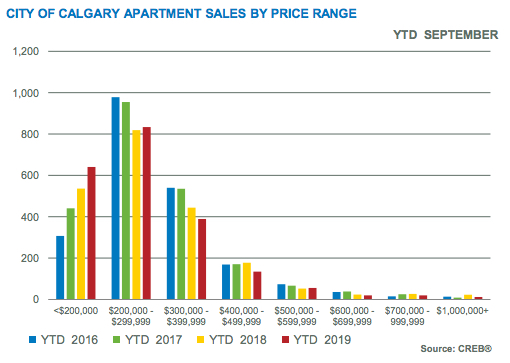 Attached
Attached sales year-to-date in comparison to last year have improved by more than five per cent due to sales increases in both row and semi-detached product. This being the only product type reporting significant increases year-over-year.
Months of supply and inventory reduced as new listings continue to ease.
Buyers' market conditions endure and prices continue to ease despite some annual decreases in the months of supply. Benchmark price decreases year-to-date ranged from a low of three per cent in the North East to a high of almost six per cent in the City Centre.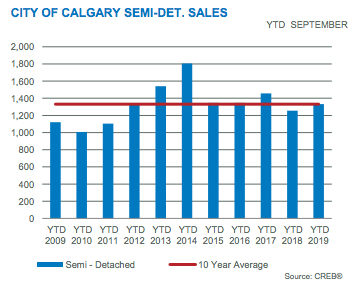 REGIONAL MARKET FACTS
Airdrie
Resale market conditions continue to show signs of growth. Improved sales activity in September pushed sales year-to-date up by almost three per cent. Reduced inventory in the market helped as new listings eased.
Months of supply is edging down from the high levels last year with the market remaining marginally oversupplied. Encouraging further stability in monthly price change. The unadjusted benchmark price as of September was almost two per cent less than levels last year.
Cochrane
Year-to-date levels remain the third-highest reported with sales in the area continuing to improve. Elevated inventories continue to influence prices, even with the area facing fewer challenges with demand than the Calgary market.
The market should move towards more balanced conditions as inventories are starting to trend down, eventually supporting some price stability.
Okotoks
Easing new listings and improving sales are causing inventory declines year-over-year and reducing market oversupply. Sales activity continues to recoup from the low levels reported last year.
Benchmark prices year-to-date continue just above four per cent less than levels last year. Prices have been slow to bounce back even with the market trending towards balanced conditions.