Calgary Real Estate Statistics for October 2020
Posted by Crystal Tost on Wednesday, November 4, 2020 at 2:10 PM
By Crystal Tost / November 4, 2020
Comment
Calgary sales growth in October driven by detached home sales
October sales in the city reached 1,764 units, with substantial gains in the detached sector. Well above longer-term averages and a 23 percent increase over last year.
The gain in citywide residential sales outpaced the growth in new listings, supporting tighter market conditions and improving prices.
"Over the past several years, higher lending rates and the stress test pushed many out of the detached housing market. However, recent declines in rates, combined with prices that are lower than several years ago, have brought back some of that demand," said CREB® chief economist Ann-Marie Lurie.
"This is helping support more balanced conditions and price improvements in the market. However, price improvements are not occurring across all product type and price ranges and downside risk still hangs over future conditions."
Improving sales over the past four months was not enough to negate the pullbacks in the second quarter. And year-to-date sales held at almost six percent less than levels last year.
October prices were slightly higher than in 2019, as well we have seen benchmark prices trend up over the past four months. Based on year-to-date, prices are almost 10 percent less than previous highs and one percent less than levels last year.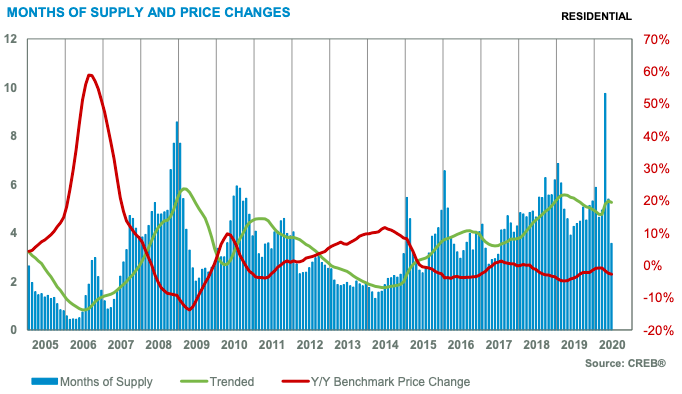 HOUSING MARKET FACTS
Detached
Sales in October totalled 1,139, with a year-over-year increase of 35 percent. Unlike earlier this year, October's more significant gains in sales occurred for homes that were priced over $600,000. The more expensive homes easing prices could be supporting this rise in sales.
New listings this month were higher than last year, yet inventories eased. With months of supply falling below three months, a significant improvement from the four-plus months recorded over several years.
However, there is a significant difference between location and price range. Detached homes under $500,000 reported less than two months of supply, carrying some price increases depending on location.
When looking at the zones price shifts, the only city zone to report further price reductions was the City Centre. The South and Southeast zones reported price increases year-over-year of around four percent. Despite recent price shifts, all zones prices remain distant from recovery and are considerably below past highs.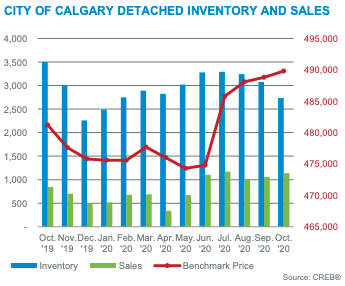 Semi-Detached
Increases in sales activity over the last month and new listings eased, causing inventories to decrease and months of supply to lower at just over three months.
Tighter market conditions continued to support monthly increases in prices. October benchmark price persisted at almost one percent less than levels last year, despite these increases. Though activity differs significantly based on location. Prices year-over-year eased in the City Centre, North West and West zones, offsetting the other zones' price increases.
Despite gains over the past several months, year-to-date sales remain over six percent less than levels last year and more than seven percent less than averages long-term. Pullbacks have essentially driven the more moderate sales activity in the City Centre, North West, South, West, and East zones.
Row
Year-over-year decreases were significant in the City Centre and West zones. Still, citywide row sales gained over levels last year and activity year-to-date sits only two percent less than last year.
Inventory remained relatively steady this month, with the months of supply holding at around four months.
October's citywide benchmark prices were $274,400. A small improvement over last month, but almost six percent less than levels last year. The price decline is mostly caused by the significant decrease in row prices in the city's West zone.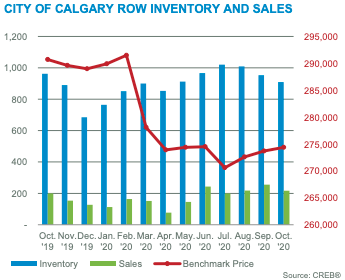 Apartment Condominium
Apartment condominium sales for the seventh consecutive month eased compared to levels last year, finishing in sales year-to-date of 1,999 units.
Representing a 15 percent decrease over last year and is almost 30 percent less than averages longer-term. The only sector showing signs of improvement in this market is the under-$200,000 share. Sales increased in this segment, though not enough to offset declines in all other price ranges.
Sales citywide have eased, yet new listings have been on the rise. Causing inventory gains year-over-year, halting positive momentum in prices. Benchmark price totalled $248,600, comparable to last month and more than one percent below levels last year.
Apartment condominium prices overall remain over 17 percent less than past highs.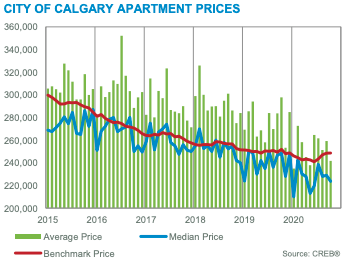 Airdrie
With significant increases in the detached sector, sales improved again this month compared to last year. This contributed to sales year-to-date of 1,199 units, with a 13 percent increase over last year.
The increase year-over-year in new listings was not enough to outpace the sales increases, with inventories trending down compared to the prior month and remain well below levels last year. That caused the months of supply to stay just above two months.
Benchmark prices citywide year-to-date remained relatively steady compared to last year. However, activity does vary by product type. Detached benchmark prices year-to-date have increased by one percent, while prices in all the other sectors remain below the prior year's levels.
Cochrane
This month's sales activity rose compared to levels last year, contributing to an increase year-to-date of almost ten percent. Meanwhile, new listings have not kept pace with sales, causing reductions in inventory and supply months, which dropped to three months.
Tighter housing market conditions are supporting price increases. Benchmark prices trended up for the fourth consecutive month and were over two percent higher than levels last year as of October. Despite the recent gains, prices year-to-date persist at one percent less than levels last year.
Okotoks
Improving sales in October was enough to drive sales year-to-date up by one percent. However, new listings declined significantly, causing inventory levels to ease and months of supply to fall below two months.
Steadfast tightness in this market is supporting additional monthly price gains. After five consecutive months of rising prices, October benchmark prices grew above levels last year. With improvements in the detached market driving price gains.