Calgary Real Estate Statistics for October 2019
Posted by Crystal Tost on Friday, November 1, 2019 at 11:30 AM
By Crystal Tost / November 1, 2019
Comment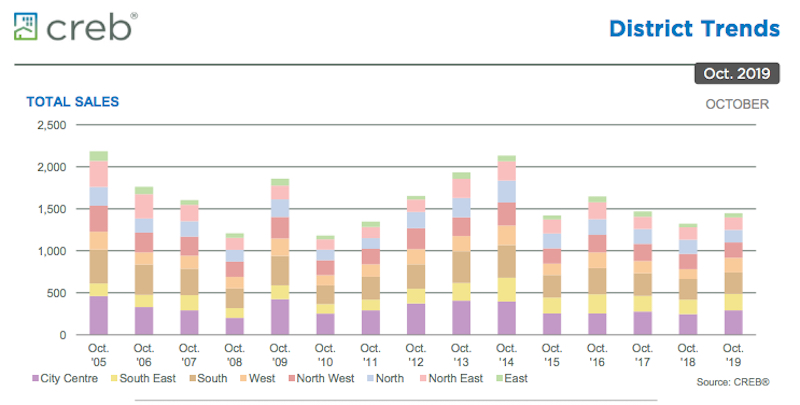 Homes below $500,000 shifting towards balanced conditions
October sales activity increased by almost 10 percent in comparison to last year, guided by progress in the attached and apartment sectors.
New listings also eased, helping to decrease inventory levels and market oversupply. Although there's a shift towards stable conditions, the market remains oversupplied and prices continued to linger below levels last year.
"Employment has shifted in the city, with job growth occurring in our non-traditional sectors and often at a different pay scale. This is consistent with the shift to more affordable housing product," said CREB® chief economist Ann-Marie Lurie.
"However, at the higher end of the market the amount of oversupply is rising, as supply cannot shift enough to compensate for the reductions in demand. This is likely causing divergent trends in pricing and preventing prices from stabilizing across the city."
Signs of improvement in the market are not constant across all product categories and price ranges. Sales gains are happening in the lower price ranges across all product categories. Yet, this is not converting into price shifts, as continued high levels in supply continue to have a downward pressure on prices.
Citywide unadjusted benchmark prices as of October were $422,900, just less than levels last month and two percent below levels last year.
HOUSING MARKET FACTS
Detached
This months sales activity came in just above levels last year, due to gains in all zones except the North and North East. Year-to-date citywide levels, however, remain comparable to levels last year and more than 19 percent less than trends longer-term.
New listings continued to ease this month, however, at a more gradual rate than levels reported over the last eight months.
The easing of new listings and improvements in sales brought down inventory levels by 15 percent. Months of supply is just under four months, with 3,391 units in inventory. In comparison to last year, this is a decrease, although still is high based on trends longer-term. Months of supply eased across all zones except the North, probably due to the elevated pressure from the new-home sector.
Easing of unadjusted benchmark prices over the previous month as a result of decreases in all zones except the East and South East. Prices in October chiefly remained close to two percent less than levels last year and about eight percent less than prior highs.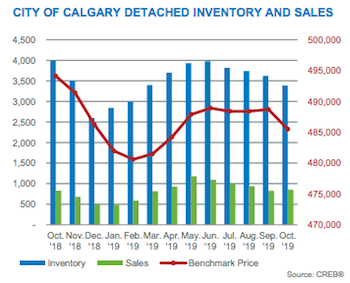 Apartment
Apartment new listings eased, and sales continued to improve this month. Supporting reductions inventory levels, which brought the months of supply down just below six months. Even with these improvements, the market continued strongly in the buyer's domain.
Improvements in sales year-to-date lead by growth in the South East, North, and West zones. Decreases in inventory have taken place in all zones except the South East.
Year-to-date prices throughout remained more than two percent less than levels last year and almost 17 percent less than peak pricing. There are, however, some signs of stabilization in this year's prices, as prices in the East, South East, and North East remained comparable to last year.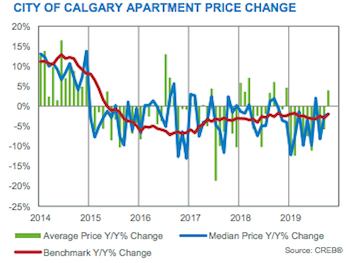 Attached
Continuing to show the most significant increase in sales is the attached market, with year-to-date gains of almost seven percent. Growth showing across all zones except for the North East and North West.
New listings eased by eight percent to date this year, bringing about declines in inventory and reductions in the amount of oversupply.
This sector remains oversupplied, like most sectors, causing price adjustments. Semi-detached and row prices, as of October, continued at two and four percent less than levels last year. Prices continue to ease across virtually all zones and linger well below prior highs.
REGIONAL MARKET FACTS
Airdrie
Total year-to-date sales up by three percent with improvements in sales activity in apartment, row, and semi-detached over the prior year, yet just under averages longer-term.
New listings eased to the lowest levels reported over the past five years, assisting reductions in inventory and months of supply to levels less than the prior year.
Year-to-date average benchmark prices continue over three percent less than levels last year. The improvements are helping to reduce the descending pressure on prices, but not enough to erase prior decreases.
Cochrane
Additional growth in October contributed to a three percent year-to-date sales increase. Supply eased and the months of supply decreased with an 11 percent pullback in new listings.
Similar to other municipalities, benchmark prices continue at over three percent less than levels last year and well under prior highs. The cutbacks in the amount of oversupply are not affecting monthly price changes thus far.
Okotoks
Sales activity continued to recover this month, following a marked fallback in sales activity last year. Causing sales year-to-date to increase to levels just under what was reported post-recession.
A reduction of inventory in the market as new listings continue to ease, bringing the months of supply to just below five months, showing progress from almost six months from levels last year.
We are beginning to see some easing of the downward pressure on prices with reduced oversupply in the market. Year-to-date benchmark prices overall were $410,090, which is four percent less than levels last year.