Calgary Real Estate Statistics for November 2020
Posted by Crystal Tost on Wednesday, December 2, 2020 at 11:50 AM
By Crystal Tost / December 2, 2020
Comment
November sales activity remains strong
Sales in the Calgary market, for the sixth month in a row, reported a year-over-year increase.
Sales growth has been the strongest seen in the past five years over the last several months, but the activity has not been enough to offset the spring's pullbacks. Sales year-to-date remain over three percent less than levels last year.
New listings declined, prompting reduced inventory in the market. Year-to-date, new listings have eased by almost ten percent and are at the lowest level reported since 2001. That has overall reduced oversupply that has been affecting the market for nearly five years.
"The gains in sales in the latter part of this year have been a bit surprising considering the job losses and unemployment rate in our city," said CREB® chief economist Ann-Marie Lurie.
"However, it is important to note that the shift to more balanced conditions has been mostly driven by the reduction of supply."
The benchmark price for November was $423,600, with tighter conditions in the housing market contributing to some recent gains. Nearly two percent higher than levels last year.
Conditions, however, vary depending on the price range. Because of high demand, there is not sufficient supply for affordable homes in each product type. Which is likely causing price trends to differ between the lower end of the market versus the higher end.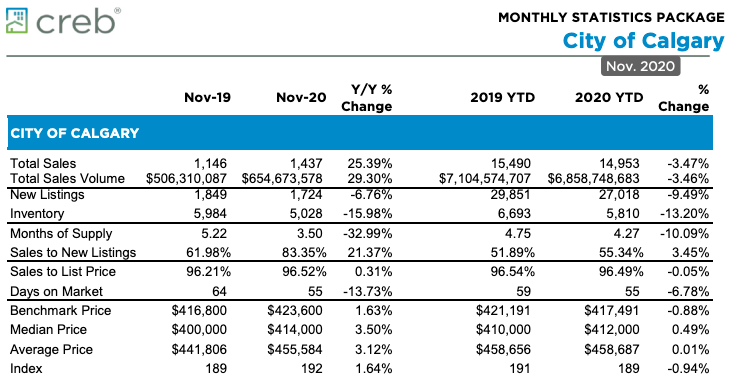 HOUSING MARKET FACTS
Detached
A year-over-year citywide increase of 26 percent as November sales activity improved across every zone. Over the past six months, improving sales has helped offset some of the pullbacks from earlier in the year, as sales year-to-date were only two percent less than levels last year.
Inventory in the detached market, like other sectors, eased due to the substantial drop in new listings. Keeping the months of supply below three months over the past three months. The tighter market conditions support price gains—the detached benchmark price of $492,000, an increase of almost three percent compared to last year. Yet, prices did not increase across all zones, as the City Centre continues to report prices that are one percent less than levels last year.
Activity for this product type varies significantly depending on price range and location. There were significant inventory reductions in homes priced below $500,000 due to pullback in new listings relative to sales. Some declining inventory in the higher price ranges, but the degree of decline has not been as significant. The market displays sellers' market conditions for homes priced less than $500,000 while still supporting the buyer for homes priced over $700,000.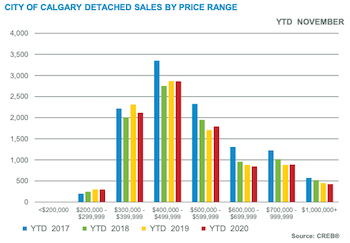 Semi-Detached
Gains in sales year-over-year were faced with a decline in new listings, which resulted in inventory reductions and months of supply of three months. While conditions are not as tight as they are in the detached market, the supply reductions relative to demand were enough to support additional monthly benchmark price gains.
Benchmark price as of November was $395,100, which is one percent higher than levels last year. Depending on location activity varied, as price increases were the highest in the South East zone, prices remained just below levels last year in City Centre.
Within this market, depending on price range, there have also been notable differences. Months of supply has decreased significantly for product priced less than $400,000. This drop is likely adding to some of the differing price trends seen throughout the city's zones.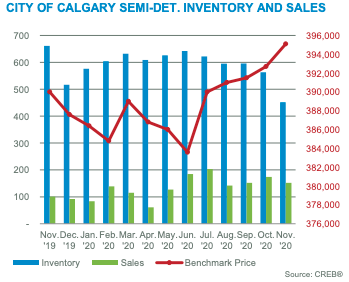 Row
Gains year-over-year in the row sector continued and were enough to cause sales year-to-date to remain at levels comparable to last year. New listings increased compared to the previous year, countering the trend from other sectors, which eased some downward pressure on inventory levels. Months of supply stayed over four months, more than levels seen in semi-detached and detached, still a notable improvement from the almost six months of supply reported last November.
November prices remained comparable to levels last year, with row prices also showing signs of stabilization. Year-to-date, despite some of the monthly increases, prices remained almost two percent less than levels last year and eased across all zones except the West, East and City Centre.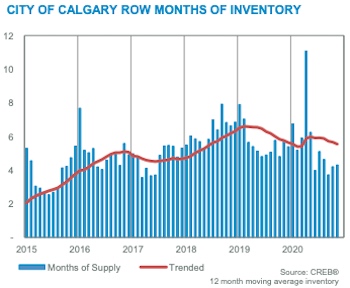 Apartment Condominium
Apartment condo sales gained over levels last year, following seven months of year-over-year declines. Though, last November was an exceptionally weak month for apartment sales. Apartment sales totalled 2,209 year-to-date, almost 30 percent lower than averages longer-term and a 13 percent decline from last year.
New listings eased slightly this month, putting some downward pressure on inventory needed earlier in the year. Yet, inventory continued to be higher than levels last year, and the months of supply remained elevated at almost eight months. The market oversupply continues to put downward pressure on prices, which relative to the previous month not only eased but remained one percent less than prices last year. The only zone seeing some positive force is in the North, where prices climbed slightly compared to last year.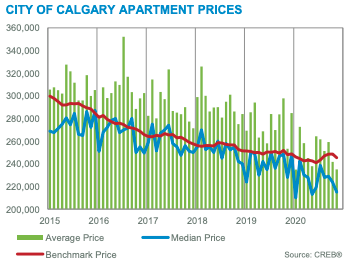 REGIONAL MARKET FACTS
Airdrie
November sales continue to report substantial gains year-to-date as sales reached 1,318, a 15 percent increase from last year. Sales increases met with a pullback in new listings, which caused additional declines in inventory levels. The months of supply remained at just over two months—being the tightest months of supply figure reported for November since 2014, where the months of supply was below two months.
Persistently low months of supply, especially in the market's detached sector, continue to place upward pressure on prices. In November, the Benchmark price was $342,900, trending up above last month and more than two percent higher levels last year.
Cochrane
Sales activity increased over levels last year for the sixth consecutive month, causing year-to-date sales to be 651—a 12 percent increase over last year. Yet, unlike other areas, the number of new listings in Cochrane also increased. The months of supply rose to nearly four months. Yet, the is still comparatively low for November as the town has typically averaged seven months over the prior five years.
Prices have trended up over the last six months, with the generally tighter market conditions in the town. The benchmark price for November was $417,800 and is four percent higher than the prior year. Year-to-date figures remain almost one percent less than levels last year, despite the recent gains.
Okotoks
Sales continued to improve, despite the drop in new listings, causing further inventory declines. November inventory fell to 95 units, which is almost half the levels we typically observe this time of the year. Sales to new listings ratio are over 100 percent and months of supply of just above two months, one of the tightest Novembers reported since 2014.
The market's general tightness was driven by the detached sector and is the only category that had gains year-over-year. The detached benchmark price was $441,100, almost two percent more than last November.