Calgary Real Estate Statistics for May 2019
Posted by Crystal Tost on Tuesday, June 4, 2019 at 7:46 AM
By Crystal Tost / June 4, 2019
Comment
Media release: Improvements in sales activity for the second consecutive month
A decrease in new listings and sales growth in May. Easing the pressure on inventory levels, finishing the month at 7,467 units, a decrease of 12 per cent in comparison to last year.
Months of supply down to just under four months due to improved sales and relative inventory levels. Although improved from five months of supply recorded last May, oversupply remains.
May citywide sales totalled 1,921 units, an 11 per cent increase over levels last year. Yet, sales maintain at 10 per cent below trends longer-term. Growth in sales was chiefly directed by homes worth under $500,000.
CREB® chief economist Ann-Marie Lurie states, "While sales activity remains low based on historical activity for May, the easing prices have brought some people back to market, while also preventing some others from listing their homes."
"This has started to push the market towards more balanced conditions. If this trend continues, it could limit some of the downward pressure on prices."
May benchmark prices citywide totalled $423,100. Remaining four per cent lower than 2018 levels despite showing signs of improvement month-over-month.

HOUSING MARKET FACTS
Detached
May totalled 1,182 units in detached sales. A 12 per cent increase compared to last year, and remaining at 13 per cent below averages long-term. Growth in sales was chiefly directed by homes worth under $500,000.
Increases shown in sales activity in May across most districts. Although, year-to-date sales only show increases in the North East, East and South city zones. Sales citywide continue at one per cent less than levels last year.
May new listings reduced considerably from past year's levels. Along with the improved sales, resulted in declined inventories from 4,504 units last year to 3,921 units this May. This being the first time that year-over-year inventories decreased since May 2017.
Improved sales and eased inventory causing months of supply to reduce to 3.3 months. In comparison to historical levels still remains elevated, but displays improvements compared past year's levels.
Over the past few months prices remained comparably stable, with moderate monthly improvements. Yet, with the oversupply scenario leaves prices four per cent lower compared to last year and seven per cent less than 2014 highs.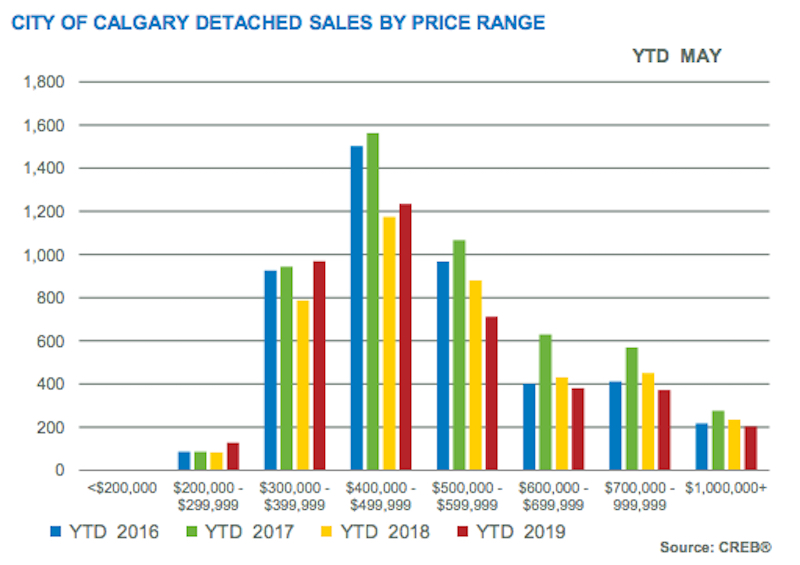 Apartment
Monthly sales growth was not enough to negate previous decreases. Apartment sales year-to-date sit at 1,030 units. Which is 28 per cent lower than averages longer-term and seven per cent less than last year. A reduction in new listings and easing sales, caused a reduction in market inventory. Pushing the months of supply to just above five months.
The market remains oversupplied and prices continue to godown. Ultimately, price decreases will improve if the reduction in oversupply continues.
Benchmark prices for May totalled $246,900, roughly three per cent less than levels last year and 0.6 per cent lower than last month. With a 17 per cent total price adjustment resulting since 2014.
Attached
Improved activity continues in May for attached sales. Sales year-to-date improved by two per cent, with this as the only sector to record improvement year-to-date. Growth occurred throughout most city zones, aside from the West, North West and City zones.
Relative to sales new listings have pulled back. Causing months of supply to trend down and inventories to ease in comparison to last year.
Benchmark prices have seen some modest gains on a month-to-month basis, but remain five per cent lower than levels last year. Prices remain 10 per cent lower than 2014 highs despite some signs of improvement.

REGIONAL MARKET FACTS
Airdrie
May year-to-date sales at 514 units and activity remaining similar to last year. Which is marginaly higher than levels last year. With a marked pullback in new listing coming onto the market. Causing the market to move towards more balanced conditions with decreased inventories.
Prices attempt to improve following decreases last year despite the reduction in oversupply. Airdrie's benchmark price in May was $331,900, nearly four per cent less than levels last year, but comparable to last month.
Cochrane
Sales year-to-date in Cochrane remained marginally less than last year, but higher than activity recorded during the recession. New listings continued to ease, starting to decrease inventories from last years recorded highs.
Market supply is starting to adjust, although conditions remain in favour of the buyer, continuing to weigh on prices. Benchmark prices in May totalled $404,700, over four per cent less than levels last year and just below last month.
Okotoks
Sales year-to date of 208 units are comparaable to levels last year, but less than averages long-term for Okotoks. Inventory levels decrease as new listings continue to ease. Causing months of supply to decrease below four months.
Benchmarket price of $408,200 continuing at five per cent less than levels recorded last year. Compared to sales the reduction in the amount of supply aiding to limit further decending strain on prices.