Calgary Real Estate Statistics for March 2020
Posted by Crystal Tost on Wednesday, April 1, 2020 at 12:26 PM
By Crystal Tost / April 1, 2020
Comment
COVID-19 weighing against the housing market
Following a solid start to 2020, economic circumstances have dramatically shifted, as COVID-19 is affecting all aspects of society.
The economic impact is across many industries, including the housing market.
Sales activity for March began the month strong only quickly turned, as concerns regarding the spread of COVID-19 brought about social distancing measures, which caused a substantial impact on businesses and employment.
"This is an unprecedented time with a significant amount of uncertainty coming from both the wide impact of the pandemic and dramatic shift in the energy sector. It is not a surprise to see these concerns also weigh on the housing market," said CREB® chief economist Ann-Marie Lurie.
By the end of March, sales activity had fallen 11 percent compared to last year. This is 37 percent lower than long-term averages. The drop in sales pushed March levels to the lowest recorded since 1995.
"The impact on the housing market will likely persist over the next several quarters," said Lurie. "However, measures put in place by the government to help support homeowners through this time of job and income loss will help prevent more significant impacts in the housing market."
New listings waned by 19 percent this month. This decline in new listings in comparison to sales prompted supply levels to ease and helped avert a more considerable increase in oversupply. Months of supply overall persist with just under five months, comparable to levels reported last year.
Due to oversupply in the market, prices were forecasted to ease this year. The citywide benchmark price for March was $417,400, almost one percent less than levels last year. The decrease in both new listings and sales should assist in averting significant market price declines.
Price declines, however, likely will be higher than initially anticipated due to the impact of the pandemic and energy sector crisis.

HOUSING MARKET FACTS
Detached
Sales for detached eased by 15 percent the month, prompted by pullbacks in all zones except for the North, which remained level in comparison to last year.
A decrease in sales was matched with a more significant decline in new listings, causing inventories to drop by 17 percent and holding the months of supply slightly lower than levels last year.
Detached benchmark prices have remained relatively consistent in comparison to last year at $480,800. This month's price declines continue to be the highest for the City Centre, North East, and West zone.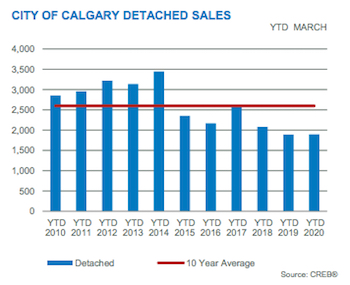 Apartment
Citywide apartment sales for March were 217, which was the only category to report gains year-over-year. Most of the benefit was due to growing sales in the North West, South, and South East zones.
New listings eased this month, serving to support a modest decline in levels of inventory.
There is continued downward pressure on prices due to persistent oversupply. Citywide benchmark price for March eased by more than two percent in comparison to last year for a result of $243,700.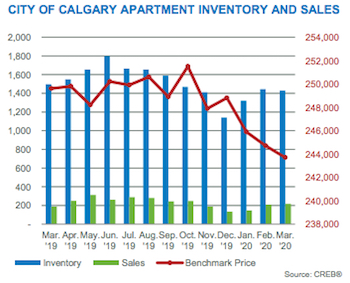 Attached
Row and semi-detached sales both decreased this month in comparison to last year. Similar to different property types, new listings reduced signifcantly.
Eased new listings supported a reduction in inventory levels for both property types, although it was not enough to avert an increase in the months of supply.
This segment, however, was oversupplied before the recent changes affecting prices. Prices persisted almost one percent less than levels last year as of March for both row and semi-detached properties.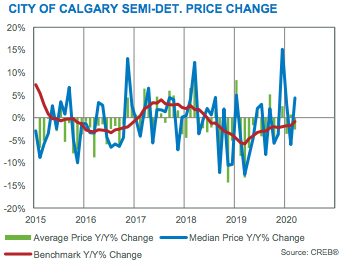 REGIONAL MARKET FACTS
Airdrie
Airdrie, similar to numerous other areas, saw a decrease in sales activity, as well as a decline in inventory and new listings. Supply and demand reductions helped limit any notable changes to the months of supply.
While the full impact of the COVID-19 crisis has not yet played out in the housing market, March prices remained similar to levels last year.
Cochrane
New listings and sales both declined this month in comparison to last year, which caused inventories to drop to the lowest levels observed in five years. Cochrane, similar to many other markets, remains oversupplied with easing prices.
The Benchmark price for March was $398,700, which is almost two percent less than the prior year.
Okotoks
Flat sales and a decline in new listings this month, which is a shift in trend. Declines in new listings were sufficient enough to cause a significant reduction in supply levels with months of supply falling below five months.
On a monthly basis, prices are trending down. But remain comparable to levels last year, with a benchmark price in March of $405,000.