Calgary Real Estate Statistics for June 2021
Posted by Crystal Tost on Friday, July 2, 2021 at 2:36 PM
By Crystal Tost / July 2, 2021
Comment

Sellers Market Continues in June Despite Rising Inventory

The Calgary real estate market is still red hot with record-breaking sales reaching 2915 units in June 2021.
"It is taking time for supply to catch up with the demand in the market," said CREB® chief economist Ann-Marie Lurie.
"Through the early spring market, many buyers did not have a lot of choices, but the recent improvements in supply are providing more options for those purchasers and supporting the strong sales we continue to see in June. At the same time, gains in inventory are taking some pressure off the market as it starts to trend towards more balanced conditions."
New listings reached the second-highest level ever recorded for a month at 4,135 for June. This has caused our overall inventory to trend up to 6,918 units. Although this is higher than the long-term averages, the market was balanced by strong sales with the monthly supply remaining relatively tight at 2.4 months. Having said that earlier in 2021 the supply levels were under 2 months so June is showing a small improvement in inventory levels. As the Calgary real estate market moves into a more balanced market we see slowing price growth. While the pace is still growing it is not growing as quickly in June as in previous months.
Calgary Real Estate Housing Market Facts
Detached Calgary Real Estate

The detached Calgary real estate market remains in a seller's market throughout the month of June. The benchmark pricing continues to rise with sales to a new listing ratio of 76% and low inventory levels. The total benchmark price rose 13% over the June 2020 pricing. Despite high demands for detached homes in Calgary, there is variation depending on location. The strongest demands in supply are North, Northwest, South, and Southeast. Each of these zones has less than two months supply of homes keeping these zones in a seller's market. The low inventory levels in these areas have kept the market tight and resulted in the highest year-over-year price increases.
Semi-Detached Calgary Real Estate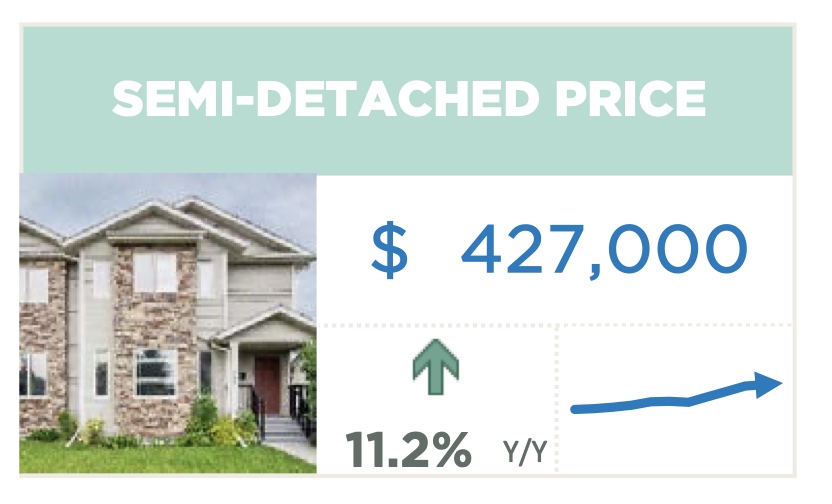 Semi-detached sales in Calgary are showing slowing signals in the Calgary real estate market for June 2021, but year-to-date sales remain at record high levels. The growth in sales has stayed ahead of the new listing inventories keeping the semi-detached Calgary market on pace with a seller's market with very little shift.. We see gains in all districts so far this year. Despite these gains the only sectors to see price increases have been North, West, and South East.
Row or Townhouse Calgary Real Estate

The first half of 2021 saw the highest mark since 2007. Record listings have met with record sales for 2021 and kept the market balanced. The supply remains at around 3 months which favours the seller. Recent gains in inventory levels are moving the market into a more balanced condition but it is still too early to see the shift or impact on pricing. Prices are improving across most districts but still remain lowers than previous highs.
Apartment Calgary Real Estate

Buyers are back in the market for apartment-style condominiums, but with supply levels and new builds, there are a lot of options for a buyer to consider. Prices have trended up over the first 6 months of 2021 but still remain nearly 15% lower than previous highs. Prices have risen in all districts but the largest price gain was in the West district.
Calgary Real Estate Monthly Residential Benchmark Price
Prices in June 2021 see increases across the board by zone with the SE zone seeing the largest year-over-year jump in pricing.