Calgary Real Estate Statistics For July 2019
Posted by Crystal Tost on Thursday, August 1, 2019 at 11:13 AM
By Crystal Tost / August 1, 2019
Comment
Media release: Sales improving and inventory declines for fourth month in a row
Compared to last year, inventories in the market declined for the fourth consecutive month. Due to the declines in new listings and improving sales.
A continuation in supply reduction compared to sales is needed to aid more balanced conditions, but the market continues to support the buyer.
"We are starting to see reductions in supply across the resale, rental and new-home markets," said CREB® chief economist Ann-Marie Lurie.
"This adjustment in supply to the lower levels of demand will support more balanced conditions. It is starting to support more stability in prices. If this continues, the housing market should be better positioned for recovery as we move into 2020."
Sales activity year-to-date remains well below longer-term averages and just below levels last year. Yet the inventory reduction has made the months of supply in July lessen to 4.5 months, which is a substantial advancement from the 5.5 months recorded last year.
Prices are displaying hints of stability on a monthly basis with the reduction of oversupply in the market. Causing the rate of decreasing prices to lessen on a year-over-year basis. Benchmark prices overall year-to-date remain more than four percent less than levels last year.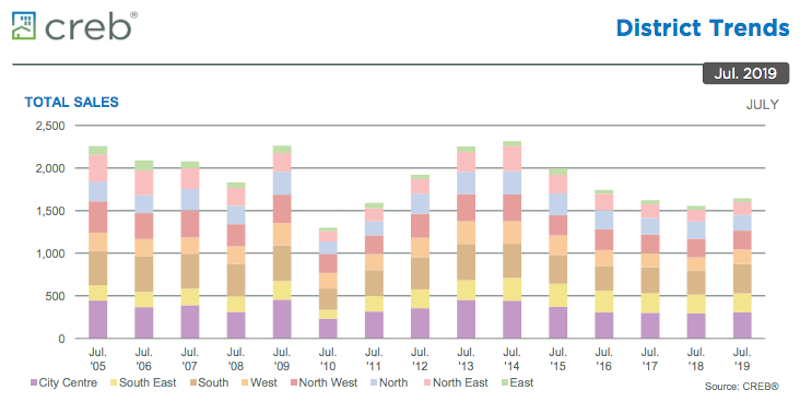 HOUSING MARKET FACTS
Detached
July sales activity was marginally higher than levels last year, although this was not enough to negate earlier decreases, with sales year-to-date remaining just down from levels last year. Trends vary significantly by price range, despite overall declines. Product priced below $500,000 showing year-to-date sales increased by 11 per cent in comparison to last year, while sales above $500,000 have decreased by about 16 per cent.
Detached product new listings continue to lessen, decreasing inventory over most price ranges. Showing a start to a year-over-year decrease in months of supply for all prices ranges except homes over $1 million.
Sales and inventory adjustments vary considerably by zone. Sales year-to-date have decreased across all zones except the South and North West. Reductions in inventory have appeared in all zones, with July inventory gains year-over-year appearing in both the West and City Centre Zones.
Detached benchmark prices were at $488,400 for July, as the buyer's market conditions continue. Which is more than three per cent less than levels last year. Decreases in price range from a low of 1.4 per cent in the North East zone and a high of 5.7 per cent in the South Zone.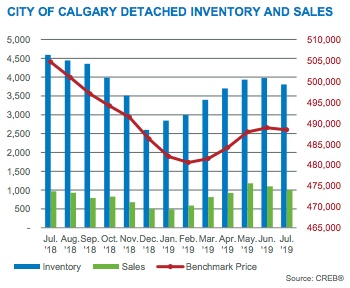 Apartment
Year-to-date sales for apartment condominiums decreased by more than four per cent and continue well below longer-term averages despite growth in July.
Abundant selection and vacant rental supply in the new-home sector have impacted resale market sales. Still, inventories continue to adapt, lessening the oversupply in this sector.
Prices continue to ease with conditions supporting the buyer. Yet, benchmark price decreases year-to-date are not showing across all zones, with moderate increases occurring in the North East zone.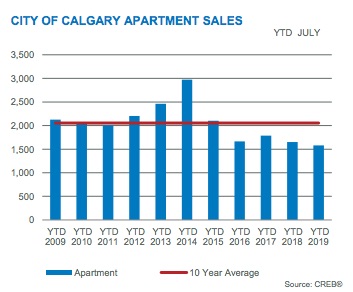 Attached
Attached is the only sector with increases recorded in sales year-to-date, which is up almost four per cent. Affordability relative to detached has likely supported some of these increases.
New listings numbers continue to lessen. Causing reductions in oversupply and decreasing inventory. This sector continues to support the buyer, like the other sectors, hindering any substantial changes in prices.
Semi-detached and row both continue at more than three per cent less than levels last year and significantly less than highs historically. Price decreases for attached have been the highest in the City Centre zone at more than five per cent.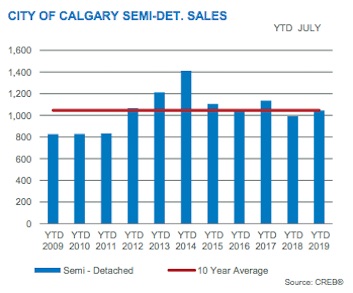 REGIONAL MARKET FACTS
Airdrie
Year-over-year sales increased in Airdrie for the fifth month consecutively. Sales year-to-date attained 757 units, more than three percent higher than last year. Declines in new listings combined with improving sales have resulted in market inventory decreases in comparison to last year. Moving the market towards more balanced conditions.
July benchmark prices continue at over three percent less than levels last year, even as oversupply is easing. With greater price decreases presenting in the higher density market sectors.
Cochrane
Cochrane residential sales year-to-date totalled 376 units, marginally less than levels last year. Decreases in new listings, resulting in the fourth consecutive month with a decline in inventory year-over-year.
Causing the amount of oversupply to ease, promoting balanced pricing. Benchmark price in Cochrane as of July is $408,300, which is more than four per cent less than levels last year.
Okotoks
So far in 2019, total residential sales in Okotoks have totalled 321 units. Below long-term trends but similar to last year. Continuing the decline of new listings, easing the months of supply and promoting inventory decreases.
Prices have been showings signs of improvement in comparison to the month previously, as the amount of oversupply in the market eases. Yet, benchmark prices year-to-date remain more than four per cent less than levels last year.