Calgary Real Estate Statistics for January 2020
Posted by Crystal Tost on Monday, February 3, 2020 at 1:10 PM
By Crystal Tost / February 3, 2020
Comment
2020 starts with a modest increase in sales
The conditions in the housing market continue to follow trends similar to last year, with increases in sales.
Additionally, there have been further reductions in new listings, inventory, and more decreases in prices.
Sales activity in January was 863 units, almost eight percent higher than levels last year. Although sales continued well below January activity reported before 2014, they remain consistent with activity reported in the past five years.
"A persistent slowdown in the energy sector has resulted in a reset in many aspects of our economy. This includes the housing market," said CREB® chief economist Ann-Marie Lurie.
"We continue to see the slow adjustment to more balanced conditions, but it will take time before that starts to translate into price stability."
January unadjusted benchmark prices citywide were $417,100, which is moderately lower than the prior month and almost one percent less than levels last year.
Benchmark prices eased, nonetheless there were some moderate increases in both the median and average prices, which is possibly a representation of some shifts in the distribution of sales.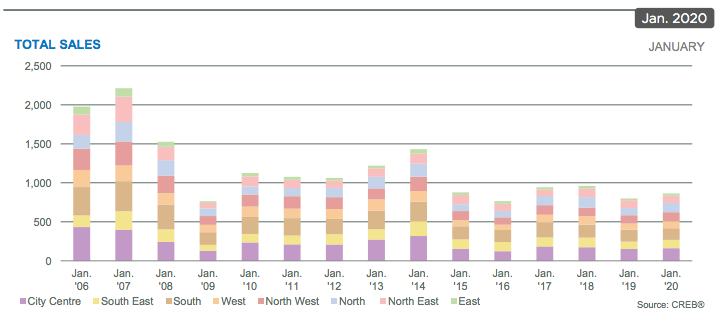 HOUSING MARKET FACTS
Detached
Sales in January for detached improved by six percent, thanks to increases in all zones except the North East.
New listings declined by almost 11 percent due to reductions in all zones except the North and City Centre. Coupled with improvements in sales, this prompted inventories citywide to ease by 15 percent.
Increases in sales and decreases in supply supported reductions in the months of supply from almost six months last year to just below five months this January.
Benchmark prices for detached decreased by almost one percent in comparison to last year. Although, the only two zones that reported notable year-over-year declines were the West and City Centre, with price decreases surpassing three percent.
Apartment
Despite improved sales, there was an increase in new listings on the market, which caused inventories to increase by 12 percent in comparison to last year.
Inventory gains prevented any notable improvement in the months of supply, which remained at nine months.
Oversupply proceeded to weigh on benchmark prices, which decreased by two percent in comparison to last year and eased compared to the previous month.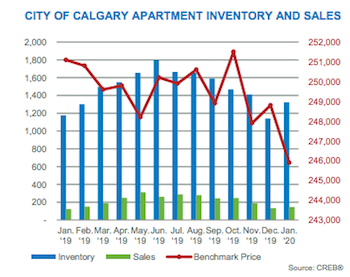 Attached
Attached sales citywide increased by four percent despite more moderate sales in the South East and South zones. As well as new listings reduced by almost 18 percent, which caused inventories to decrease by ten percent.
Declines in inventory and increased sales helped the months of supply to drop below seven months, a notable change in comparison to levels last year of around eight months.
Persistent oversupply continues to weigh on prices, which decreased over the prior month and declined by more than one percent in comparison to levels last year. All the while, this segment is trending towards more balanced conditions.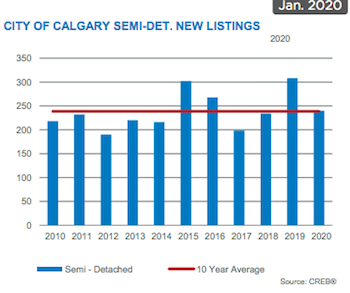 REGIONAL MARKET FACTS
Airdrie
Reduced inventories and improved sales contributed to the decrease in months of supply to 4.7 months. Representing levels that are like trends longer-term and exhibits somewhat balanced conditions.
Supply reductions relative to demand have begun to produce stability in prices, which are somewhat higher than levels last year and remain comparable to the previous month.
Cochrane
Significant increase in sales reported in January and a substantial reduction in new listings. Resulting in a decrease in the months of supply to four months, a considerable improvement from the 14 months reported last January.
If these improvements remain, this should begin to promote price stability. Nevertheless, the recent shift has not yet affected prices, which continue at almost three percent less than levels last year.
Okotoks
Sales activity in Okotoks increased to levels consistent with trends longer-term. Gains in sales helped to compensate for the small increase in new listings, supporting reductions in inventories and leading the months of supply to levels more consistent with balanced conditions.
The constant decrease in the markets oversupply is helping to produce further stability in prices. Benchmark prices in January remained similar to last year's levels reported.