Calgary Real Estate Statistics for February 2020
Posted by Crystal Tost on Tuesday, March 3, 2020 at 8:00 AM
By Crystal Tost / March 3, 2020
Comment
Home Sales Observe a Boost
This February shows an increase in sales in the double-digits, although last February was one of the lowest activity levels since the late '90s.
With the additional day this February, sales for this month totalled 1,197 units. With these two factors combined resulted in a 23 percent growth over last year, though sales persist well below trends longer-term and are similar to more moderate levels recorded over the past five years.
"However, this should not diminish the fact that conditions are still improving," said CREB® chief economist Ann-Marie Lurie.
"Calgary is continuing to see slow reductions in the amount of oversupply in the market, from modest changes in demand and reductions in supply. This needs to occur before we can see more stability in prices."
The unadjusted benchmark price overall for February was $416,900. Comparable to last month, yet about one percent less than levels last year. Overall, prices continue at almost 11 percent below the monthly high reported in 2014.

HOUSING MARKET FACTS
Detached
Following this year's first two months, detached sales increased by almost 12 percent. Growth did not occur across all zones, as sales continued to ease in the City Centre, North East and North West zones.
Prompted by pullbacks chiefly in the south and west zones, new listings decreased in the city by one percent so far this year.
In February, eased new listings and increased sales helped reduce inventory levels and decrease months of supply to just under four months. A notable improvement over the more than five months reported last February.
Detached home's benchmark price continued to trend down this month, though the pace of decline is easing. Prices citywide for detached continue at one percent less than levels last year. Still, price changes differ substantially by zone, varying from a three percent decrease in the City Centre to a two percent gain in the South zone.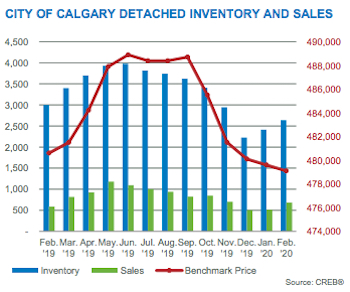 Apartment
Growth in sales for the second month in a row was met with gains in new listings, causing an increase in inventory.
Persistent oversupply in the market continues to weigh on prices, even as sales increased, causing months of supply to ease.
Benchmark prices for February eased in comparison to the prior month and are more than two percent lower than levels last year. In February overall benchmark price of $244,700 is almost 19 percent less than 2014 monthly highs.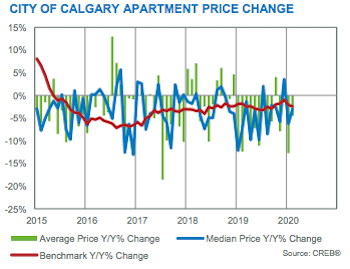 Attached
Following this year's first two months, increasing attached sales and easing new listings caused inventories to decrease.
Months of supply for February is now less than five months, an improvement in comparison to the past two years.
Conditions continue to support the buyer, though improvements have helped lessen the downward pressure on prices. Yet, various activity continues based on location, as prices decreased across most zones, but improved in the West, South East and East zones of the city.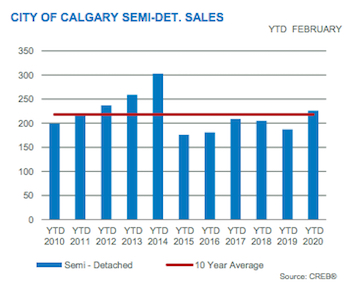 REGIONAL MARKET FACTS
Airdrie
Increased sales were met with growth in new listings following the first two months of the year. Though, the gains in sales outpaced the new listings increase, resulting in further inventory declines. Months of supply have nevertheless eased over levels last year, yet not sufficient enough to cause a notable shift in price.
Benchmark price following the first two months of the year has remained relatively constant in comparison to last year.
Cochrane
Trends in the town generally remain consistent with regional trends. Increasing sales were met with some declines in listings, inventory and the amount of oversupply in the market.
The market is exhibiting signs of recovery, yet prices continue to remain over two percent less than last year.
Okotoks
Declines in inventory and the months of supply due to improved sales in the town, strong enough to offset recent increases in new listings.
Benchmark price was $409,150 this year so far, with prices just above levels reported over the first two months of 2019. The high levels of supply in comparison to sales continue to cause prices to trend down.