Calgary Real Estate Statistics for August 2019
Posted by Crystal Tost on Tuesday, September 3, 2019 at 12:19 PM
By Crystal Tost / September 3, 2019
Comment
Media release: Lower-priced homes leads to increase in sales activity
Easing new listings and increased sales scale down August housing inventories. Chiefly sales were driven by homes valued below $500,000.
"Employment numbers have been improving, but mostly in industries that are traditionally lower paid," said CREB® chief economist Ann-Marie Lurie. "This is contributing to the shift that we are seeing in the housing market, with growth being limited to product priced below $500,000."
Sales in August improved by six per cent in comparison to last year. Due to the increased sales in homes valued below $500,000, which offset sales decreases in the higher price ranges.
Activity in sales increased for all types of product. Apartment-style and attached properties is where the largest growth was seen.
Sales increased in attached for the six consecutive month in comparison to last year. With this being the only property type with year-to-date sales greater than levels last year.
Inventories declined as new listings eased this month. Supporting a shift in the market toward further balanced conditions.
The downward strain on prices is also improving. The unadjusted citywide benchmark price is at $426,000 this month, which remained comparable to last month but 2.6 per cent less than levels last year.
Housing market recovery will take time, even despite reductions inventory and improving sales. Sales activity is still well under historical norms and inventory levels remain higher. As the market continues to help the buyer, with over four months of supply.

HOUSING MARKET FACTS
Detached
Sales year-to-date remain just under levels last year, but sales increased in the North West and South zones this month.
Growth citywide has been driven by homes valued below $500,000. In the meantime, elevated inventories and easing sales showing in homes valued above $500,000 with increased months of supply, pushing it farther into buyers' market domain.
August benchmark prices ranged from a decrease year-over-year of more than five per cent in the South zone to a nearly one per cent decrease in the South East.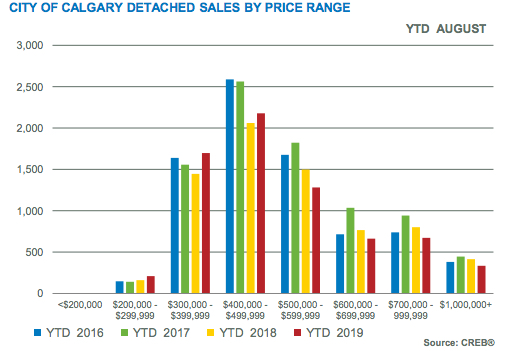 Apartment
Sales activity improved for apartment-style homes for the second month in a row, but this growth was joined with an increase in new listings. Preventing any momentous adjustments to levels in inventory and maintained the elevated months of supply.
Activity in sales continue just under levels last year. The amount of inventory in the market on average this year has eased in comparison to last year.
Benchmark prices citywide in August eased in comparison to last year, but the North East, East and South East zones recorded moderate growth. Prices remain well below 2014 highs despite those gains.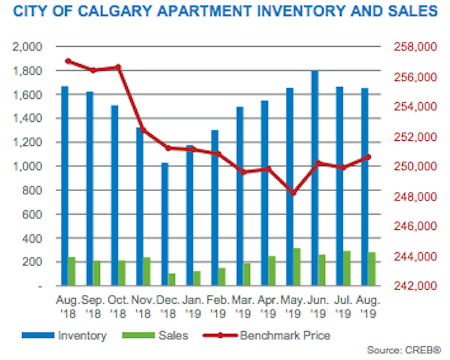 Attached
Attached sales year-over-year improved in the city of the sixth consecutive month. Resulting in year-to-date sales of 2,665 units, roughly a five per cent increase in comparison to last year. Meanwhile, new listings continue to ease, effecting farther inventory reductions.
Months of supply have changed from more than six months at this time last year to less than five months in August.
August benchmark prices continue at 2.6 per cent less than levels last year, despite these improvements supporting some monthly growth in benchmark prices.
REGIONAL MARKET FACTS
Airdrie
Year-to-date sales remain just over levels last year, even with a year-over-year decrease in sales activity this month. Contrary to Calgary, the majority of gain here has been directed by growth in the detached sector. New listings year-to-date have eased by 13 per cent and inventories have crept down in relative to last year.
There has been a downward pressure on prices due to a general trend toward more balanced conditions. In August the benchmark price was $334,600, which was 1.8 per cent less than levels last year.
Cochrane
Inventories continue to trend down, fuelled by reductions in new listings and stable sales. That has promoted some easing in the months of supply, which dropped from almost eight months last year in August to five months this year.
Oversupply reductions have supported further stability in monthly prices. August benchmark price was $408,000, almost four per cent below levels last year.
Okotoks
August's improved sales contributed to year-to-date sales of 373 units, marginally above levels last year, but continue below averages long-term. Total new listings continues to ease, causing reduced inventories and a decrease in the months of supply.
Months of supply dropped from almost 10 months last year to below five months this August. Even with this reduction in oversupply, benchmark prices this year so far have continued at more than four per less than levels last year.