Calgary Real Estate Statistics for April 2020
Posted by Crystal Tost on Saturday, May 2, 2020 at 12:30 PM
By Crystal Tost / May 2, 2020
Comment
Impact of COVID-19 on Calgary real estate market
With social distancing measures in place, the housing market is adjusting to the effects of COVID-19.
April sales were 573 units, a decrease of 63 percent over last year.
"The decline in home sales does not come as a surprise. The combined impact of COVID-19 and the situation in the energy sector is causing housing demand to fall," said CREB® chief economist Ann-Marie Lurie.
"Demand is also falling faster than supply. This is keeping the market in buyers' territory and weighing on prices."
Eased sales activity seen in all price ranges, but the largest decreases occurred in homes priced over $600,000.
With more of the sales seen in the lower price ranges, the average price decrease was higher than eight percent. Average prices for homes are also declining, indicated by the benchmark price, that dropped by almost two percent in comparison to last year.
New listings for April recorded 1,425 units, a decrease of 54 percent in comparison to last year. A decline in inventories, although with 5,565 units available, continued high enough to drive the months of supply over nine months.
The significance of the situation and the economic impact shows early indications that lead toward further job losses and higher unemployment rates. Various government incentives will ease the setback, but challenges in the housing market expected to remain throughout this year.

HOUSING MARKET FACTS
Detached
Detached sales decreased by 63 percent this month in comparison to last year, exhibiting the most substantial decline in the West zone.
Easing supply as well as more moderate demand, causing new listings to decrease by 57 percent. Inventories overall reduced by 25 percent in comparison to last year. Despite the decline in inventory, the months of supply climbed to more than eight months.
Benchmark price at $479,100 for detached eased by one percent in comparison to last year. Prices succeeded to remain level in both the South and South-East zones. The most notable price decrease shown for the City Centre, with a decline greater than three percent.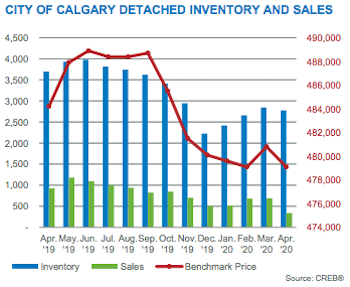 Apartment
Apartment sales relaxed to 95 units. A 62 percent drop from last year. New listings also declined, yet it was not enough to support a significant decrease in inventory levels, which barely eased by 13 percent in comparison to last year. With 1,349 units in inventory, the months of supply increased to 14 months.
Condominium prices were declining before current developments impacted the market, while the rate of decline remains comparatively fixed at more than two percent in comparison to last year. After the energy crisis in 2014, the citywide benchmark price for Apartment has decreased by almost 19 percent.
Prices year-over-year have eased across nearly all zones, but the South-East zone marked the highest year-over-year decrease this month at almost six percent.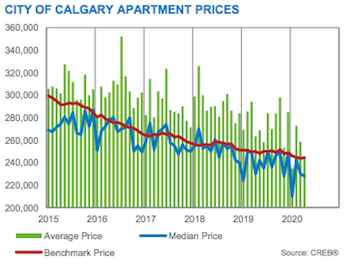 Attached
Row and semi-detached noted a significant decline in new listings and sales, causing inventories to decline by almost 20 percent. Though, with an inventory of 1,441 units in comparison to only 138 sales, the months of supply climbed to over 10 months.
Citywide year-over-year decreases of almost three percent as semi-detached prices eased across all zones. City Centre recorded the highest year-over-year decline at four percent.
Row prices decreased in all areas except the East zone. Row prices citywide decreased by over two percent totaling $278,300.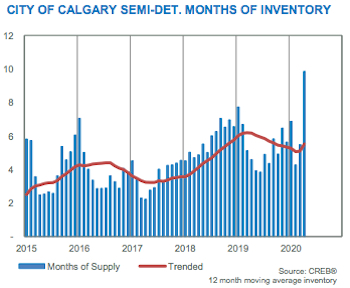 REGIONAL MARKET FACTS
Airdrie
Airdrie sales reduced to 60 units in April. This reduction in sales met with a similar decrease in new listings, totaling 107 units. Helping to reduce levels of inventory, yet with 407 units still in inventory, the months of supply climbed to nearly seven months.
Benchmark price overall remains comparable to last year, as average prices have decreased. A certain amount is due to more homes being sold in lower price ranges, as there was a significant decline in sales for homes priced over $500,000.
Cochrane
Sales in Cochrane for April fell to 29 units. Which was 55 percent less than levels reported for the previous year. Although new listings also eased. Inventories declined to 281 units, with only 61 new listings in the market.
Before social distancing measures, prices were easing. Benchmark price for April totaled $398,900, almost two percent less than last year. However, both the median and average prices increased in comparison to the previous year. Likely due to more homes sold in higher price ranges, as there were no sales recorded in the lower price range.
Okotoks
Sales and new listings both declined, with totals of 17 and 44 units, respectively. Inventory continued well below levels last year, though lesser demand forced the months of supply up to almost 12 months.
Prices were trending down from the opening of the year, yet levels have continued to remain relatively consistent in comparison to last year. April's benchmark price continued to trend down, totaling $402,300.