Calgary Real Estate Statistics for April 2019
Posted by Crystal Tost on Wednesday, May 1, 2019 at 1:53 PM
By Crystal Tost / May 1, 2019
Comment
Media release: Modest inventory declines exhibited for April
City of Calgary, May 1, 2019
The number of new listings coming onto the market remains to be less in comparison to levels in 2018. As well as in sales activities, which have not shown any symbolic changes.
Compared to last year new listings have eased marginally, enough to help to scale down inventory levels overall.
With the supply levels showing modest improvement assisting in additional declines of months of supply in April to 4.6 months. Levels remain to represent an oversupply in the market, but also reflect an improvement from the start of last years nearly seven months of supply.
As CREB® chief economist Ann-Marie Lurie states, "Demand remains relatively weak in the resale market. However, if supply levels continue to adjust, this could help reduce the amount of oversupply and eventually support some price stability."
Total residential benchmark price in Calgary, as of April, was $415,900. Roughly five per cent less than levels last year, but marginally higher than last month.
Sales in April citywide were 1,547, which was two per cent greater than levels last year. Year-to-date sale are 26 per cent less than long-term averages and persist at roughly six per cent less than than last year.
"Sales have been improving mostly in the lower price ranges, causing tighter supply conditions in that segment. This will likely have a different impact on price trends in the lower price ranges depending on location," claims Lurie.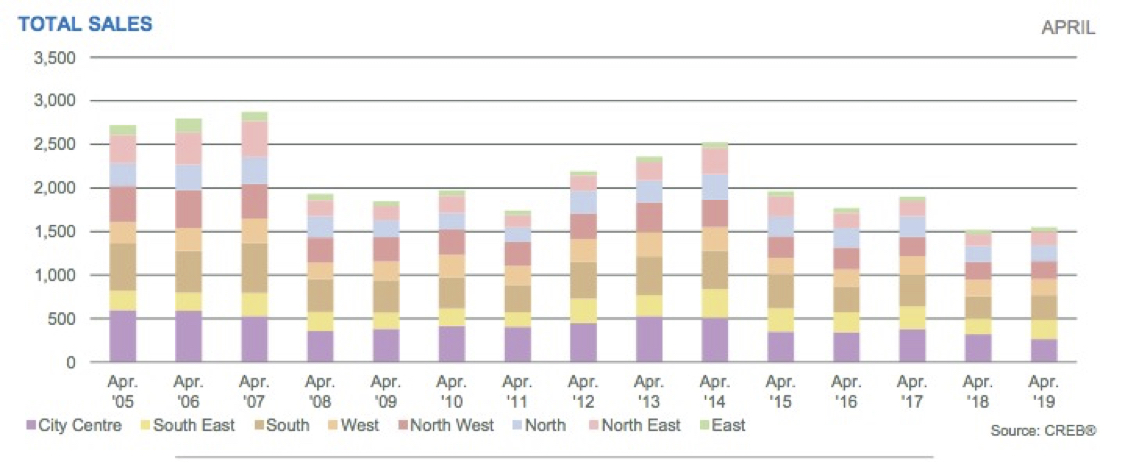 HOUSING MARKET FACTS
Detached
Due to a boost in homes priced under $500,000 detached sales increased roughly three percent in April in comparison to last year. Activity remains 24 per cent below long-term averages even with sales of 930. Year-to-date sales fell by more than five per cent, with current increases not being enough to equal pullbacks earlier in the year.
Improvements in April sales did not show in all zones, but were seen in the North East, North West, South and South East zones of Calgary. Even though there were signs of increasing sales, activity in sales continues to be considerably less than the 10-year averages throughout every city zone.
Detached inventories citywide in April remain slightly higher last years reported levels. And months of supply continue to remain at four months.
Oversupply varies considerably depending on the area of the city. City Centre, South and West zones are the only areas showing an increase in months of supply.
The largest year-over-year declines showing year-to-date ensue in the City Centre, North West and South zones. And despite adjustments developing in the detached sector, April prices overall remain to be less than last year's levels over all zones.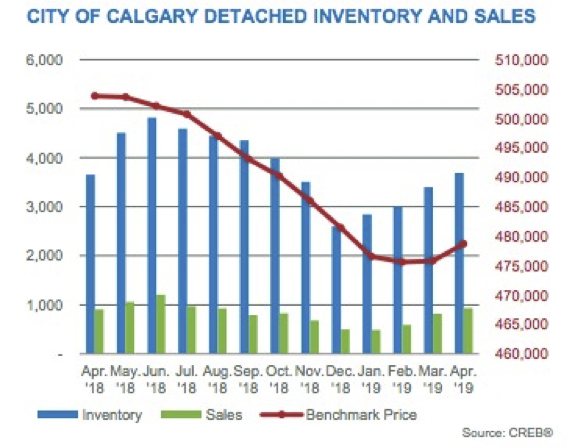 Apartment
Activity in sales continues to decline across the city and in most zones, despite the modest price of apartment condominiums. Apartment condominium sales year-to-date are 714, the lowest seen since 2001.
Resale as of April, in apartment condominium inventories totalled 1,546 units which was 16 per cent less than inventory levels last April. A decrease in new listings has started to offset the sales decline, causing an ease in inventories.
Months of supply has decreased to just over six months due to eased inventories. Although this being a buyers' market still, this trend may help ease the downward pressure on prices if it remains.
Comparable to last month, apartment condominium prices totalled $250,400 in April, but almost 17 per cent less than 2014 highs and over two percent less than levels last year.

Attached
Increases in attached sales activity compared to levels last year for the second month in a row, practically equalizing the decreases shown in the first two months of the year. Sales year-to-date were 1,113 units, 14 per cent less than long-term averages and almost one per cent less than levels last year.
Sales year-to-date have increased in all zones except for City Centre, North West and West.
Overall months of supply have shown a downtrend to five months, with improved sales and easing listings helping to inhibit further inventory gains in this sector.
Semi-detached benchmark prices increased in April compared to the month previous and following several months of prices showing a down trend. Although, prices remained at more than five per cent below last years levels at $395,300.
Prices for row in April were $284,900, more than five percent less than levels last year.
REGIONAL MARKET FACTS
Airdrie
Similar to levels reported last year, year-to-date sales totalled 363 units, due to increased sales in March and April offsetting earlier decreases. Declines in new listings continue, causing inventories in April to ease in comparison to last year. Although a notable improvement compared to last years supply at more than six months, months of supply remains elevated at five months.
Eased inventories and increased sales helped inhibit further price decreases in April in comparison to March. Although, overall, April prices remain almost four per cent less that levels last year. Easing of prices across all property types, with the largest year-to-date decrease at eight per cent showing in the apartment sector.
Cochrane
Year-to-date sales in Cochrane eased by six per cent in comparison to last year, despite increased sales in April. Although, new listings eased as well helping to reduce some inventory in the market. For the first time since June 2018, months of supply was less than six months, while inventories and months of supply remained elevated.
Slight improvements with oversupply likely preventing further monthly decreases in prices. Total benchmark prices, as of April, remained three per cent less than levels last year for a total of $415,100.
Okotoks
Year-to-date sales activity in comparison to last year decreased, despite slight improvements in sales. New listings eased, although not enough to inhibit further inventory gains, with months of supply remaining at more than 5 months.
Residential prices in April totalled $406,700. And the number of oversupply impacting prices. Virtually four per cent less than levels last year. Decreases in price in the attached sector being slightly more, with a year-over-year decrease of almost five per cent.