Calgary Real Estate October 2015 Monthly Housing Stats
Posted by Crystal Tost on Tuesday, November 3, 2015 at 5:54 PM
By Crystal Tost / November 3, 2015
Comment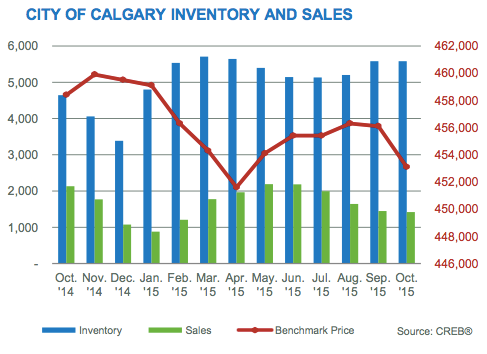 Prices continued to fall within the Calgary housing market in October as elevated inventory levels and a persistent weakness in the overall economy continue to drag prices down. The month of October also saw a significant decline in the number of sales as demand for real estate in the city continues to fall.
According to the most recent CREB data, benchmarkprices within the Calgary housing market fell by 0.7 percent when compared to September and by 1.2 percent when compared to October of last year as they reached $453,100. In addition to seeing a drop in prices in October, demand also fell by nearly 16 percent the long-term averages while new listings failed to fall enough to prevent inventory gains. In fact, the months of supply was at three months in June, but increased to six months in October.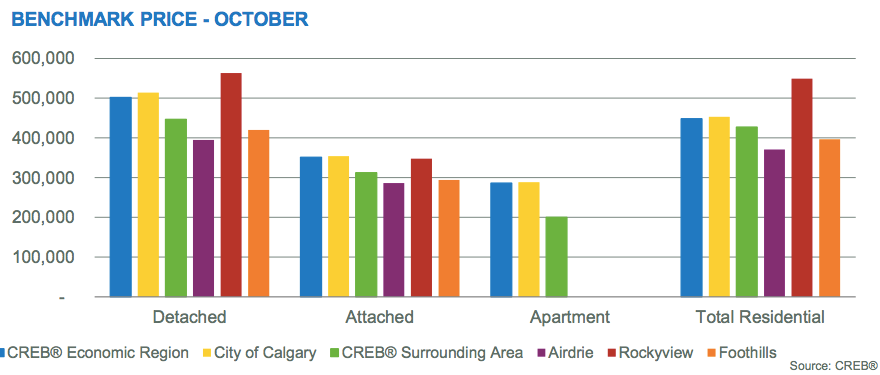 While declines were experienced in all aspects of the Calgary housing market, the apartment sector took a particularly bad hit. In fact, benchmark prices fell to $288,300. This represents a 0.8 percent when compared to September and a nearly four percent drop when compared to October of last year, representing the steepest decline within the market. Currently, the apartment sector is dealing with added competition from several new apartment projects combined with increased supply in the attached sector and improved vacancy in the rental market, further exacerbating the issue. Nonetheless, the months of supply within the sector has remained higher than four since August.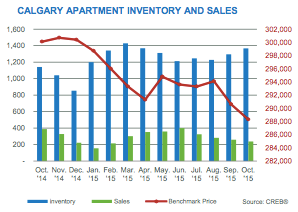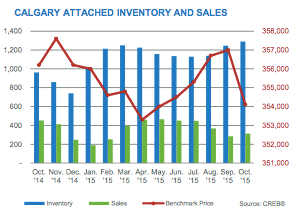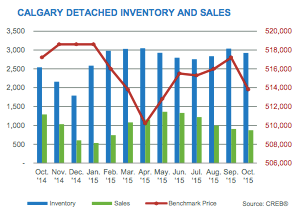 Overall, sales within the Calgary housing market fell by 33 percent when comparing year-over-year data, with 1,421 units sold. Meanwhile, year-to-date sales also fell by more than 26 percent as inventory levels for the month remained at 5,578 units. This pushed months of supply up to 3.93. Within the detached sector, which accounts for more than 60 percent of the city's sales, market balance varied depending on the price segment. Homes priced at below $500,000 in the detached sales sector, for example, saw tight demand relative to supply. This has the potential to offset some of the price loss experienced in the higher end of the segment. Price adjustments are less like to occur within the under-$500,000 detached segment where conditions have been more balanced.
Given the current market conditions, both sellers and buyers will need to have serious conversations about their goals and objectives when buying and selling within the market. On one hand, there is increased competition from both the rental and new home markets, which means sellers who are serious about selling will need to look for innovative ways to position their properties on the market. On the other hand, with inventory levels up and benchmark prices falling, the market generally favors the buyer who will need to seriously consider which home will best suit his or her lifestyle needs.