Calgary Real Estate May 2012 Monthly Housing Statistics
Posted by Crystal Tost on Friday, June 8, 2012 at 6:04 AM
By Crystal Tost / June 8, 2012
4 Comments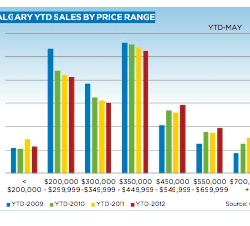 CREB stats for May have been released and things are looking promising for the City of Calgary. Thanks to the city's long-term economic prospects, which have been bolstered by continued fulltime job growth and low interest rates, residential sales increased by 31.8 percent when compared to last year. With a total of 2,385 sales, May 2012 represents the highest May activity the city has experienced since the recession hit.
While the trend is certainly moving in the right direction, experts caution that the city is not out of the woods yet. With recent indicators pointing toward weak economic growth in the United States as well as increased uncertainty in global markets, there is still a certain amount of economic risk for Calgary as well. Nonetheless, growth continues to outpace supply in the city's single-family market. Further statistics from May include:
Monthly sales of single-family homes were 19.1 percent higher when compared to the same period last year, with a total of 1,710 units
New listings increased by 6.7 percent year-over-year
May inventories totaled 3,842
The single-family benchmark was $427,500 in May 2012, representing a 6.7 percent increase when compared to the previous year
With just 2.5 months of supply available in the housing market, single-family buyers are making their decisions more quickly. As a result, homes have been spending less time on the market and sellers are selling their homes at prices that are closer to their list prices. Experts predicted prices would see a modest gain this year and the increases were higher than anticipated. Nonetheless, the single-family benchmark price is still 5.3 percent less than the peak price of $451,400 that was obtained in July 2007.
In terms of the surrounding areas and the condo market, there is still plenty of supply to meet the demand. As such, price growth has remained below that achieved in the single-family home market. Some Calgary condo statistics released by CREB for the month of May include:
Total condo sales for the first five months of 2012 were 1,518, representing an 8.6 percent increase when compared to last year
New listings in the month of May increased by 5.4 percent when compared to last year, though they remain at comparable levels on a year-to-date basis
Total inventory levels for apartment condos have fallen by 3 percent when compared to May of last year
Condo-apartment pricing increased by 1 percent when comparing year-over-year prices to a benchmark price of $245,400
Condo-townhome pricing increased by 3 percent when comparing year-over-year prices to a benchmark price of $277,000
Given these figures, experts contend that the Calgary housing market is returning to activity levels that are consistent within a normal market.