Calgary Real Estate Market Statistics August 2016
Posted by Crystal Tost on Thursday, September 15, 2016 at 8:48 PM
By Crystal Tost / September 15, 2016
Comment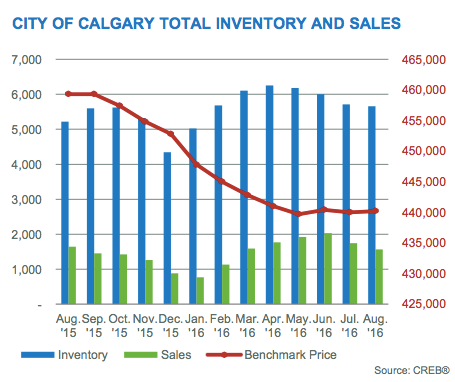 The Calgary housing market was almost like a tale of two cities during the month of August, with the detached housing market having a much different outcome than the higher-density segments. Nonetheless, sales activity was down overall within the Calgary housing market, with total sales reaching just 1,567 for the month.


Benchmark Prices Show a More Complete Picture
Overall, sales for detached homes fell during the month of August within the Calgary housing market. The number of new listings also declined, thereby stopping the inventory from reaching its previous highs. In turn, this has limited the downward pressure placed on housing pricing within the market. The picture wasn't quite the same within the attached and apartment sectors, however, with both having recorded inventory levels near to their August highs.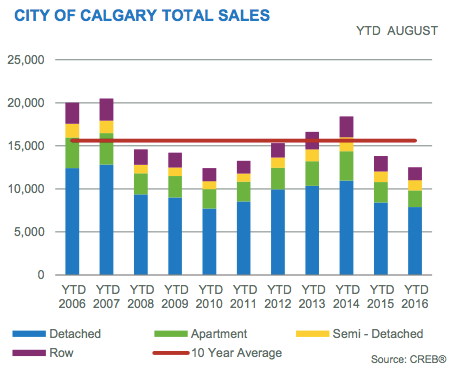 During the month of August, the detached benchmark price was 3.3 percent below last year's price at $503,200. Similar levels were also recorded in July. Condominium apartment prices also continued to fall during the month of August, having fallen 7 percent below last year's levels at $274,900. These figures are comparable to those that were reported at the end of 2013.
The apartment sector saw even greater declines in prices, mostly due to the fact that the sector has experienced an even greater imbalance between supply and demand. While apartment inventories rose to more than historical norms, sales were at the weakest they have been since 2003. As a result, the months of supply has averaged over 6 months so far in 2016. Trends within the attached segment generally tend to resemble the apartment sector. The pullback within the attached sector was not as severe, however, mostly because of the performance of the semi-detached sector. On average, benchmark prices fell by 2.6 percent for the semi-detached market while row style properties experienced a 5.7 percent drop.
Examining Data and Knowing Your Market
This latest data helps to illustrate the importance of monitoring data and becoming familiar with the various sectors within a market. Both buyers and sellers should pay close attention to their price point as well as the data within a particular area or segment. The detached, attached and apartment segments within the Calgary housing market are clearly experiencing a significant difference in performance. This makes it difficult to use city-wide housing data when making decisions about buying and selling within the market.