Calgary Real Estate Market Statistics May 2016
Posted by Crystal Tost on Tuesday, June 7, 2016 at 3:15 PM
By Crystal Tost / June 7, 2016
Comment
Despite optimism related to recent oi price gains, the Calgary real estate market - housing inventory was once again on the rise during the month of May.
New Listings Combined with Slowed Sales Lead to an Increase in Housing Inventory
As new listings climbed and sales slowed to just 1,923 units, The Calgary Real Esttae Market inventory was once again on the rise. Unfortunately, due to a weakness in the labour market, demand for Calgary housing also remained weak during the month of May. While most of the focus had previously been on the oil industry, job loss is now starting to spread into other sectors. Meanwhile, wages are falling and unemployment levels remain high in Calgary. As such, housing inventory supplies are on the rise as well as supplies within the new home, rental and resale markets.
According to the latest Calgary Real Estate Board report, inventory levels in Calgary increased by 14 percent in May when compared to the previous month, reaching a total of 6,148 units. While ever product type has experienced significant gains, the apartment and attached categories have experienced the largest inventory growth. With these two sectors representing half of all resale inventories within the Calgary housing market, a rise in their inventories has a significant impact on overall inventory levels.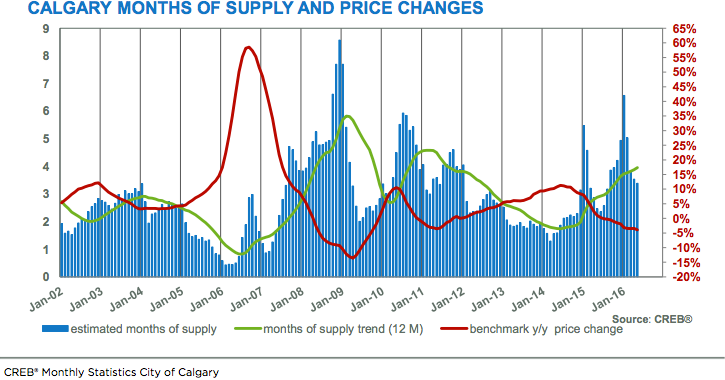 Competition Impacts Resale Apartment Market
Overall, the resale apartment market has created the most difficulty for sellers as they compete against an improved selection in the lower price ranges within the detached and attached markets. At the same time, the sector is facing increased competition from the new home sector as builders offer greater incentives in an attempt to attract potential buyers. Despite the fact that the apartment resale supply remains 22 percent below the May high of 2,055 units that was achieved in 2008, the combination of steep declines in sales activity and rising supply has pushed the months of supply to nearly six months.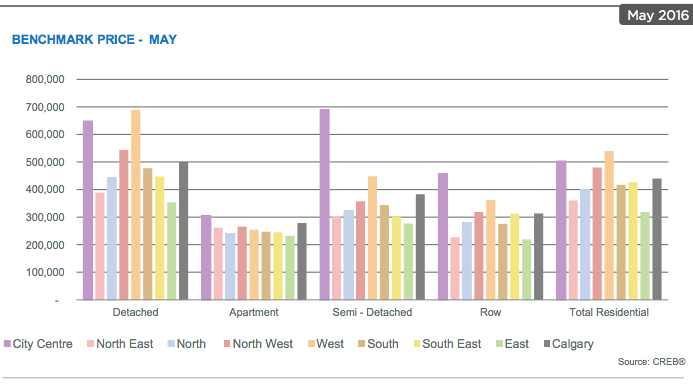 Given these figures, it is easy to see how the apartment sector has enjoyed buyers' conditions for more than 10 months. In turn, this has had a more dramatic impact on pricing within the apartment sector than what has been seen with the detached and attached sectors. In May, the benchmark price within the apartment sector was $278,500, representing a monthly decline of 0.7 percent and a year-over-year decline of 5.6 percent. On the other hand, home prices were at $500,500 within the detached market and $332,100 within the attached market. These figures represent a 3.4 percent drop within the detached market and a 4.3 percent drop within the attached market.