Calgary Real Estate Market Statistics July 2021
Posted by Crystal Tost on Tuesday, August 3, 2021 at 4:35 PM
By Crystal Tost / August 3, 2021
Comment
Calgary Real Estate Price growth slows as supply to demand improves

Calgary Real Estate Market For July 2021
July sales were well above long-term averages at 2,319 units and above all the best July on record. The pace of sales growth and the pace of new listings growth have both eased over the past few months. This reduced pace has helped prevent further monthly gains in inventory levels, but the overall supply remains slightly higher than last year mostly due to gains in the apartment and row product.
The months' supply rose to just under three months with 6,678 units in inventory for July. These gains are leading to a more balanced market between buyers and sellers. However, it is noted the significant variation between product types with the months of supply range from two months for the detached sector to almost 6 months for the apartment condominium sector.
"Over the past several months, we have seen housing market conditions trend toward more balanced conditions," said CREB Chief Economist Ann-Marie Lurie. "This eased some of the upward pressure on prices, as prices are starting to stabilize following steep gains that occurred in the first half of the year."
Benchmark prices in the city reached slightly higher than last month at $460,100 and almost 10% higher than July 2020. The price growth currently sits at 11% above last year's price for the detached sector and has finally recovered from the precious 2014 highs.
CALGARY REAL ESTATE HOUSING MARKET FACTS: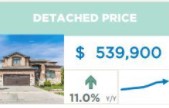 Detached
Both new listing and sales trended lower relative to the month of June but remain higher than last year's levels. With only 1,822 new listings coming onto the market in July, the sales to new listings ratio remained relatively high at 78% but sales are still at record levels.
The month supply has trended upward this month with slower sales relative to the inventory levels. Supply conditions remain relatively tight with just over two months' supply, which is an improvement in relation to the past five months. Homes priced below $500,000 are still facing tight conditions with less than two months of supply, as we see activity vary by price range.
The city-wide benchmark prices are 11 percent higher than last year's levels, sitting at $539,900. The prices continue the rise in all districts but only the City Center is reporting prices below the high in 2014.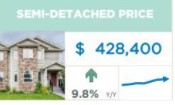 Semi-Detached
Although sales activity has slowed in some areas compared to last year, the overall sales activity remains at historic highs. With higher levels of listing this year than last, they are trending down enough to cause a slight monthly decline in inventory levels. The months of supply have slightly risen to nearly three months with 209 sales and 577 units in inventory. Although the conditions over the first half of this year have been extremely tight, this is still lower than levels recorded last year.
Benchmark prices are continuing to rise over the last month but not unlike other property types, at a slower pace. July is showing a benchmark price at $428,400 showing levels are nearly ten percent higher than last year. While price gains have occurred in Semi-Detached homes in most districts on a year-to-date basis, the City Centre, North East, South, and East districts have not yet fully recovered.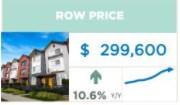 Row
Year-to-date sales have reached a record high with 351 sales this month. With the pace of sales growth slowing relative to earlier in the year, so is the pace of the new listings coming on the market and has prevented any further monthly inventory gain.
The months' supply pushed up above three months with the inventory levels over 1,000 units and slightly slower sales this month compared to last. Prices remain nearly 11 percent higher than last July.
Prices have improved across every district when comparing to last year with gains ranging from a low six percent in the northwest to a high of 20 percent in the east district. Prices remain well below previous highs despite the gains.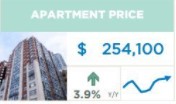 Apartment
Due to a reduction in new listings, inventory levels for apartments have trended down over the previous month yet remain relatively high with 1,918 units on the market. Even with the downward trend relative to last month, July sales are still by far better than any July over the past 6 years. However, having higher inventories relative to sales has contributed to the monthly rise in the months of supply which sit just below six months.
It is noted that supply prices are having some impact on the prices depending on the district. While the prices in most districts compared to last month have stalled or eased slightly, strong gains still occurred in the south and southeast districts. While we remain far from price recovery, prices remain higher than levels of last July.