Calgary Real Estate Market Statistics For October 2018
Posted by Crystal Tost on Thursday, November 1, 2018 at 3:43 PM
By Crystal Tost / November 1, 2018
Comment
Oversupplied Market Ultimately Weighs on Prices
City of Calgary, November 1, 2018
Inventory levels are elevated when compared alongside sales, which is causing Calgary housing prices to ease a bit more.
Benchmark prices in the entire city during October totalled $426,300, which is a downward trend for the fifth month in a row. This resulted ultimately in a year-over-year decline of 2.9 percent.
Chief economist Ann-Marie Lurie of CREB claimed avidly that job growth in the city remained a dire concern, as unemployment levels remain well above expected. The overall cost of ownership continuing to rise also will ultimately provide a burden of weight on the housing market and demand.
Overall sales and inventories totaled 7,345 and 1,322 during the month of October. Typical monthly levels usually hover around 5.6, and while there is a bit of slowing in listing growth, this ultimately prevents further inventory risings. Currently the month of October, levels of inventory are remaining near record-setting highs.
When the market displays conditions such as these, it can fare well for buyers. It is possible to find the home they are searching for, with listings being appropriately-priced to move. CREB president Tom Westcott claimed during reflection of current conditions that "Sellers need to manage expectations and have accurate data in order to be aware of what is selling in their community".
For each variant of property buyers locate on the market, activity in sales has risen in the lower price ranges, leaving most of this category fairly even. There have been noticeable gains in upper-end properties in supply vs. demand, which will affect the final outcome in pricing for that category.

HOUSING MARKET FACTS
Detached Homes
During October, detached sales were a total of 829 units, showing a decline of 8.6 percent. This resulted in a 15 percent year-to-date decline, and was the slowest overall amount of detached sales since the late 1990's.
Year-to-date, the most noticeable deterioration in sales took place in the $600,000, $999,999 price range, which reflected demand now slowing coming from buyers who were moving up to a higher category.
Growth for new listings slowed for the second month in a row, which halted gains in overall inventory. Since there is a high amount of supply in this category, prices will continue to edge down.
Prices in the detached benchmark realm hit a total of $490,200 during the month of October. This is lower than last month, and 3 percent lower than 2017. When looking at last year's overall levels, prices remain a total of one percent below where they were this time during last November.
Cumulative prices year-over-year have slowed across all districts, with the North East, North West, South and South East districts showing the most significant losses. Rising levels of competition from the new construction sector are most likely the culprit.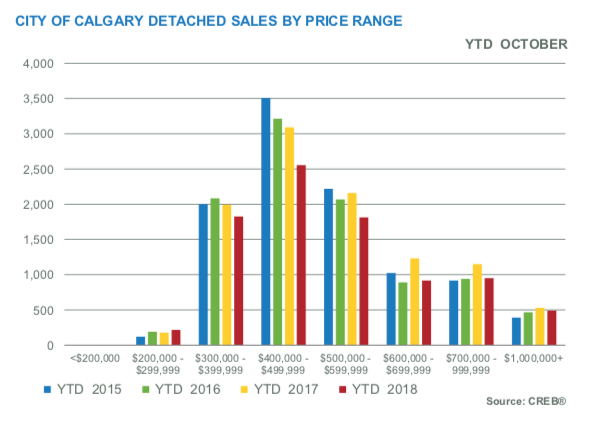 Apartments
Totals for year-to-date apartment sales have reached 2,316 units, nearly seven percent below where they stood last year. Brand-new listings have also dropped by six percent, resulting in loss of inventory in the market.
Year-to-date prices for condominiums have now slowed by 2.8 percent, and still sit at 14 pe cent below highs reached during 2014. All districts reflected decline, with the sharpest taking place in the North East, South, and East districts.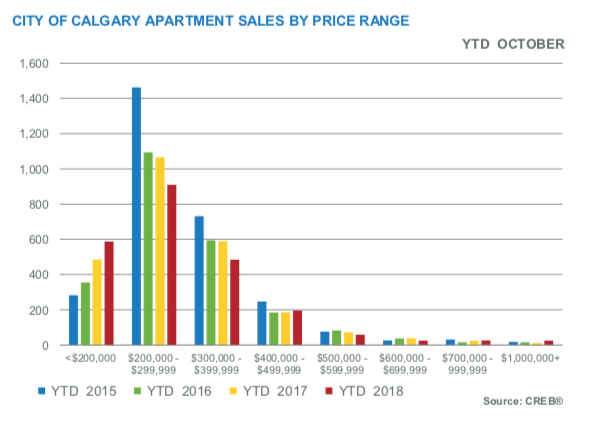 Attached Market
Total sales of 3,098 are what was recorded year-to-date for the attached sector, which is 15 percent below last year, and 14 percent below standing averages in the long run.
Inventories this October are now at the highest level on record, even considering the recent downward trend in brand-new listings.
Saturation of supply is affecting row sectors as well as semi-detached, which are currently situated at a low pricing point after the last 5 months.
$298,140 is the average price for row benchmark properties year-to-date, which is nearly two percent below last year, and nine percent below the highs of years past. In both the North West and City Centre districts, prices have remained fairly flat.
During October, prices for semi-detached units hovered at $403,400, which was one percent lower than last month, and around 3 percent lower than 2017. With recent declines in mind, year-to-date prices citywide are still remaining consistently bullish.
REGIONAL MARKET STATS
Airdrie
The housing market in Airdrie is continuing to experience a decline in overall sales, and a rise in inventory levels compared to last year. Supply levels that are unusually high here have led to detached home prices experiencing downward pressure.
1,032 units were the tally on total year-to-date residential sales, which is 11 percent below last year's levels. Listings of brand-new homes have remained at a stable point, but are still well above standing averages from the long-term.
Average inventory levels year-to-date are 19 per cent higher during 2018, and supply has been noticeably elevated. Six months is the present standing point, which has caused pressure on benchmark price. Year-to-date value of detached homes is now sitting at $370,880, which reflects a year-over-year decline just shy of two per cent.
Cochrane
In Cochrane, residential sales have declined by 10 per cent, yielding 530 sales so far this year. This threshold is comparable to the past few years, and still is overall higher than averages over the long-term.
New listings are perched at 1,164 units, which happens to be at a record-setting peak, and much above averages in the long-term. Overall inventory here has been persistently high, and is currently sitting at 17 percent higher than the same period during 2017.
Prices overall have experienced downward pressure, but detached benchmark prices have remained relatively stable when put up against 2017's, with a stable benchmark price of $424,900.
Okotoks
Residential sales here have now dropped to 428 units this year, similar to levels from 2011, and still situated at well beneath averages of the long-term.
Brand new listings have seen an uptick at an overall 936 units, which is 8 per cent higher then 2017. Overall inventory during the month of October is inching higher, with a total of 232 units on hand.
Even with recent gains in supply, Okotok's prices for detached have seen some positive uptick. Benchmark prices year-to-date for detached properties were at a grand total of $436,660, which is 1.25 percent above 2017's averages.