Calgary Real Estate Market Statistics For November 2018
Posted by Crystal Tost on Tuesday, December 4, 2018 at 7:56 AM
By Crystal Tost / December 4, 2018
Comment
Economic Conditions Continue to Challenge Vitality of Resale Market
City of Calgary, Dec. 3, 2018
Sales during the month of November sat at a total of 1,171 units, remaining below long-standing averages.
For the year up to this point, monitored sales activity has rang in at 15,349 units, displaying a 14 per cent decline over last year, and nearly 20 per cent below standing averages.
During November, New listings eased by seven per cent compared to last year. Due to this substantial shift in new listings, further inventory gains have been prevented. Overall inventory is currently at 6,501 units, remaining slightly above the 5,683 units in inventory seen last year, and 32 percent higher than in a typical November.
Throughout the month of November, the citywide benchmark price was $422,600, hovering near one percent lower than last month, and at 3 percent lower than levels seen during 2017. Across every single price range, year-to-date sales have slowed, with the exception of product priced below $200,000. This pricing point currently represents nearly six percent of all sales, with the most significant decline taking place in the $600,000 - $999,999 category.
CREB president Tom Westcott lamented that "For buyers, it may mean being able to step into a home that was previously unattainable. It also means that sellers need to be keenly aware of what is successfully selling in their neighbourhood, and surrounding communities."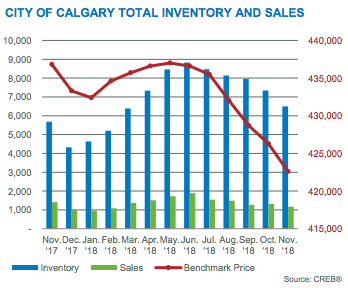 HOUSING MARKET FACTS
Detached
During November, detached sales saw a decline across every district. With citywide sales of 679 units, overall activity sits at 21 per cent below typical levels for the month.
New Listing activity saw an overall decline of three per cent compared to 2017, stemming from declines mostly in the North East, South East, and North districts. Year-to-date new listings during 2018 have increased in every single area, aside from the East and North East districts.
Inventories in the detached sector sat at a total of 3,491 units, 26 per cent higher than 2017 levels. Overall monthly supply remains at five months, which is noticeably above the three-month standard for November.
Prices for detached benchmarks total $486,000 in November, a one percent decline over October, and a three per cent decline over last year. This is seven per cent below record highs, recorded in October 2014.
Across every district, prices have eased during November. The North districts and North East saw the largest declines, likely because of rising competition from the new-home element. The districts that still stand the furthest from full price recovery status are the South and North West Districts.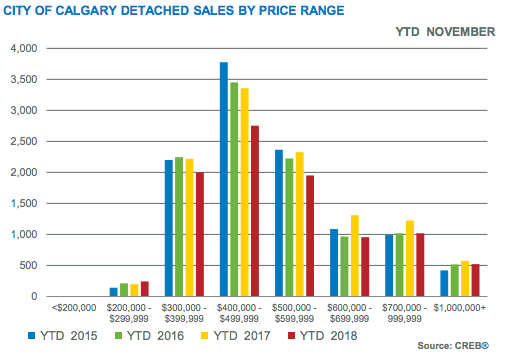 Apartment
Even though there were year-over-year gains during November in sales, the total for apartment sales citywide were 2,557 units so far this year. This sits at five per cent lower than last year, and 21 per cent below mean numbers in the long term.
The city centre is where the majority of condo activity takes place, accounting for nearly 48 per cent of cumulative sales activity.
After years of oversupply, new listing amounts in the apartment sector continues to slow, which prevents further significant gains in inventories, and influences reductions of inventory in the South, North East, and East districts.
Even though some inventories have seen adjustment, most areas continue to grapple with oversupply issues, which has caused more declines in price. During 2018, price declines have seen variants from a six percent high in the East district, to a low of two percent in the North West, as well as City Centre districts.
Attached
The sale of attached units as far as the Year-to-date sat at a total of 3,334, which saw a 16 per cent drop from the previous year, and a 14 per cent drop from long-term averages. Most districts noticed a definite ease in sales activity except for the North East, where sales kept stability, due to drastic improvements in the row activity category.
One element placing upward pressure on inventory levels is the gradual rise of new listings, with most of this activity taking place in the semi-detached category.
Elements of oversupply have caused a burden of weight on overall prices. During November, the semi-detached benchmark price sat at $400,700. This reflects a monthly and year-over-year decline of .67 and 3.3 per cent, respectively. Because of the effect of recent price declines, this sector saw a canceling out of any gains achieved during 2017, as year-to-date prices are still similar to last year's levels.
The overall price of row units has also been easing lower, but still at a slower pace than the semi-detached category. As of November, prices of row units were situated at $292,900, a .2 per cent decline from last month, and just over three per cent below 2017 levels. Currently, year-to-date prices are situated at nearly two per cent below 2017 levels, and nearly 10 per cent under pre-existing highs.
REGIONAL MARKET FACTS
Airdrie
Airdrie's overall housing market continues to experience a decline in sales, and rising levels of inventory. Levels of overall supply are continuously elevated, which has resulted in pressure that has lowered the detached home segment benchmark price.
Overall year-to-date activity of sales in Airdrie has declined year-over-year by 142 units, and current levels hover at 1,101 units. Overall amount of new listings are close to what was seen last year, but still are situated higher than long-term averages.
Sitting at almost 18 per cent higher than the same period in 2017, year-to-date average inventory has resulted in a months of supply inventory of around six months. This has ultimately resulted in a decline of house prices, with year-to-date benchmark value now situated at $342,773, reflecting a year-over-year decline of nearly two percent.
Cochrane
Residential sales in Cochrane year-to-date reflected a drop by 58 units, with a grand total of 573 units so far this year. These levels are comparable to common periods during the past few years, and are persistently higher than long-term averages.
New listing activity is climbing to record peaks for every period this year. So far in 2018, we are sitting at 308 units higher than typical long-term averages. Months of inventory in Cochrane remain at higher levels, reflecting a year-to-date average inventory level holding steady at 14 per cent higher than in 2017.
Regardless of existing recent declines, year-to-date detached benchmark prices have kept at a relatively stable element, compared to 2017 activity.
Okotoks
Year-to-date residential sales saw a decline to 449 units this year, ranking alongside levels seen 8 years ago.
New listings have remained slightly higher than this time last year. This current market does see an element of oversupply, with year-to-date average inventories sitting at 53 units higher than this time last year.
Even though there has been the pessimistic element of increased supply and slowing sales, detached home prices in Okotoks have reflected some modest gains. Year-to-date, the average detached benchmark price sat at a cumulative total of $436,091, at a 1.5 per cent increase over 2017.