Calgary Real Estate Market Statistics for December 2018
Posted by Crystal Tost on Wednesday, January 2, 2019 at 5:41 PM
By Crystal Tost / January 2, 2019
Comment
Soft Job Market and Restrictions on Lending Influenced 2018's Real Estate Market
City of Calgary, Tost Realty Group, January 2, 2019
As oversupply is still a pertinent issue, prices during December slowed by one per cent, and are currently situated at over three percent below this time last year.
CREB chief economist Ann-Marie Lurie stated last month that "Persistent weakness in the job market and changes in the lending market impacted sales activity in the resale market this year". This definitely contributed to a heightened supply in the resale market, resulting in a decline in price.
Sales in December sat at a total of 794 units, a 21 per cent decline over the previous year. Overall year-to-date sales in the city sat at a total of 16, 144 units, a 14 per cent dip from two years ago, and 20 percent below previously standing long-term averages.
The Inventory levels statistic for December sat at 4,904 units. This is very much heightened from levels recorded last year, and 30 percent above average monthly levels. Inventory supply of elevated resale during 2018 were a direct result of gains in the attached and detached sectors.
Throughout 2018, the months of supply was still high, and averaged a duration of 5.2 months. This was a major factor of the annual average benchmark price decline of 1.5 percent. Every various product type endured a price decline, and have resulted in citywide figures to remain over nine percent below highs that were on occurrence 5 years ago.
Since there are now less consumers overall looking for a home, it becomes a choice of delaying the actual sale, or adjusting the price accordingly. Buyers are on the hunt for a less expensive product, and they unfortunately were not able to nail down the same price breaks that existed in the higher-dollar property category.
Much more detailed information on the state of last year's housing market will be released at CREB's 2019 Forecast Conference and Tradeshow, taking place on January 30th.

Housing Market Facts
Detached
Detached sales suffered a decline across every district during 2018. Citywide sales sat at 9,945 units, and overall activity remained at 21 percent below levels that were standard for the year.
Detached inventories were higher than 2018 levels during every single month, as well as December. Slowing in sales caused the market overall to see an over-abundance of supply throughout most of 2018.
Prices have absolutely eased in nearly every various district during 2018. The largest declines of the year were located in the North West, North, and North East districts.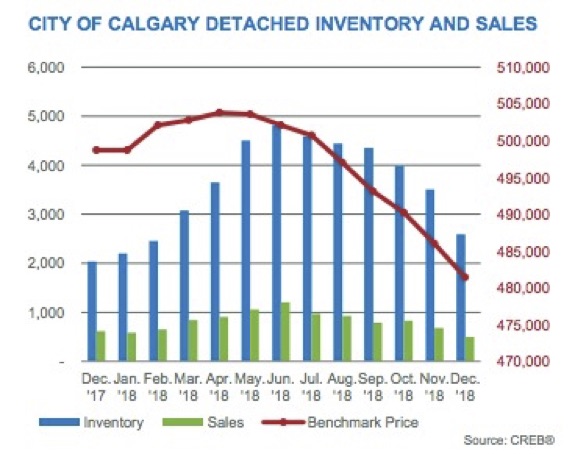 Apartment
Sales of apartments totaled 2,663 units in 2018. This decline is not as severe as in other categories, but levels are still situated at 22 per cent below long-term averages.
The condominium sector has been burdened with oversupply for nearly three years now, and 2018 was not lucky enough to escape said trend.
Supply has been on the ease, as inventories this year sat at an average of 1,584 units, which is exactly one per cent below levels seen last year.
Even though supply growth is experiencing a slowdown, the marked remained oversupplied in the long run, causing a noticeable decline in price. During December, benchmark prices were situated at $251,500, which is over two per cent below last year. Prices have declined by nearly 3 per cent annually, which makes for a total decline of 14 percent over the last five years.
This year, price declines have varied from a high of nearly six per cent in the East district, to a persistently situated low of two per cent in both the North West and City Centre districts.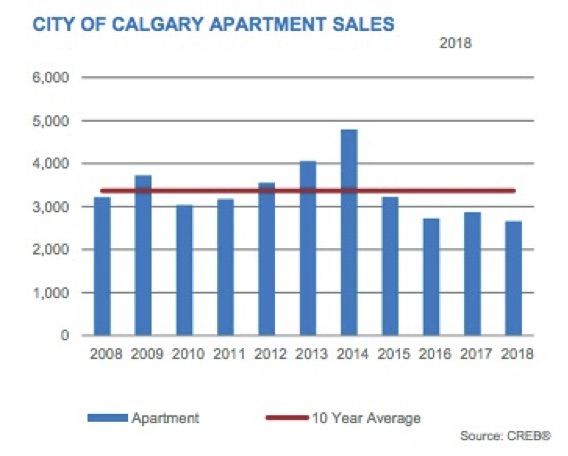 Airdrie
During 2018, the Airdrie housing market was characteristically burdened with oversupply, and signs of conditions leading up to a buyer's market. Compared to last year, levels of inventory and months of supply have been noticeably higher, together with lower levels of sales in the long run. This has resulted in pressure leading down on the benchmark price for detached homes.
Yearly residential sales showed a year-over-year decline of 14 per cent, while also being almost 19 per cent lower than activity ranging over the last 5 years. Every various product type observed this steady decline.
2018's supply was situated at levels that were at a record-setting peak, with new listings achieving a new year-to-date peak for the better part of the year. Throughout this year, overall inventories have been steadily increasing, and now sit at a 12 per cent higher than 2017. Increasing steadily has been the months of supply, which during 2018 sat at an average of a 5.6-month duration.
Airdrie prices overall have seen a decline due to nagging oversupply, and during 2018 detached benchmark prices averaged $369,042, which is situated at two percent below last year's numbers.
Cochrane
2018 sales for Cochrane were well lower than the previous year, sitting at a 64 unit shrinkage. However, a yearly count of 599 sales remains healthily comparable to cumulative activity over the past three years.
During 2018 new listings sat at 1,288, which was the highest ever on record. The heightening of this number and slowdown in sales resulted in inventories that were rising, an average duration of 7 months supply.
Extreme elevation in supply has caused prices of detached units to gradually trend down during the year's second half, but it was unfortunately not enough to quell gains from earlier. During 2018, prices of the detached benchmark variety have remained comparable to last year's.
Okotoks
Sales during 2018 were 463 units here, which reflected a decline over last year, and was in line comparable to activity during 2010.
New listings saw gains in Okotoks, combined with slowing of sales that resulted in a growth of supply.
Even with the effect of weak sales and increased supply, prices of detached homes in Okotoks enjoyed a modest increase during 2018. The statistic for the average price on a detached benchmark unit was at $434,875, residing at a spot one percent higher than last year.