Calgary Real Estate January 2013 Monthly Housing Statistics
Posted by Crystal Tost on Monday, February 11, 2013 at 3:56 AM
By Crystal Tost / February 11, 2013
5 Comments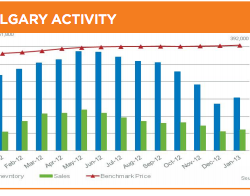 The Calgary housing market got off to a good start in 2013, with residential real estate sales increasing by 15 percent when compared to the same time last year. According to the most recent CREB report, January housing sales were up to 1,230 in January 2013 compared to just 1,068 last year. Nonetheless, sales remain significantly lower than they were during the peak years of 2003 through 2008.
Calgary's single-family housing market was strong this January when compared to the same time last year. With 879 units sold, January 2013 showed a 15 percent increase over January 2012. New listings, on the other hand, were only slightly above their January 2012 levels with a total of 1,737. Nonetheless, while inventory levels remain down, the new listings did help support sales growth.
Undoubtedly, lower inventory levels can be problematic for buyers. With Calgary's inventory being low, buyers must make their buying decisions more quickly than they have had to make them over the past four years. Still, experts warn that this does not mean the seller has the advantage. While buyers must make faster decisions, they are still sensitive to prices and are looking for the homes that offer the best values.
Unadjusted single-family benchmark prices have also shown improvement when comparing January 2013 to January 2012. Yet, despite the nine percent increase when compared to last year, unadjusted single-family benchmark prices have remained relatively unchanged when compared to December 2012. This is largely because price recovery occurred during the spring of 2012 under tighter market conditions. At this time, home prices leveled off and they remained that way for the rest of the year.
In the townhouse and condominium market, the number of sales increased to 204 and 147 units respectively. Nonetheless, the number of new listings fell. Due to excess supply, the condominium apartment market has been relatively much slower to recover in Calgary. Declining listings and improved sales growth, however, have started to help the market improve. Furthermore, the unadjusted benchmark apartment price has increased by 7.5 percent when compared to January 2012 to $251,300 in January 2013. When compared to December 2012, they increased by one percent. The condominium townhouse benchmark price increased to $283,400, representing a 4.9 percent increase when compared to January 2012. When compared to December, however, they were slightly lower.