Calgary Real Estate February 2015 Monthly Housing Statistics
Posted by Crystal Tost on Thursday, March 12, 2015 at 11:01 AM
By Crystal Tost / March 12, 2015
Comment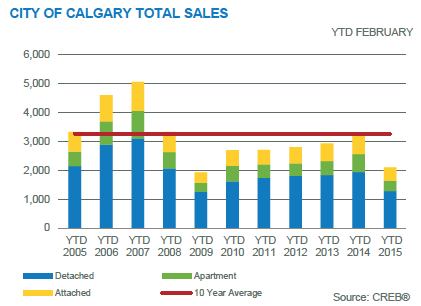 The latest Calgary housing market report shows some ups and downs for the city. Overall, new listings are slowing down, which means there is likely to be some downward pressure on the supply growth within the Calgary resale market.
While Calgary home sales remained below the long-term averages for the month of February and year-over-year new listings growth fell from 37 percent in January to nine percent in February, inventory levels increased to 5,474 units. Nonetheless, while the supply levels are higher than what the market has seen in awhile, they are still falling short of the record high of 7,000 units that was achieved in February 2008.
Overall, the city of Calgary also saw its real estate sales fall by 34 percent when compared to the previous February, with sales reaching just 1,217 for the month. While sales fell within all housing categories, the fall was most severe within the apartment and attached sectors. The slower sales may be at least partially due to the fact that inventory had remained elevated for 4.5 months due to supply gains. As a result, the market experienced downward pressure on pricing.
According to recent Calgary market reports, a total of 6,236 new listings have come onto the market during the first two months of 2015. The prices of these new listings, however, have been quite varied. Furthermore, detached homes have continued to see a fall in new listings within the under $400,000 segment. Attached homes and apartments, on the other hand, have experienced record growth within the over $300,000 price range.
During the month of February, unadjusted detached benchmark prices reached 516,000. This represents a six percent increase when comparing year-over-year data, but shows a 0.5 percent fall when compared to the previous month. Attached benchmark prices reached 354,000 while apartment benchmark prices were at 296,000. These figures represent a decline when compared to the previous month. Furthermore, the average price of a home increased by 0.3 percent when compared to January, but fell by 4.2 percent when compared to the previous year.
Due to the vast differences in performance within various segments, it is essential for consumers to consider their particular segment of the market when buying and selling property in Calgary. Overall, the price movement, inventory and demand within each segment will vary depending upon the community, the type of housing and the price range. Furthermore, it is important to note that every buyer has a different reason for moving. Therefore, it is difficult to predict how buyers will react to the current market.