Calgary Real Estate December 2015 Monthly Housing Stats
Posted by Crystal Tost on Tuesday, January 5, 2016 at 6:13 PM
By Crystal Tost / January 5, 2016
Comment
Calgary housing sales experienced a slowdown as unadjusted benchmark prices fell in December. While this can be partially attributed to the winter months, the downturn is also related to the economic uncertainty in the area that has been characterized by job losses and a weakened economy.
A Slowdown in Sales
During the month of December, Calgary housing sales slowed down to 878 units. Not only does this represent an 18 percent drop when compared to the same time last year, but it is also far below the five and ten-year averages for the Calgary market.
Falling Benchmark Prices
As a result of the slowdown of sales in Calgary, the unadjusted benchmark prices have also taken a hit. In December, the unadjusted benchmark prices in Calgary fell to $448,800. These figures represent a 0.42 percent fall when compared to November and a 2.33 percent drop when comparing year-over-year data.
While the drop in prices is in keeping with the pattern that had previously been established for 2015, the drop was not quite as great as has been anticipated. The apartment sector, however, did experience an annual decline in the average benchmark price by 0.82 percent, making it the only sector to experience a drop in the annual price.Meanwhile, December prices in the detached sector were at 1.91 percent lower than they were at the beginning of the year, while prices fell by 1.29 percent within the attached sector. On average, they remained at 1.35 and 1.94 percent compared to the figures for 2014
Calgary MLS Inventory Levels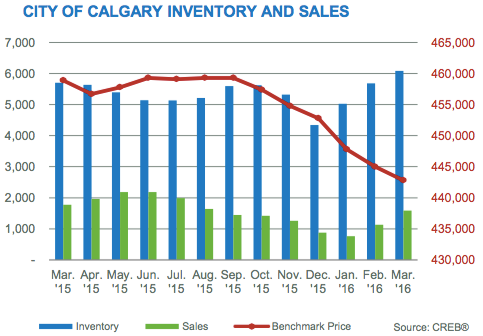 In addition to experiencing a slowdown in sales and a drop in benchmark prices, inventory levels also fell in the month of December. As anticipated, inventory levels fell to 4,336 units. Despite the drop, inventory levels were 28 percent higher than they were during the same time last year. Furthermore, they were the highest they have been in December since the highest levels were recorded in 2008. Altogether, inventory levels were up in both the apartment and attached sectors, with the apartment sector having an average of four months of inventory available throughout the entire year.
When considering inventory levels, benchmark prices and sales figures in Calgary, it is clear that buyers are still cautious in response to falling oil prices. On the other hand, some sellers are concerned about how the supply levels will look next year and, therefore, are still putting their houses up for sale despite the sluggish market.