Calgary Real Estate August 2015 Monthly Housing Statistics
Posted by Crystal Tost on Tuesday, September 22, 2015 at 1:49 PM
By Crystal Tost / September 22, 2015
Comment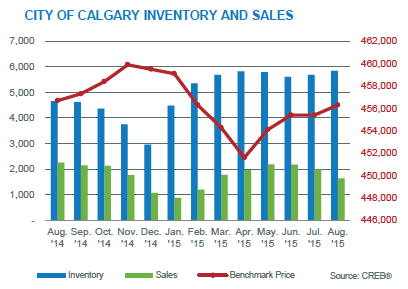 Due to continued weaknesses within the energy sector, Calgary's residential resale housing market remained below the norm for the city during the month of August. Not only did the city experience a decline in sales, but the city also experienced an increase in inventory. Nonetheless, benchmark prices remained relatively stable. See Calgary houses for sale
According to the most recent CREB report, residential housing sales in Calgary fell by 27 percent to 1,643 when compared to the same time last year. These figures are also 12 percent below the city's 10-year average. The residential unadjusted sales-to-new-listings ration also fell from 67 percent in July to 60 percent in August, thereby helping to push inventory levels up to 5,146 units. When combined with weaker sales activity, this has resulted in a housing supply of 3.13 months.
The CREB report further found that every price range within the city saw a decrease in the number of sales per new listing. Nonetheless, those that were listed in the higher price ranges experienced the greatest decline in absorption rates when compared to last year. While year-to-date new listings within the $600,000-plus category experienced in increase in share of activity when compared to the same time last year, sales activity within the price range represented just 18 percent of all sales in August. This represents a 20 percent decrease when compared to last year. With buyers having more options available to them within the higher end of the market, sellers will need to consider their competition when setting goals for selling their homes.
Despite the problems taking place on the higher end of the market, absorption rates within the under-$500,000 detached sector have stayed relatively tight. This is likely to result in more discrepancies in prices. Currently, despite the weaker absorption rates, benchmark prices have remained stable at $465,300 in August. This is likely due at least partially to the fact that the detached and attached sectors have remained more balanced relative to the apartment sector, which has continued to face problems with increased competition from other properties.
According to the CREB report, unadjusted months of supply have increased to 4.3, which will ultimately have an impact on pricing. When comparing August 2015 to August 2014, the market has experienced an overall price decline of 1.44 percent. The combination of price declines and higher inventory levels will undoubtedly have an influence on buying patterns throughout the city. Furthermore, due to improved selection options within certain segments, buyers will find themselves able to be more discerning about the properties they purchase. Not only do buyers have the luxury of deciding between resale and new product, but they can also consider whether or not the community fits their lifestyle. Other factors to consider include proximity to work and schools as well as family dynamics.