Calgary Population Increase
Posted by Crystal Tost on Friday, May 17, 2013 at 3:38 PM
By Crystal Tost / May 17, 2013
3 Comments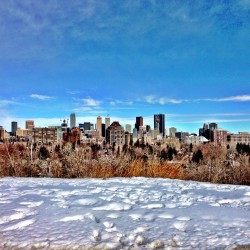 The 2013-2017 Suburban Residential Growth report has predicted that Calgary's population is going to grow by almost 120,000 people over the next five years. This represents a 94 percent increase in population within the city's outlying communities. The report further predicts that 50,600 housing units will be built in the area within the same time frame, with 77 percent being in new suburban developments.
Due to current growth patterns, the city is having trouble finding a balance between inner-city redevelopment and new suburban development. According to the city's report, the city has approximately 10 to 12 years of planned land supply. This land is capable of accommodating 310,834 people in a variety of housing structures, including mixed single, semi and multi-residential. The city further reports that it has enough serviced land to accommodate 130,047 people over the next 3 to 5 years. The city plans to add more to that supply this year.
In all, the 2012 civic census reports that the city's population has grown to 1,120,225. At the same time, the Canadian Press reports that Calgary housing sales increased by 10.4 percent when compared to April 2012 figures. Given these numbers, Mayor Nenshi states there is certainly no attempt by city hall to halt development along the edge of the city. This continued growth will continue to provide residents with a number of neighborhood options.
In an effort to limit suburban development while also managing its debt, the city is constructing a municipal growth framework. The framework is expected to focus on building additional infrastructure, such as water pipes, storm sewers and roads. The plan will also limit the number of developments that can be started at a given time, allowing the council to better distribute funding. This approach is vastly different from the "build wherever, whenever" approach the city has previously taken.
By taking a more thoughtful approach to development, city leaders hope future expansion will be more efficient and cost-effective. The approach also allows the city to better determine its financial priorities as it budgets for development. Homebuilders, however, are concerned that the plan will diminish land supply at a time when demand is growing. As a result, they are concerned industry layoffs may occur. With fewer subdivisions for buyers to choose from, builders are concerned they will run out of inventory.
In an effort to address all concerns, the Urban Development Institute, which is the lobbying voice for the industry, is proposing a new strategy that allows the developers to take on the expense of starting new communities. This would prevent them from having to wait for the city to come up with the funding, allowing builders to expedite the process.