Calgary Real Estate January 2015 Monthly Housing Statistics
Posted by Crystal Tost on Friday, February 6, 2015 at 3:52 PM
By Crystal Tost / February 6, 2015
Comment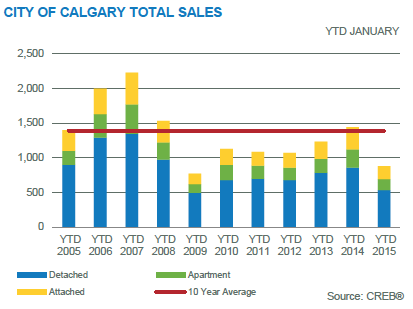 Calgary Real Estate News - A combination of uncertainty regarding employment opportunities within the energy sector and the low oil prices experienced throughout the month of January has resulted in a general unease among consumers. As a result, monthly sales within the Calgary housing market fell to a level that has not been seen for the past five years. Furthermore, sales were more than 35 percent lower than the 10 year average as they fell across all three of Calgary's sectors. Unfortunately, with economic conditions expected to fall short of the predictions that were made in December, this trend is not likely to reverse anytime soon.
While the number of sales declined in the Calgary real estate market, the number of new listings increased by 39 percent. As a result, the city saw a significant increase in its inventory within all of its price ranges. In the detached sector, the number of new listings increased by 32 percent when compared to January 2014. While there are many reasons why consumers may wish to put their homes on the market, some experts speculate that many homeowners are concerned about the outlook within the energy sector and how it will affect Calgary's economy. By putting their home on the market now, these homeowners may be trying to reduce their risk exposure.
Despite the increase in inventory, benchmark prices have remained stable throughout January. Totaling $459,100 for the month, January 2015 saw a 7.7 percent increase when compared to January 2014. When compared to December, however, the figures remain relatively unchanged. In addition, each sector experienced different results. The apartment sector, for example, saw its inventory nearly double to 1,148 units. Meanwhile, benchmark prices fell from $300,400 in December 2014 to $298,700 in January of this year. In the detached sector, benchmark prices were 7.9 percent higher in January 2015 than they were in January 2014, totaling $518,600. This figure is similar to the levels reported in December.
Given the changes to the market, many real estate experts warn that it is important for sellers to have appropriate expectations. In addition to considering the type of property they are putting on the market, they also need to consider the amount of competition in the area as well as current market conditions. Similarly, real estate professionals must realize that many consumers are likely to postpone their housing decisions at this time as they wait to see how the economic climate might change in the spring. If supply levels continue to increase at a rate faster than growth, however, it is very likely that prices will start to drop within the Calgary real estate market.