Crystal Tost is an award winning professional Calgary Real Estate agent with over 18 years of experience and success as a Realtor® (defined as a real estate agent who is a member of the National Association of REALTORS® that must uphold the standards of the association and its code of ethics, read why you should use a REALTOR® in buying or selling your home) running a certified and accredited business.
Calgary REALTOR® Crystal Tost has been awarded the RE/MAX Diamond Club Award!

What is a RE/MAX Diamond Club Award? This is a Hall of Fame Award given to a RE/MAX REALTOR® who has earned in excess a substantial amount in commissions from selling Real Estate.
Calgary REALTOR® Crystal Tost has been awarded the RE/MAX Lifetime Achievement Award!

To receive the prestigious RE/MAX Lifetime Achievement Award, a RE/MAX REALTOR® must achieve all the criteria below:
Earned in excess of $3 Million in paid commissions within the RE/MAX System.
Completed 7 years of service with RE/MAX.
Crystal's dedication to successfully help her clients in Calgary Real Estate has given way to her winning numerous awards you see above. Crystal Tost looks forward to achieving many more milestones in her real estate career successfully helping her clients and looking out for their best interests.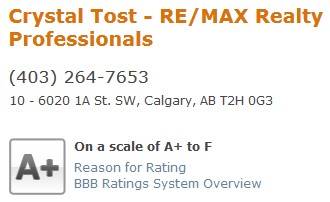 Better Business Bureau A+ Rated Remax Real Estate Professional Realtor
Crystal has also been recognized in the top 100 Real Estate agents with RE/MAX in Canada as well as the top RE/MAX Real Estate Agents in Western Canada. Crystal Tost has obtained numerous awards within the RE/MAX brand as a Calgary Real Estate professional which are displayed below.


Award Winning REMAX Calgary Real Estate Agent
5 Star Reviews, Highly Recommended and Respected
Crystal Tost is a highly sought after 5 star reviewed Calgary Real Estate agent on Google with many reviews delivering exemplary results to home buyers and sellers! Click the image below to view all her great reviews on Google and after you have given her the great opportunity to help you buy or sell your home, you can leave your review here as well.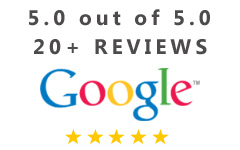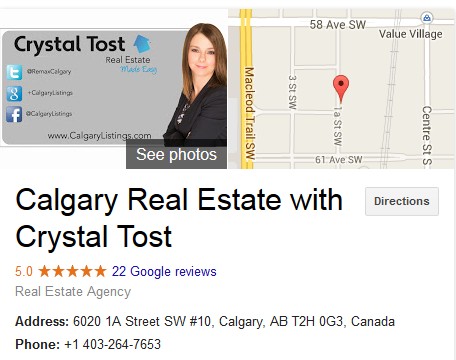 Calgary Real Estate Agent with 5 star reviews on Google

Crystal Tost has a high rating on her Facebook page as a Calgary Real Estate agent as well! Below is a snapshot of her rating followed by two of many glowing reviews.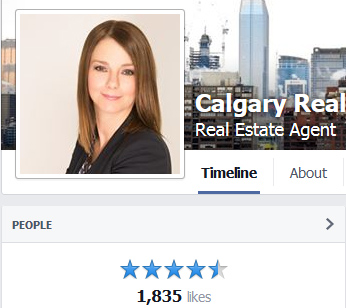 Calgary Real Estate Agent Highly Rated on Facebook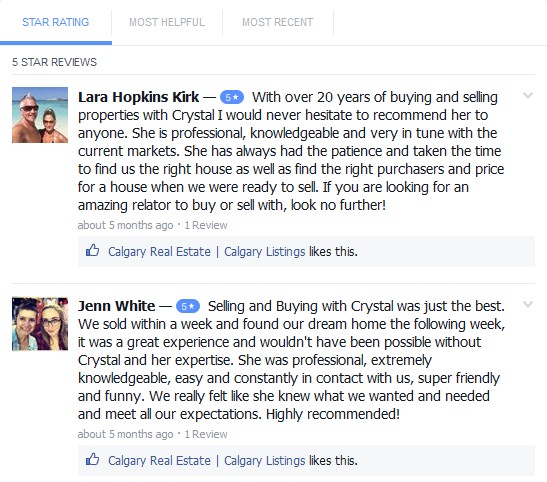 Two Of The Many Highly Rated Reviews on Facebook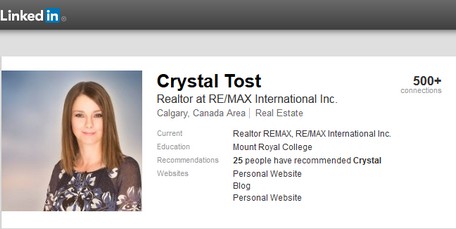 Crystal Tost is highly respected, recommended and connected in Canada's Real Estate Industry which benefits her buyers and sellers she works with. Click to view her Linkedin profile for more information.
Responsive, Great Customer Service, Fast Results and Tech Savvy
Crystal offers a modern and tech-savvy real estate service by delivering the latest information you need, the way you want it. Without ever leaving your computer and with no obligation, you can keep updated on the Calgary real estate market until you're ready to formally begin the buying or selling process.
Giving Back on Every Real Estate Transaction Since 1999
Crystal has donated a percentage of every real estate transaction since 1999 to the Children's Miracle Network. This great organization helps by donating to local hospitals such as the Alberta Children's Hospital right here in Calgary. Crystal loves and lives in Calgary and enjoys giving back to this great community.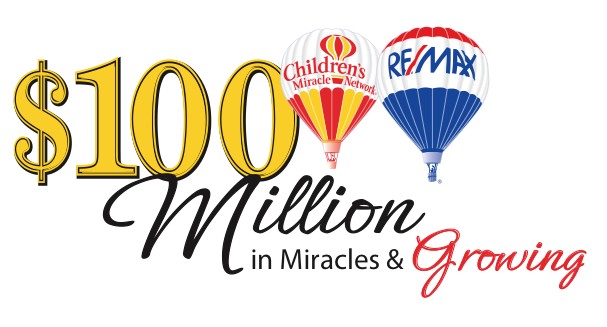 Calgary Real Estate Tools
Become A Client And Let Crystal Tost Do The Work For You!
Are you ready to find houses for sale in Calgary and buy a home? Are you ready to put your home on the real estate market? Enjoy the rewards of working with an experienced, highly rated and award winning real estate professional while receiving personal customer service. Becoming a home buying client or home selling client is free and as easy as a few clicks away. From that point forward, Crystal will take the lead in your home search or home sale (or both!) and you can rest easy knowing that she's on your side to give you a successful result.
"Award Winning", "Honest" and "Great Results"
Video shows how Calgary Real Estate Agent Crystal Tost can benefit you as a buyer and seller.
Expert knowledge of the Calgary real estate market, responsive, great customer service, honest, fast optimal results for home buyers as well as sellers and being tech savvy are some of the many components that make Crystal the best at what she does for over 18 years!
Buyers: Start Your Home Search On Calgary MLS® Listings
Search all MLS® Calgary listings to find Calgary Homes for sale and Calgary condos for sale. When you become a home buying client you'll receive the latest "Just Listed" Calgary real estate listings as soon as they are placed the market. Never miss out on a hot Calgary home again!
Sellers: Market Your Home Effectively In The Calgary Real Estate Market
Traditional marketing has gone the way of the dinosaur. Today's buyers are tech savvy and eager to know about your newly listed home in full detail, instantly.
Crystal Tost offers a unique and customized marketing plan that takes you beyond traditional marketing, and into the new digital world that potential buyers have embraced. You'll learn how to list your current home with maximum exposure and sell it for maximum value.
Start by requesting a free, no-obligation online home evaluation today.
Calgary Real Estate Market Information, At Your Fingertips
Sign up for Crystal's monthly Calgary Real Estate newsletter, offering monthly market statistics, featured listings, local events & information and tips for home buyers and sellers.

For current information on local real estate, area news as well as events and fun things to do in Calgary, visit Crystal's Calgary Real Estate Blog.
Looking for information about how much the house down the street sold for, or what buyers are paying in Calgary? Get a custom Calgary Housing Market Report that includes real-time MLS® listings with recent sales and prices complete with days on the market.
Calgary REALTOR®